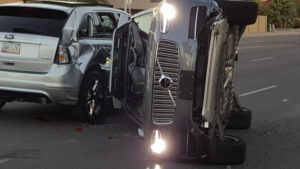 UPDATE: Uber restarting tests after Ariz. crash into self-driving car
By on
Legal | Technology
Uber said Monday it had restarted autonomous testing that day following a collision involving one of its test vehicles and another driver.
The other vehicle — not the Uber — was cited in the Tempe, Ariz., incident Friday, according to Tempe police Det. Lily Duran. Images and video from Mark Beach of Fresco News shared with Repairer Driven News indicate the Uber was a Volvo.
Duran wrote in an email Monday that the other driver failed to yield to a southbound Uber vehicle while turning left at the intersection of Don Carlos Drive and McClintock Drive.
"The vehicles collided causing the autonomous vehicle to roll onto (its) side," Duran wrote. "There were no serious injuries."
#UPDATE: No injuries yet reported in an accident involving a self-driving #uber, captured by @fresconews user Mark Beach in Tempe, AZ. pic.twitter.com/kmizvRD5WP

— Fresco News (@fresconews) March 25, 2017
Duran wrote that it was unclear to Tempe police if the driver in the Uber test vehicle was in control or if the self-driving vehicle itself was in autonomous mode. Uber on Monday referred us to a Friday Associated Press story that indicated the Volvo was driving itself and there were two Uber personnel but no customers inside.
Uber in an email told us it had resumed autonomous testing operations in San Francisco and planned to do the same in Tempe and Pittsburgh Monday. It said it had halted testing to study the Tempe collision but was confident about resuming it Monday.
BREAKING: Self-driving Uber vehicle on it's side after a collision in Tempe, AZ.

Photos by @fresconews user Mark Beach pic.twitter.com/5NCF2KG0rW

— Fresco News (@fresconews) March 25, 2017
Rather than a public relations disaster for Uber, the incident actually is another point in favor of adopting self-driving cars to reduce collisions (which unfortunately means less collision repair business).
The human driver was to blame — something that according to Wired has often been the case in collisions involving Google's self-driving cars as well. The magazine made a similar point Saturday in analyzing the Uber collision, proving greater context into the kind of foolish behavior that contributes to 94 percent of crashes being human error:
The safety promise of self-driving technology lies not in its skill, but in its consistency. Humans are great drivers when they focus—ie, when they're sober, rested, calm, and on task. In reality, drunk drivers are involved in about 40 percent of fatal crashes, distracted drivers in 16 percent, according to federal statistics. The CDC says drowsy driving caused more than 70,000 crashes and 800 deaths in the US in 2013. Then there's road rage: Nearly six million drivers admitted to hitting another car on purpose in the past year, in a 2016 AAA survey.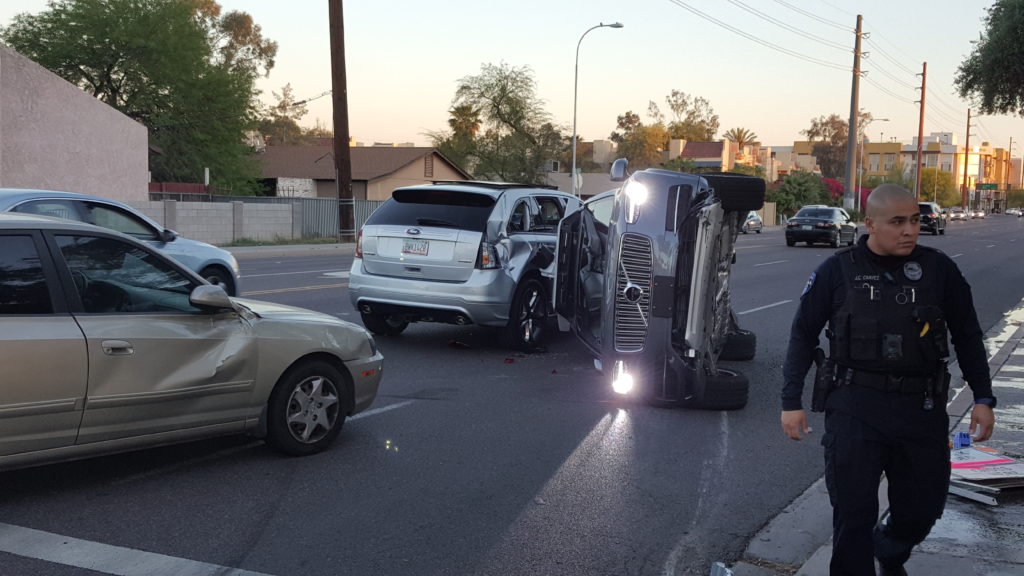 Autonomous Bolt versus human-driven Forester
And further proving this point, a General Motors report filed last month with the California Department of Motor Vehicles describes a test autonomous Chevrolet Bolt involved in a Feb. 16 accident caused by an errant human driver.
The report by General Motors Cruise engineering Senior Vice President Sasha Ostojic states that an autonomous Chevrolet Bolt was driving itself and minding its own business when it was rear-ended by a Toyota Highlander in turn rear-ended by a Subaru Forester.
The Bolt had paused for a San Francisco crosswalk with a flashing yellow light and then started to proceed through, as did the Highlander. The Forster driver didn't stop, according to Ostojic.
Nobody in the autonomous Bolt or human-driving Highlander were injured, he wrote. The Forester driver experienced "knee pain."
Uber self-driving program
Details on Uber's self-driving test program, at least the Pittsburgh version, can be found here.
"We're inviting our most loyal Pittsburgh customers to experience the future first. If a Self-Driving Uber is available, we'll send it along with a safety driver up front to make sure the ride goes smoothly," the company wrote in September 2016. "Otherwise it's uberX as usual."
"… We know that many drivers will have questions about this technology. It's still very early: Self-Driving Ubers have a safety driver in the front seat because they require human intervention in many conditions, including bad weather. Even when these technology issues get fixed, we believe ridesharing will be a mix—with services provided by both drivers and Self-Driving Ubers. This is because of the limits of self-driving software and the skyrocketing demand for better transportation which people-powered transport is uniquely able to solve."
Uber also suggested then that the rise of self-driving cars could create more automotive aftermarket jobs while cutting crashes.
"But we know that self-driving Ubers have enormous potential to further our mission and improve society: reducing the number of traffic accidents, which today kill 1.3 million people a year; freeing up the 20 percent of space in cities currently used to park the world's billion plus cars; and cutting congestion, which wastes trillions of hours every year. …
"Self-Driving Ubers will be on the road 24 hours a day, which means they will need a lot more human maintenance than cars today."
More information:
"Self-driving Uber SUV struck during Arizona accident"
Associated Press, March 25, 2017
"Uber's Self-Driving Crash Proves We Need Self-Driving Cars"
Wired, March 25, 2017
"Pittsburgh, your Self-Driving Uber is arriving now"
Uber, Sept. 14, 2016
Featured images: The other vehicle — not the Uber Volvo — was cited in this March 25, 2017, Tempe, Ariz., incident Friday, according to Tempe police Det. Lily Duran.  (Mark Beach/FRESCO NEWS; shared courtesy of Fresco News)
Share This: