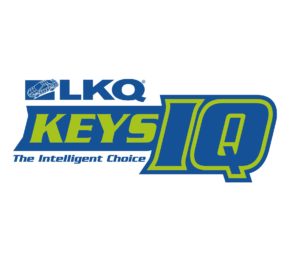 One of the main benefits of LKQ's new KeysIQ program for insurers includes the ability to track an aftermarket collision part to the actual vehicle carrying it, an executive for the parts company explained Monday.
"These parts are fully traceable to the car," Corporate Accounts Vice President Terry Fortner said in a statement. "… We know the complete DNA on the part from the time of production to the time it is installed on the car."
Of the other parts sold through LKQ/Keystone, Fortner said the company knows the shop which received the items — not the actual vehicle bearing them.
With KeysIQ, a carrier and shop can make that final connection and receive "expanded and detailed traceability," Fortner said in a statement. He called it "worry-free for both as LKQ's promise of protection applies that satisfaction."
The KeysIQ parts program is for the insurer's parts specification. The shop itself selects the part, according to Fortner.
Fortner called the program "absolutely unique" in the industry and said each insurer individually selects which parts they want included from many KeysIQ approved parts. A flyer provided to direct repair program shops by American Family indicates
"It's a great program, industry leading and available throughout North America," he said in a statement.
He couldn't elaborate further on other KeysIQ benefits, citing both LKQ's need to keep information proprietary and to preserve the confidentiality of insurer clients on their own unique customized terms.
The program is only available to insurers for now, Fortner said, but he said the company might consider expanding it to shops which seek that traceability as well but have few or zero DRP relationships.
After all, should aftermarket parts be recalled, KeysIQ would seem to be an easy way for a shop or insurer to look up which of one's customers are driving around with the components and alert them. More discussion of the traceability of aftermarket parts with issues can be found here (insurers), here (NSF) and here (CAPA).
Top insurers respond to inquiry about notice of aftermarket part recalls, decertification
One could also see a benefit to LKQ's recycling operations from the system if KeysIQ information could allow a disassembler to flag a vehicle's aftermarket parts upfront and prevent them from mistakenly entering the recycled parts supply.
History
LKQ CEO Rob Wagman told investors last summer that the KeysIQ program would launch Nov. 1, 2016. During the Aug. 2, 2016, earnings call, he said the only notable Top 10 insurers missing were Allstate and State Farm. The topic didn't seem to arise during the company's most recent call in February.
American Family told direct repair program shops last week that repairers would begin to notice its KeysIQ partnership through the electronic parts procurement system APU, according to an email shared with Repairer Driven News.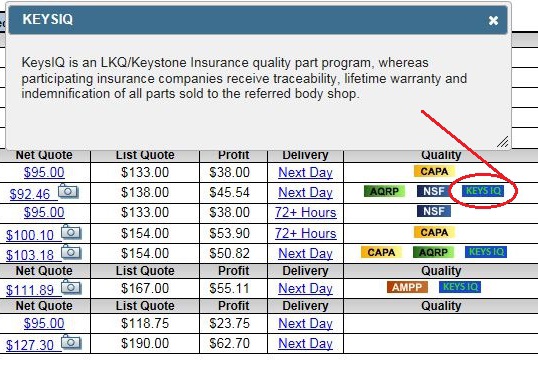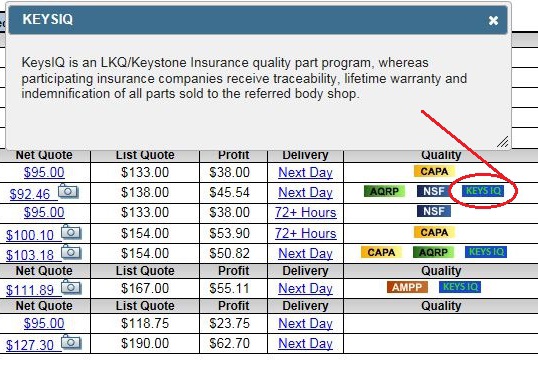 "This communication is being sent to all American Family CRP shops," a representative wrote March 23. "We wanted to let you know of a new Parts Program that you'll begin seeing within APU on select Keystone/LKQ parts. This program is called 'KeysIQ'. KeysIQ is an LKQ/Keystone Insurance quality part program, whereas participating insurance companies receive traceability, lifetime warranty and indemnification of all parts sold to the referred body shop. Please see the attached PDF which goes into explanation of this program further."
The PDF referenced by American Family can be found here. The flyer describes more than 60,000 SKUs which can be included by a carrier and mentions traceability as a benefit as well.
It's interesting to note the reference to a lifetime warranty and indemnification for insurers (or at least for American Family, under the terms of its unique KeysIQ setup). LKQ already provides a lifetime warranty for vehicle owners and indemnification to shops.
Images:
The KeysIQ logo is shown. (Provided by LKQ)
American Family has told direct repair program shops that they'd begin to notice KeysIQ through the electronic parts procurement system APU. (Provided to Repairer Driven News)
Share This: