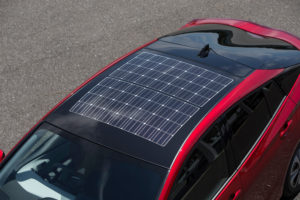 Panasonic late last month shared more details about its photovoltaic roof for the new Prius plug-in hybrid, technology which could complicate collision repair.
The feature is only available in the European and Japanese plug-in Prius models, according to a 2016 Toyota preview and Automotive News Europe article. Automotive News Europe reported that Toyota would like to bring the technology to the American version, the Prius Prime, during the design generation once it figures out how to incorporate the panels and pass U.S. rollover testing.
Electrek last year and again following Panasonic's February announcement speculated about a possible solar roof inclusion on the Tesla Model 3, which Elon Musk has suggested will happen in addition to the previously announced glass roof.
Toyota in February called the roof "the world's first 'solar charging system' in mass-produced cars." It gives the Prius PHV an average 1.8 miles and up to 3.8 miles of extra juice, according to the OEM. When the car is being driven, the technology can recharge the auxiliary battery.
That doesn't sound like a lot, but according to Panasonic and Electrek, it's actually kind of a big deal to get that far. Panasonic wrote that typical automotive solar outputs a whopping "several tens of watts" and has only been used to charge 12-volt batteries and air conditioner ventilator power.
"The problem with solar panels on vehicles is that they don't generate enough electricity to do much of anything," Electrek reported last month. "Toyota already had an option for a solar roof on the previous PHEV Prius, but it was only generating 50 W and powering the fans for the AC."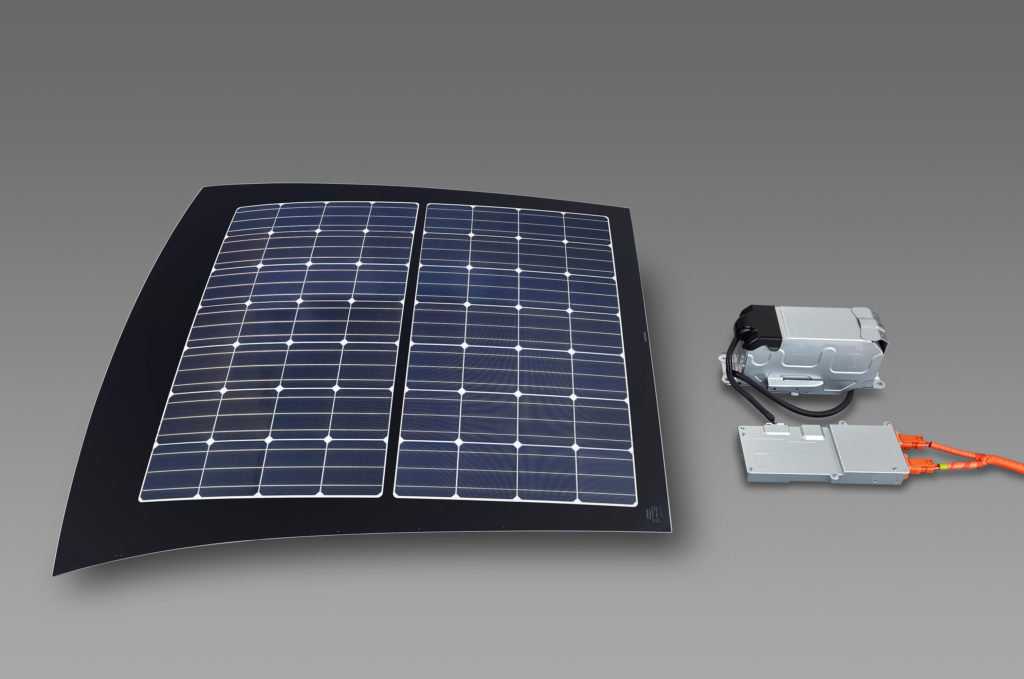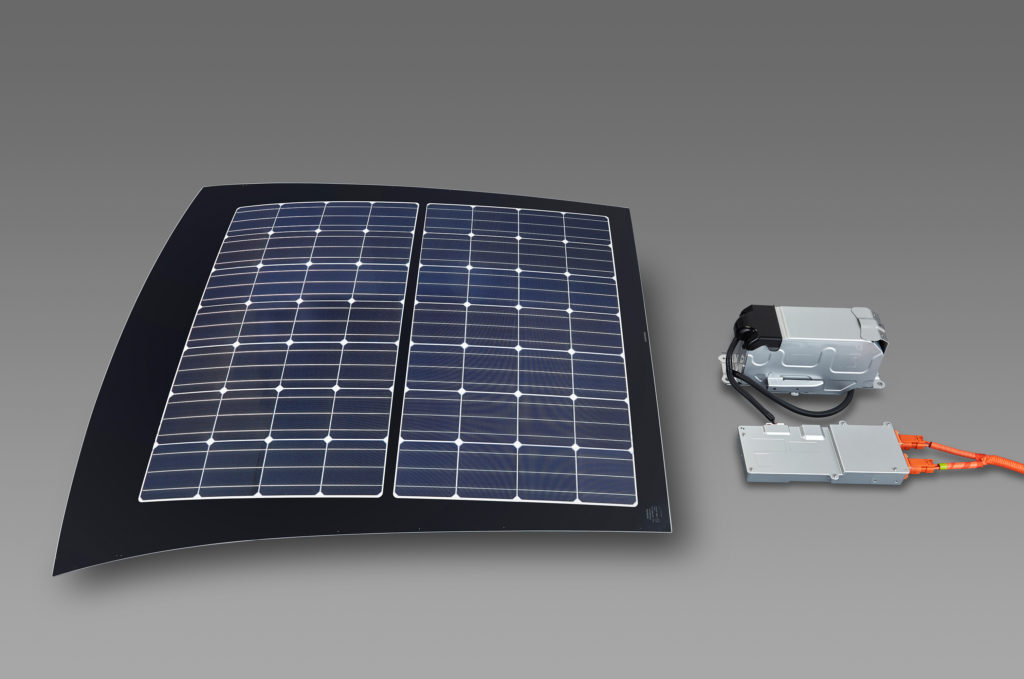 Panasonic said the new cells spit out 180 watts, enough to charge both the 12-volt battery and the lithium-ion batteries which can actually move a car. Electrek also suggested that the technology might have a use in powering "vampire" vehicle electronics like older Teslas. If cars are going to get smarter and more connected and run around with supercomputers in the trunk, then perhaps such vampire tech will rise again and make these roofs more attractive.
Panasonic said it also can laminate curved glass around the solar cells, preserving "the new Prius PHV's elegant body design" — but perhaps more importantly for gas mileage, its aerodynamics.
"Panasonic developed a unique lamination technology that conforms to this complex three-dimensional curved roof," the company wrote. "This technology features the thermal compression bonding of the upper and lower module surfaces with flexible material and is groundbreaking in that it allows the manufacturing process to address three-dimensional curves in addition to conventional flat surfaces. The development of this technology enabled the practical use of automotive modules."
For you glass and solar folks who understood that last paragraph, Panasonic later observed, "The surface of a silicon substrate is covered by an amorphous silicon film, which allows the retrieval of electrically charged particles that are generated within solar cells without omission and eventually achieves high output."
Panasonic also indicated that these heterojunction "HIT" cells work well in hot temperatures (ironically, solar cells don't do well in heat; their output suffers, according to Panasonic) and in a limited space like a car roof.
According to Panasonic, rated solar output is 77 degrees (25 degrees Celsius), but a car roof can actually reach 176 degrees — causing car roof solar cell output to fall as much or even more than it would on a home roof.
"However, any output decline is minimized because the temperature coefficient of output of Panasonic's heterojunction solar cells is smaller compared to general solar cells," Panasonic wrote.
The moral of the story:  The boring old roof might get a lot more interesting for collision repairers.
More information:
"New Toyota Prius has solar roof for Europe, Japan"
Automotive News Europe, June 17, 2016
"Panasonic's Photovoltaic Module HIT™ adopted for Toyota Motor's New Prius PHV"
Panasonic, Feb. 28, 2017
"Toyota Launches Redesigned "Prius PHV" in Japan"
Toyota, Feb. 15, 2017
"Tesla partner Panasonic unveils new 180W solar roof product for cars after Elon Musk said Model 3 could have the option"
Electrek, Feb. 28, 2017
"Tesla Model 3 will probably have a solar roof option – maybe even 'deployable', says CEO Elon Musk"
Electrek, Nov. 4, 2016
Featured images: The solar-celled roof of the Japanese Prius PHV is shown. (Provided by Toyota)
Share This: