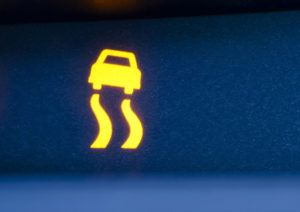 Seven of the top 10 vehicles on U.S. roads in 2015 needed a standard or optional electronic stability control system — technology required on every model since the 2012 model year — reset following a wheel alignment, Hunter Engineering research has found.
In three cases — the No. 3 Toyota Camry, No. 6 Toyota Corolla, and No. 7 Nissan Altima — the requirement dates back more at least a decade, according to Hunter, which derived the rankings from IHS Automotive data.  Versions of the Toyota Camry have called for the procedure since 2002, according to Hunter.
The No. 9 Dodge Ram 1500 demanded similar electronic power steering resets since 2013. Lane departure warnings on the No. 1 Ford F-150 and No. 8 Ford Explorer might also have needed recalibration since the 2015 and 2013 model years, respectively. (Provided by Hunter Engineering)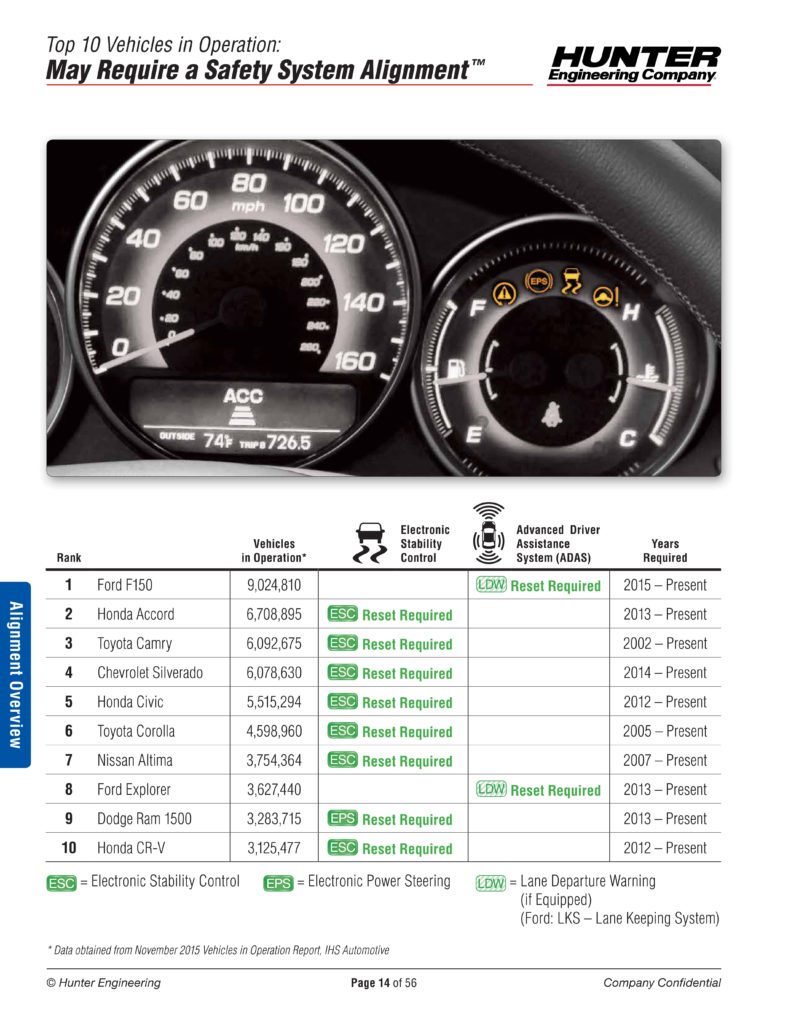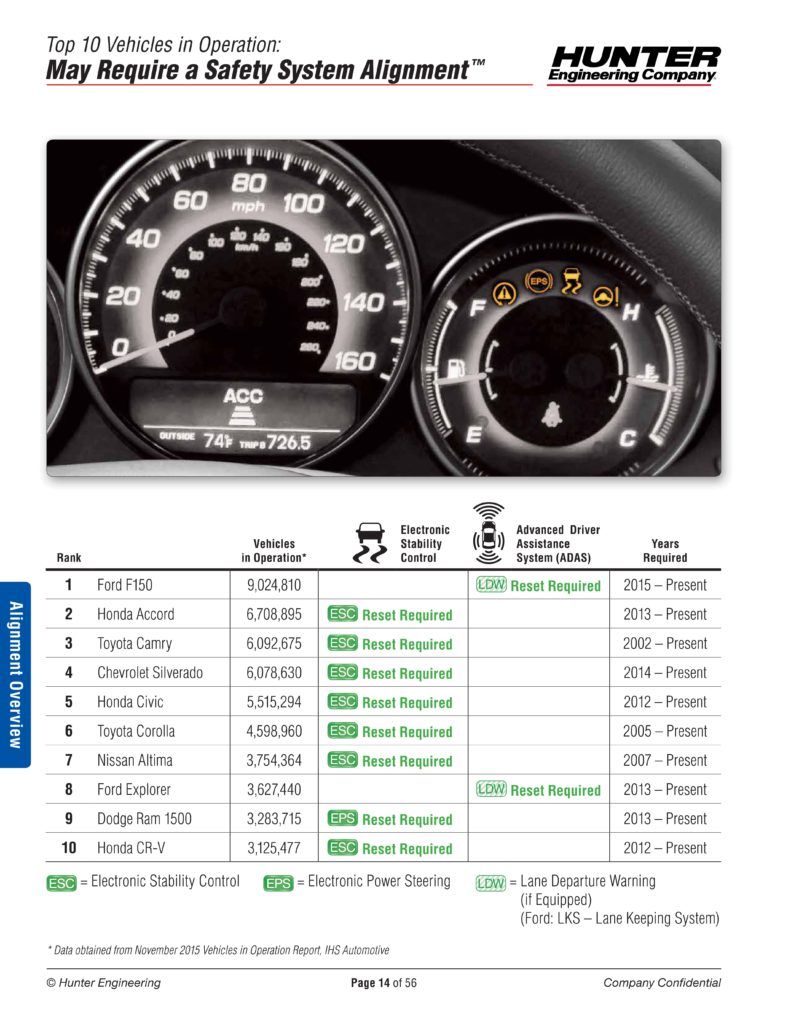 Hunter, the leader in wheel alignment technology, has been drawing attention to the explosion of safety systems on vehicles that per OEM repair requirements need recalibration following a common wheel alignment — and likely any collision repair.
For shops that sublet wheel alignment, it's vital to confirm one's business partner is and has been performing such checks. For shops performing the work in-house, the responsibility lies with the repairer.
It's possible that shops which aren't conducting a wheel alignment might a) be mistaken in not doing one or b) still have to perform such recalibrations following something as simple as disconnecting a battery. It's crucial to check OEM repair procedures or risk putting a customer back into a car with unrestored safety features and handling issues.
"Depending on the vehicle, the consequences may vary from a dashboard warning light or steering wheel dithering (rocking side to side) to vehicle drift or pull conditions," Hunter states.
In the case of electronic power steering and stability control requirements, recalibration can involve resetting the steering angle sensor, as well as potentially additional steering sensors related to yaw, torque and the like.
These procedures are at least relatively consistent, according to Hunter alignment senior product manager Kaleb Silver.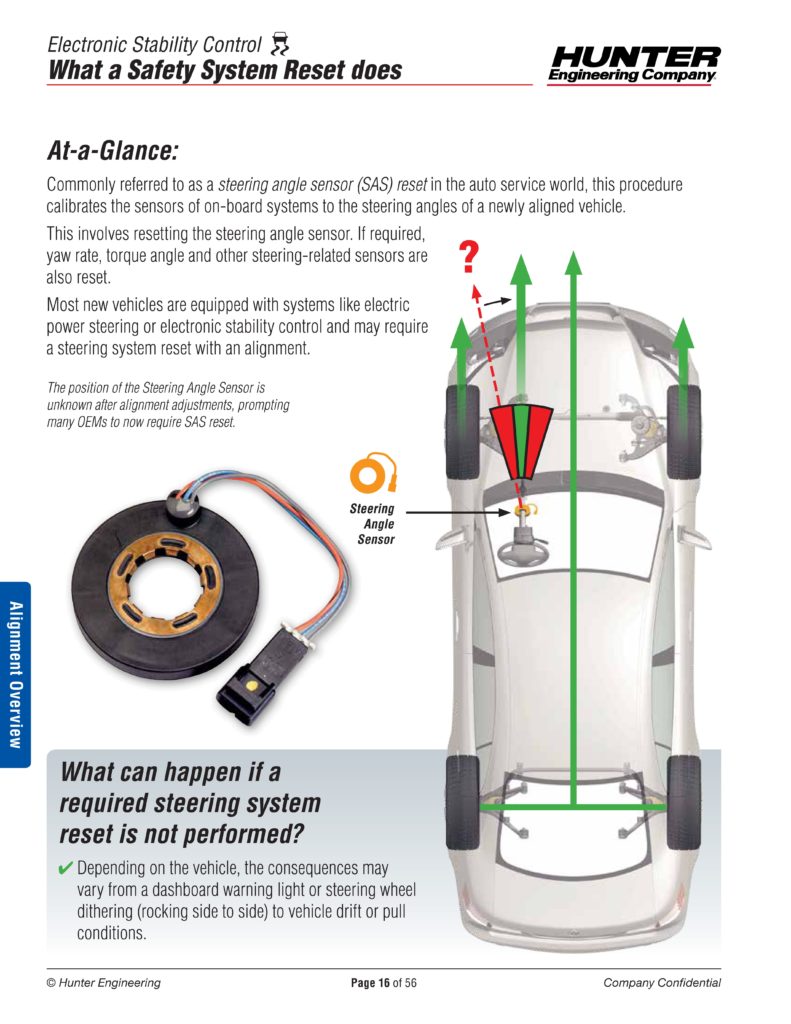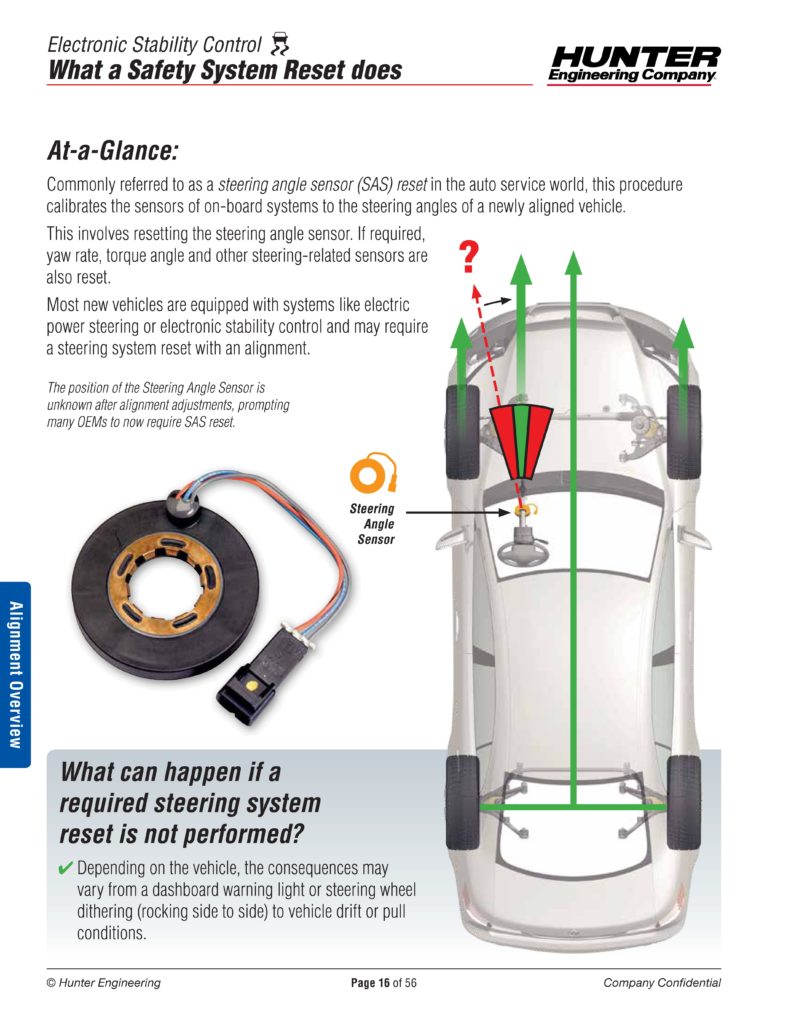 The commands aren't standardized like generic OBD-II codes. "It is different for each vehicle," he said. But the actual procedure involves zeroing the sensor, and it's "not nearly as involved" as recalibrating an advanced driver assistance system. Typically, a repairer resetting a steering angle doesn't need a special fixture or have to drive the vehicle to achieve the desired outcome.
Hunter in 2009 started to offer electronic power steering and stability control recalibration with an aftermarket OBD-II interface device; a second-generation version of the CodeLink was released in 2013. CodeLink is integrated into Hunter's wheel alignment software and allows the alignment technician to perform this task. (Repair facilities should be cognizant that like any aftermarket device meeting a repair need, it's not necessarily vetted or approved by the vehicle manufacturer to perform the procedure.)
ADAS systems like automatic braking and lane keeping, however, have dramatically different recalibration demands from OEM to OEM. Hunter has called for the National Highway Traffic Safety Administration to mandate OEMs standardize their methods so as not to leave the aftermarket unable to keep up with such demands. This could leave customers exposed or even threatened by faulty or inoperable safety systems.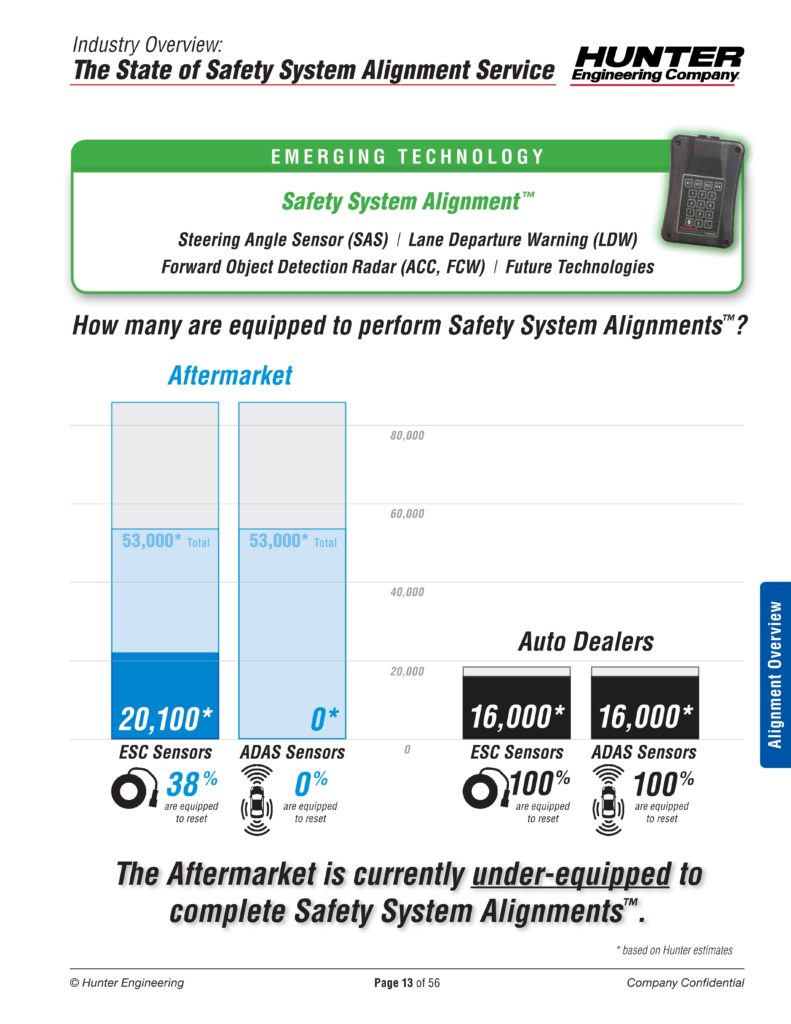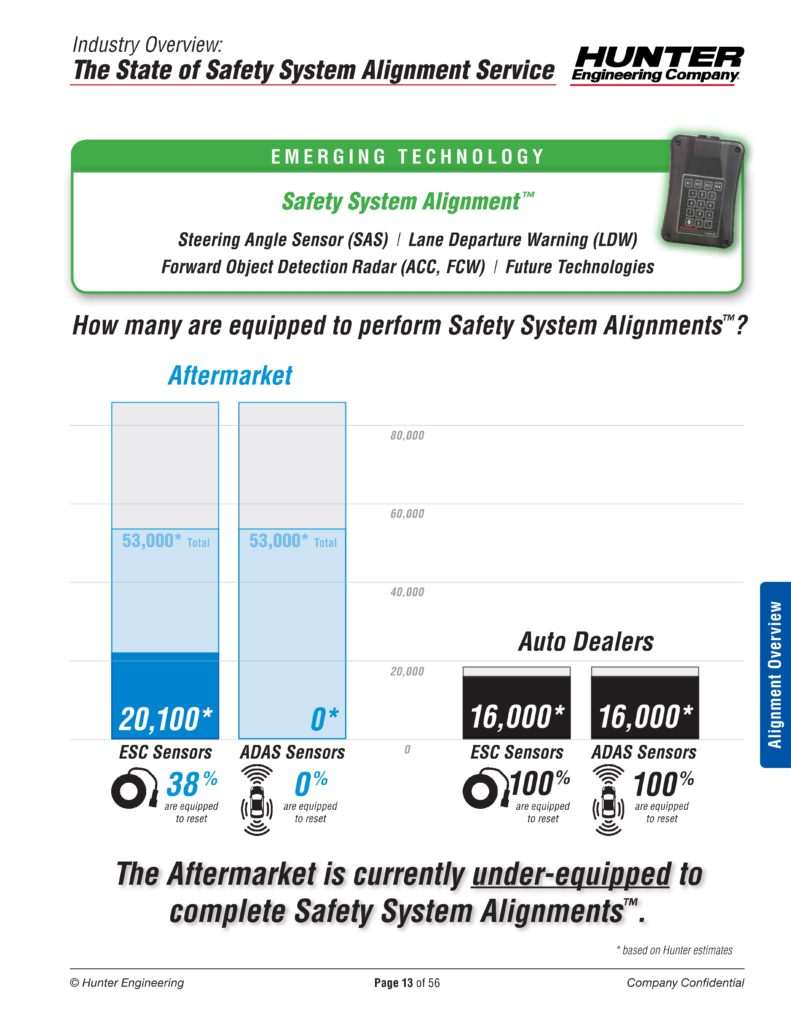 Silver said he expected more ADAS systems would require recalibration after a wheel alignment in the future, giving the example of the steering angle sensor resets.
At first, many OEs didn't think steering resets were necessary after an alignment, but they began to "retroactively add" these mandates a few years later.
He said one of the drivers behind a Hunter hardware change in 2013 was General Motors' announcement that vehicles dating back to at least 2009 needed resets following an alignment.
"It was just a big sweeping deal," Silver said, and "we expect similar things to happen" with newer ADAS systems.
---
Hear about calibration from Hunter at April SCRS Repairer Roundtable
Kaleb Silver, senior product manager for Hunter Engineering, will be one of the presenters at the Society of Collision Repair Specialists' April 19 Repairer Roundtable in Pittsburgh. He will present Hunter's research on how ADAS systems create complexity and cost for auto repairers by requiring calibration following routine procedures like wheel alignments. 
The event is free and open to everyone, though SCRS asks attendees to RSVP in advance so it can prepare an appropriate venue. RSVP as well for the free SCRS Corporate Member Recognition and Industry Awards luncheon afterwards.
---
More information:
IIHS overview of electronic stability control
Images:
An icon sometimes used to depict electronic stability control is shown.  (westernstudio/iStock)
Seven of the top 10 vehicles on U.S. roads in 2015 needed a standard or optional electronic stability control system — technology required on every model since at least 2012 — reset following a wheel alignment, Hunter Engineering research has found. (Provided by Hunter Engineering)
For shops that sublet wheel alignment, it's vital to confirm one's business partner is and has been performing such electronic stability control checks. For shops performing the work in-house, the responsibility lies with the repairer.  (Provided by Hunter Engineering)
Share This: