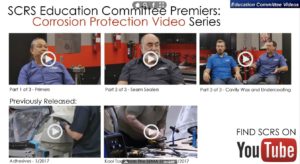 The Society of Collision Repair Specialists on Wednesday released a three-part YouTube series on corrosion protection as part of its broader initiative explaining repair procedures and their importance through videos.
The three movies — dealing with primers, seam sealers and undercoating/cavity wax, respectively — can be found within the trade group's March 2017 newsletter, free to all members as well as the general public.
In a nice complement to the corrosion protection film series, the digital, interactive newsletter also contains a double-page I-CAR Repairability Technical Support portal spread offering links to I-CAR's discussions of various OEM weld-through primer guidelines.
The document also offers readers a fairly meaty collection of previews for Collision Industry Conference Week April 18-20 in Pittsburgh. These include previews of the upcoming CIC discussion on defining a repair provider — a potentially controversial topic — and the SCRS Repairer Roundtable featuring talks from Carnegie Mellon, General Motors and Hunter Engineering on what advanced driver's assistance systems mean for repairers. It also provides links to nominee bios for SCRS' 2017-18 board elections, held April 18.
Another video in the film series will premiere at the SCRS open board meeting April 18 in Pittsburgh. The series began in January with a look at adhesives.
Don't let the length of the films deter you. As David Riberio of the Automotive Retailers Association in British Columbia wrote to SCRS about the adhesive video, according to the newsletter:
I would like to offer my support for the quality of the discussion and the use of supporting images and video. Typically many videos are not well structured and tend to drag on … I must say I was a bit concerned initially when I saw it was 21 minutes long…but after watching it the time went by quickly and I was completely engrossed in the conversation. Having industry representatives there to add the real life application I believe was extremely beneficial.
More information:
Society of Collision Repair Specialists March 2017 newsletter
SCRS, April 4, 2017
"SCRS Education Committee Presents – Corrosion Protection Part 1 of 3 – Primers"
SCRS YouTube channel, April 4, 2017
"SCRS Education Committee Presents – Corrosion Protection Part 2 of 3 – Seam Sealers"
SCRS YouTube channel, April 4, 2017
"SCRS Education Committee Presents – Corrosion Protection Part 3 of 3 – Cavity Wax and Undercoating"
SCRS YouTube channel, April 4, 2017
Featured image: The Society of Collision Repair Specialists on Wednesday released a three-part YouTube series on corrosion protection as part of its broader initiative explaining repair procedures and their importance through videos. The three movies — dealing with primers, seam sealers and undercoating/cavity wax, respectively — can be found within the trade group's March 2017 newsletter, free to all members as well as the general public. (Screenshot from SCRS March 2017 newsletter)
Share This: