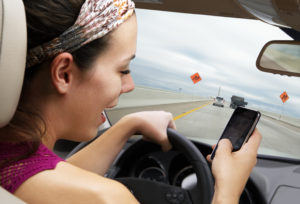 Distracted driving, which has in part been blamed for a rise in collision frequency, is likely to continue regardless of regulation — but ironically can be corrected by smartphone software, experts said Thursday.
How well this works and how irresponsible we as a society of drivers are willing to be should affect collision repairers' volume over the next decade — and, possibly, how much work is eroded by the increase in advanced driver assistance systems (ADAS.).
The latest government data we could find suggested 1 in 5 collisions are caused by distracted drivers. However, that's from 2013, and anecdotally, we'd guess you're more addicted to your phone in 2017 than then. (CTIA wireless industry survey data suggests higher wireless device penetration between 2013 and 2015.)
State Farm's 2016 distracted driving survey data released last month suggests some smartphone usage has increased between those years — particularly for younger drivers age 18-29. (For a little historical context, the iPhone came out in 2007.)
Overall, 91 percent of drivers surveyed said they had a smartphone, and more than half used them while driving, according to State Farm.
Talking on a handheld cellphone was down between 2013-16, while talking on a hands-free device was up for all drivers and the younger demographic – both of which seem positive. However, arguably more distracting behavior like updating or reading social media is up.
(A couple of other interesting generational details: Texting was flat for all drivers and down for the younger set. Reading email fell 2 percentage points since 2013 for the 18-29 crowd while growing that amount among drivers as a whole, and responding to email grew just a percentage point for the younger generation compared to 5 percentage points for all drivers.)
"Today's drivers are faced with an ever-growing number of demands on their attention that may distract them from the critical task of driving," State Farm technology research director Chris Mullen said in statement.
"Every day we make choices about the risks we are willing to take when behind the wheel. We encourage everyone to take personal responsibility in adopting safer driving habits, for the benefit of themselves, their families, and all who share our roadways."
During a TU-Automotive webinar on the topic Thursday, TrueMotion senior data scientist Nick Arcolano described a typical motorist population where many people use their phones — but just a little, 1-5 percent of the time. The problem lies in the "big long tail" of drivers who are using their phones 20-75 percent of the time behind the wheel, he said.
Arcolano, whose company produces vehicle telematics software, said TrueMotion data found on the whole 90 percent of drivers being distracted by phone use, accounting for about 20 percent of driving time.
Depending on what you're doing instead of driving, the risk of a crash increases between 2 and 12 times with a distraction, he said.
Correctable
However, unlike many risk variables, such as time of day one drives, "it's something that drivers really can change," Arcolano said.
His company makes an app which tracks smartphone usage on the road and coaches drivers on how they're doing, including with push notifications.
It seems silly, but it works; 75 percent of drivers using TrueMotion reduced distraction an average of 20 percent.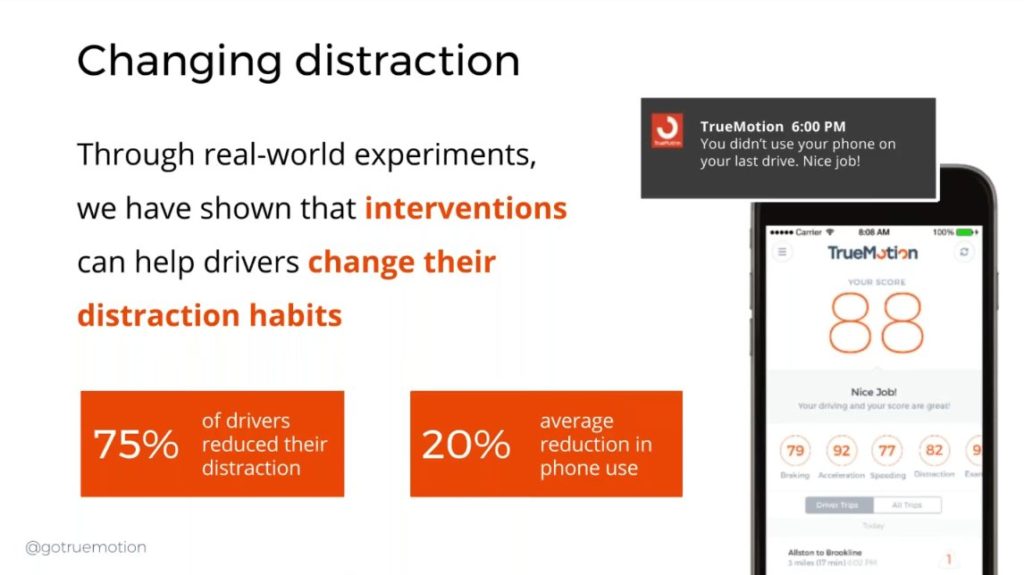 Use TrueMotion or adapt it into ones own software — the company is already courting usage-based insurance (UBI) vendors — and start fixing your desired population of drivers.
"If you share our passion for making roads safer, we want to partner with you – from Insurance companies, Government, Non-Profits and OEMs, to Driving Schools," TrueMotion declares. (Fleets are also desired clients, the website states.)
Another speaker Thursday reported similar results with his own competing telematics product. Zendrive insurance Vice President Rob MacKethan said his company's driver feedback mechanism has reduced phone use 59 percent while driving.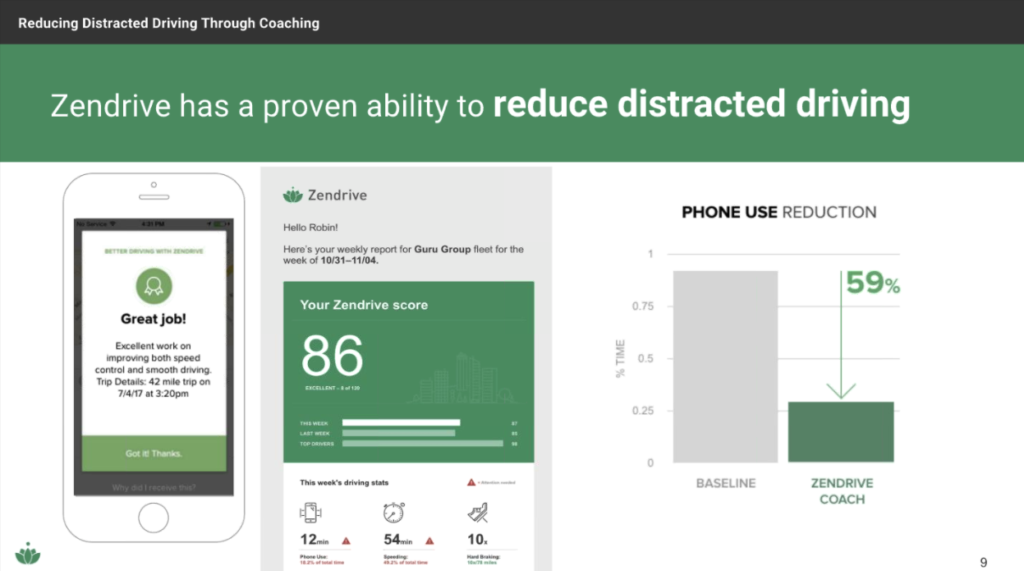 He also quoted an unidentified national vehicle-on-demand CEO who also credited Zendrive with a more than 50 percent drop in damage claims and tickets.
"You can in fact influence behavior," he said.
What doesn't work is regulation, according to MacKethan, a sentiment echoed by other speakers and what a poll of what the webinar host described as an insurer-heavy audience. MacKethan presented data indicating Vermont — which regulates smartphone use in cars — as the worst distracted-driving offender in the nation, and little correlation between prohibitions and phone usage.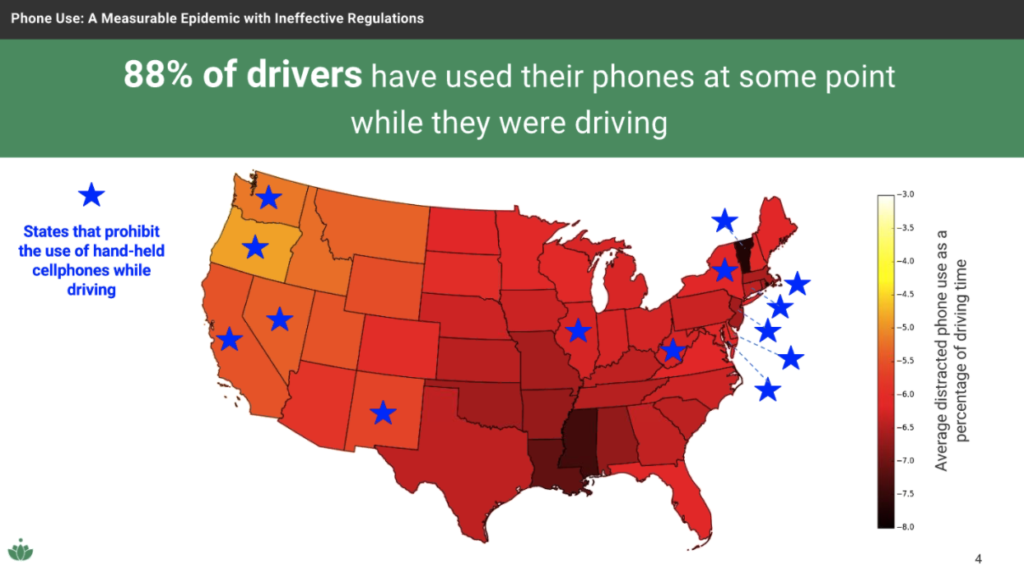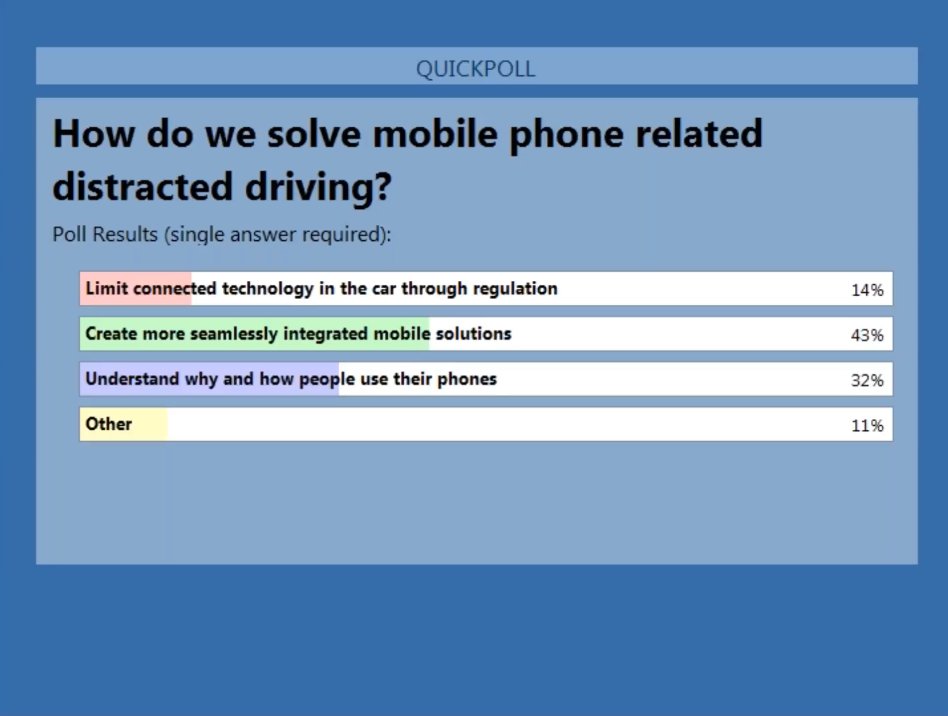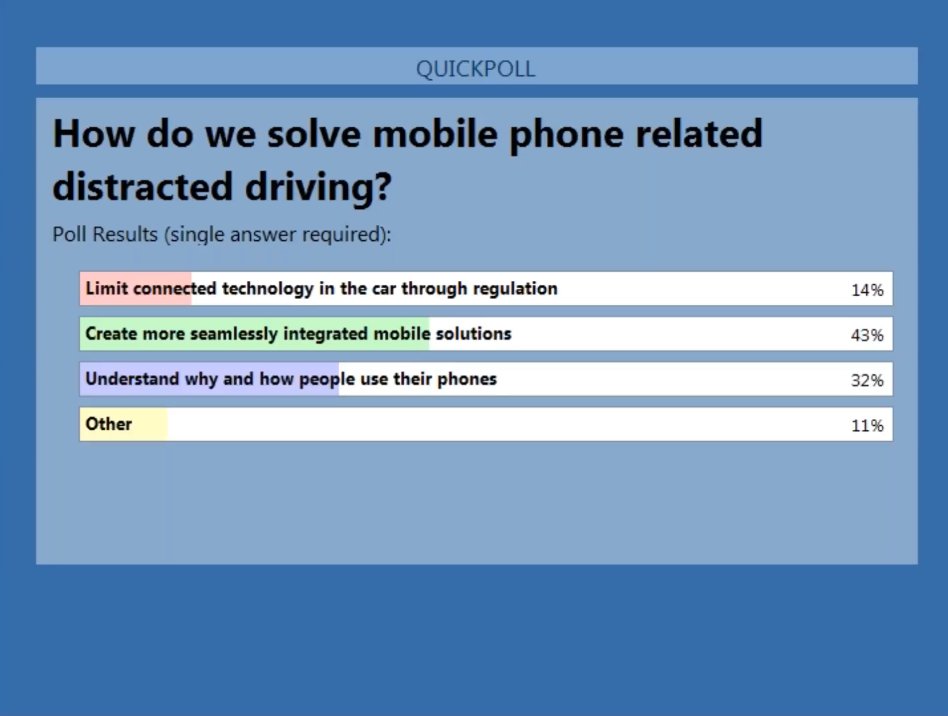 "I don't think the answer is regulation," agreed Luke Harris, director of claims for usage-based insurance provider Metromile.
MetLife countrywide underwriting strategy and solutions director David Niziolek said he wasn't convinced drivers would change their behavior, and the best bet would be to better integrate it and "make it more safe."
More information:
"Webinar The Risk of Distracted Driving in a Digital Age"
TU-Automotive YouTube channel, April 7, 2017
"Smartphones While Driving: We Know It's Risky. So Why Do We Do It?"
State Farm, March 30, 2017
State Farm 2016 distracted driving study results
State Farm, March 30, 2017
Images:
Overall, 91 percent of drivers surveyed in 2016 said they had a smartphone, and more than half used them while driving, according to State Farm research. (nycshooter/iStock)
This TrueMotion slide from a TU-Automotive webinar demonstrates how it can coach drivers to be less distracted in vehicles. (Provided by TrueMotion via TU-Automotive)
This Zendrive slide from a TU-Automotive webinar demonstrates how Zendrive can help cut distracted drivers. (Provided by Zendrive via TU-Automotive)
An informal TU-Automotive webinar poll April 6, 2017, of what was described as an insurer-heavy audience weighed in on driver distraction. (Provided by TrueMotion via TU-Automotive)
Share This: