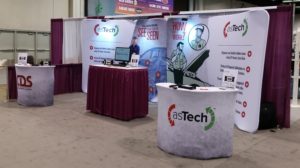 Tuesday's announcement of the purchase of three mobile electronic diagnostic companies drew public attention to what the asTech parent company's CEO said had been a previously quiet ramp-up in field technicians.
Repairify, which controls asTech manufacturer Collision Diagnostic Services, said Tuesday it had bought the Airbag Guy, Replace My Stuff and Theft Replacement Services, which have operations in Maryland, New Mexico, Texas and Virginia. Terms of the deals were undisclosed.
This builds upon CDS' installation of in-house and roving field technicians in Florida, Georgia, Illinois, New Mexico and North Carolina since October 2016, according to Repairify CEO Doug Kelly.
"Next week we'll have Tulsa," Kelly said.
In the field
This new line of business grew out of the limitations of the asTech system, which patches a car at a shop to an OEM scan tool at CDS, Kelly said. While some reflashing and programming of customer shops' vehicles could be done remotely through the pass-through asTech diagnostic device, some procedures and shop demands were only addressable on location. For example, recalibrating a system that requires a test drive, he said.
Even dealerships might need to outsource such work because "they just lack the expertise and knowledge," according to Kelly. Other clients might normally have handled such work in-house — but just didn't have the personnel to do so, he said. Keeping up with the latest vehicle technology might also seem daunting to a customer as well, Kelly said.
Repairify had started meeting these demands by installing dedicated technicians in-house, but the nature of the asTech allowed multitasking and work for other shops as well. Today, the company has a mix of dedicated techs — for example, serving an multi-store operator — and roving ones, according to Kelly.
Kelly said mobile diagnostics and repair was "kind of a cottage industry," and "we see a real need in the marketplace." He said Repairify was "in the process" of buying more companies like those announced Tuesday and planned a "national footprint" of field services.
"Now we can do the complete deal," Kelly said, including work on steering columns, headliners, wiring repairs and such. Each of the three acquisitions specialize in different fields, but all "excel" in replacing and repairing vehicle electronics, according to Kelly.
The company also has the equipment to recalibrate safety equipment on some of the more common vehicles, he said.
The owners of the acquisition targets indicated that switching from a "cottage industry" to a larger outfit was an attractive business proposition. All three will have roles at Repairify.
"The market for what we do is evolving quickly and the folks at Repairify have the resources and expertise to execute," Replace My Stuff owner Steve Fairall, now tasked with business development and Repairify expansion, said in a statement, adding that vehicle technology changes meant "without the support of the manufactures combined with a larger organization, such as Repairify and the technologies they provide; smaller operators will have a difficult time keeping up."
"Gaining access to the resources of Repairify was a major reason I decided to join the organization," TRS owner and incoming Repairify business development Vice President Paul Grant said in a statement.  "I look forward to developing new markets for Repairify in the near future."
"My employees will now have access to tools, training, and education that many smaller operators simply cannot afford to offer," Airbag Guy owner Chris Gutierrez, a MECP-certified I-CAR teacher and licensed crash data analyst who will be in charge of employee development and training at Repairify, said in a statement.
Pricing and carrier acceptance
In terms of pricing, Kelly described the field services as "kind of a sublet operation." He said it's competitive with collision repair market rates, and bills operations using the same categories a repairer would — procedure X might be at a mechanical rate, procedure Y might be at a body rate.
Repairify uses traditional estimating guides to itemize the mobile technicians' work, but the challenge lies in the absence of many of these electronics procedures, according to Kelly. He said the mobile technicians even help write sheets and add manual entries for such not-included operations.
The elephant in the room: It can be hard enough for shops to get paid for asTech scans. Are carriers willing to pay for using Repairify's in-person services? Yes, Kelly said.
In fact, Kelly said his company will even get calls from carriers trusting it to settle whether a certain procedure is really necessary.
It'll answer truthfully regarding OEM procedures, maintaining a reputation as an "honest broker," he said: Yes, this module has to be replaced; no, this one can just be reflashed. The OEM for that customer allowed wiring pigtails, but the automaker for this one doesn't.
More information:
"Repairify, Inc., Parent Company of asTech™, Acquires Three Mobile Diagnostic Companies"
Collision Diagnostic Services, April 4, 2017
Featured image: The Collision Diagnostic Services booth is shown at NACE 2016. (John Huetter/Repairer Driven News)
Share This: