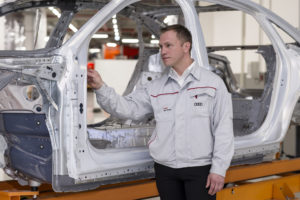 Audi showed off the "Space Frame" for its upcoming next-generation A8 on Wednesday, announcing a body-in-white that used more unique classes of materials than any other A8.
About 58 percent of the structure is aluminum. Another large portion is ultra-high-strength or conventional steel. The front strut tower is magnesium, for 28 percent less weight and more rigidity. The largest piece of the passenger cage is a carbon-fiber rear panel adding 33 percent to the torsional rigidity. Overall, torsional rigidity, which Audi calls "the critical parameter for precise handling and pleasing acoustics" better than the outgoing A8 by 25 percent.
As you might expect, you just can't weld all of these disparate materials, and Audi boasted of employing 14 different joining methods at its Neckarsulm factory.
These include the "cold" joining technique of roller hemming at the front and rear door cutouts to connect the aluminum side-wall frame to the ultra-high-strength steel in the B-pillar, roof rails and sills. According to Audi, this granted the OEM an extra 1.4 inches for the doors over the outgoing A8, making it easier to exit the vehicle and also see better around the A-pillar.
Audi also described outdoing all the other luxury OEMs with "remote laser welding" the A8's aluminum with a technique that "results in a 95 percent savings on recurring costs in series production because it eliminates the need for costly process controls required with conventional laser welding."
Exact positioning of the laser beam in relation to the welding edge considerably reduces the risk of hot cracking during the production process. The new process makes it possible to precisely control the penetration depth of the laser by means of the heat input. In this way, process control can immediately determine the gap width between parts being joined, and this can effectively be closed using regulating controls. The laser beam's high feed rate and low energy use reduce the CO2 emissions of this production step by about one fourth.
Obviously, you won't be laser-welding in the aftermarket. (We've asked Audi if the roller hemming is similarly unreplicable "in the field.") The takeaway here should be that vehicles — particularly mixed-materials ones — are being joined less traditionally by OEMs, subsequently requiring different methods on the back end. (Audi's mixed-materials unibody evokes the steel-and-aluminum CT6, which Cadillac said should only be welded by repairers in a couple of specific places.)
But Audi's reported 95 percent manufacturing savings also should send up a red flag to shops. The more cost-effective something can be mass-produced, the sooner it starts to make sense for more mainstream vehicles. For example, last month, a Ford production executive at Megatrends Detroit credited an extensive factory aluminum recycling system as part of the reason why the aluminum F-150 was economically feasible to produce.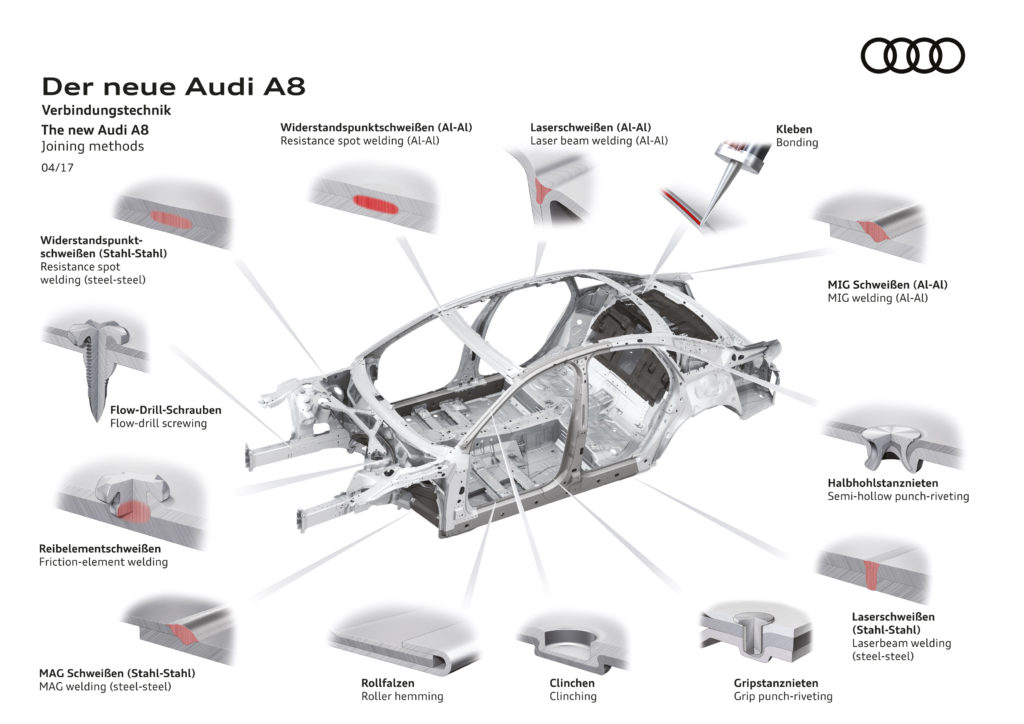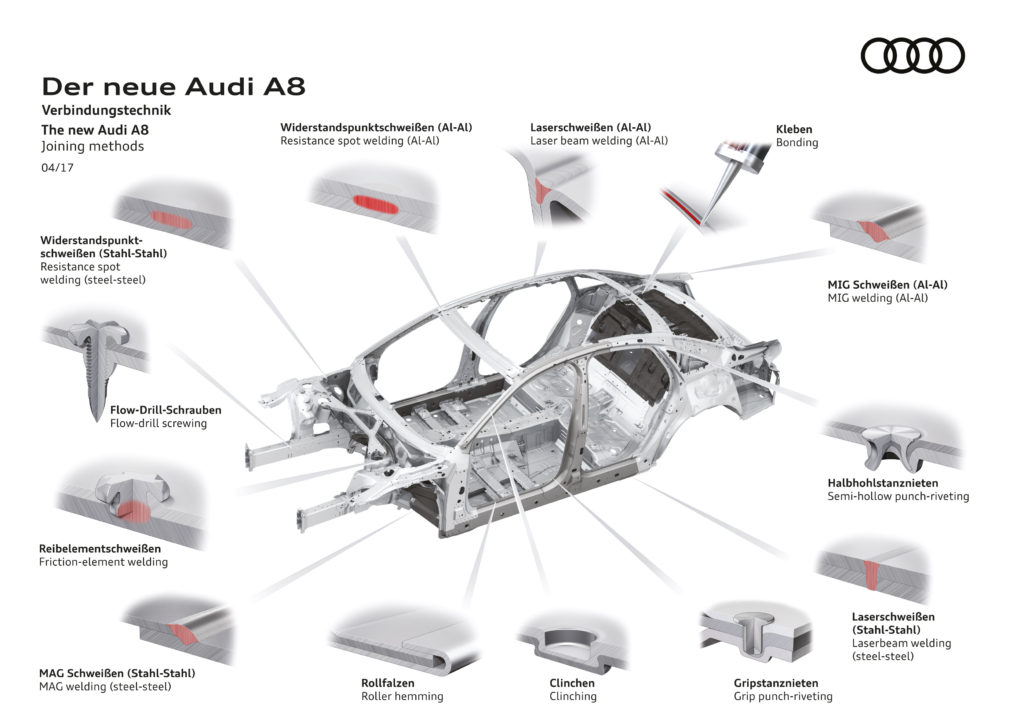 Audi also described more manufacturing efficiency related to the carbon fiber-reinforced polymer rear panel. The OEM said it built the part with a process that cuts out an intermediary step and uses a layered package that sets within minutes.
To optimally absorb longitudinal and transverse loads as well as shearing force, between six and 19 fiber layers are placed one on top of the other, ensuring a load-optimized layout. These individual fiber layers consist of tapes 50 millimeters (2.0 in) wide and can be placed individually in a finished layered package, with any desired fiber angle and minimal trimming of the fibers. The innovative direct-fiber layering process specially developed for this purpose makes it possible to entirely dispense with the normally needed intermediary step of manufacturing entire sheets. Using another newly developed process, the layered package is wetted with epoxide resin and sets within minutes. 
In other materials details, Audi described customized tailored hot-formed steel components and at least one set of aluminum alloys which were "significantly higher" in terms of yield strength.
Audi only sold 4,149 A8s in 2016, according to Good Car Bad Car, but what it does on the A8 has a chance of appearing on other Audi, VW and Porsche models you might be more likely to see in your shop. Take a look at the rest of the A8 images Audi released (they might be our favorite OEM in terms of body-in-white multimedia) and get a sense of what might be coming down the pike.
More information:
"Looking ahead to the new Audi A8: Space Frame with a unique mix of materials"
Audi, April 5, 2017
Images:
Waldemar Root of Audi shows the roller hemming used for the first time at the Audi A8 body shop. (Provided by Audi)
Fourteen different joining methods were used on the next-generation Audi A8. (Provided by Audi)
Audi on April 5, 2017, showed off the "Space Frame" for its upcoming next-generation A8 on Friday, announcing a body-in-white that used more unique classes of materials than any other A8. (Provided by Audi)
Share This: