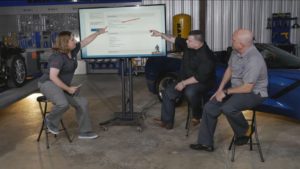 Collision repair experts Wednesday derided the notion of shops "clipping" vehicles or any sectioning unapproved by the vehicle manufacturer.
"Those old general sectioning guidelines that were developed in the '80s are not applicable on today's vehicles," I-CAR industry technical relations director Jason Bartanen said on Wednesday's "Repair University Live."
The dose of reality was one of a few instances of collision repair myth debunking during the Collision Hub broadcast, which demonstrated OEM collision repair procedure usage through the example of General Motors.
Hosts Bartanen, P&L Consultants co-owner Larry Montanez and Collision Hub CEO Kristen Felder had demonstrated access to the free and paid General Motors repair procedures on Genuine GM Parts and ACDelco, respectively.
Montanez had highlighted a clear 2013 GM statement banning clipping. A revised one dated August 2016 elaborates further.
"They're saying, 'Don't do what you want,'" Montanez said.
This led Bartanen to recall the constant refrain from the industry:
"'What does I-CAR say?'" he mimicked, and answered: "Again, I-CAR says, 'Follow vehicle maker instructions.'"
When clipping procedures were developed in the 1980s, the IIHS small-offset crash test didn't exist, and the vehicles were made from mild steel, according to Bartanen.
"They shouldn't be used on today's vehicles," he said.
Some smaller-scale sectioning is still possible, but only when OEMs have a procedure, according to Bartanen.
Montanez noted that even mild steel exterior elements today could be attached to higher-strength, more sensitive steels. Not only were there restrictions on where a part could be sectioned, there might also be restrictions on how it could be joined.
'There's guys who still bond stuff on cause they just feel like it," Montanez said. He also lampooned the notion of clipping a modern car like one from 30 years ago based on rationale like "I'm a good welder."
'Your welding sucked'
And speaking of welders, Montanez observed Wednesday that General Motors like other OEMs had been moving away from butt joints with backing. Instead, it might call for an open butt joint with silicon bronze welding.
You shouldn't call an audible and restore the backing in violation of OEM repair procedures, according to Montanez. OEMs only required the backing plate years ago because "your welding sucked" and they wanted to provide shops with a larger heat sink.
"It's not because it makes it strong, it's because you guys suck at welding," Montanez said.
Since then, they've realized the plate creates corrosion issues, he said.
It's possible that OEMs might retain the backing plate for something like a frame rail, but it was unlikely to be used for outer panels, he said.
Surge protectors?
Repairers also shouldn't attempt to circumvent OEM repair procedures on disconnecting a battery (necessary to do any welding) — instructions which can be so detailed they advise remembering and resetting radio presets or obtaining the radio lock code, according to Montanez. More vehicle systems are being hooked up to the battery, he said.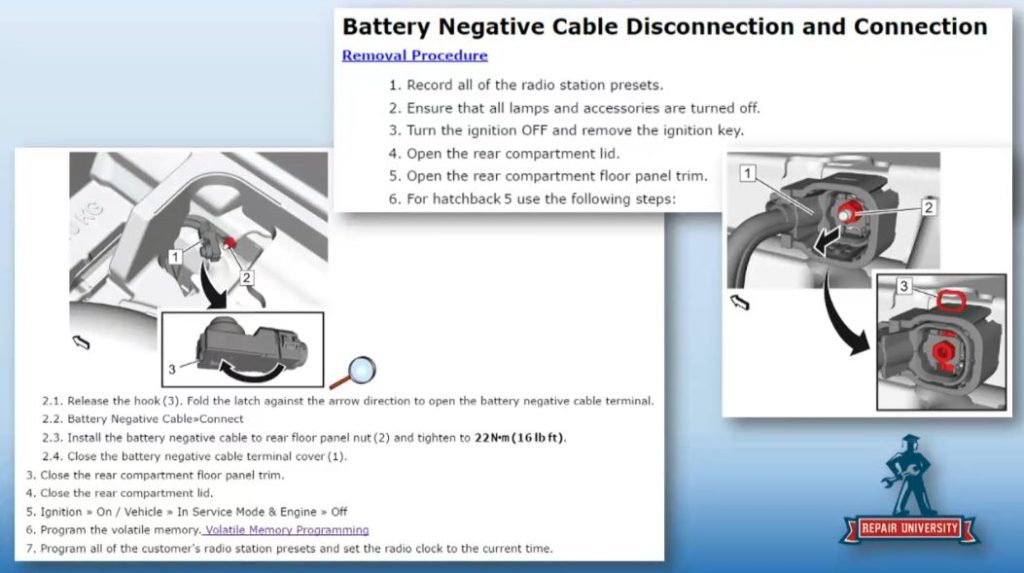 Felder recalled numerous shops declaring they don't need to bother with the disconnection, declaring, "'I got a surge protector on the battery.'" Some carriers even argue that shops should buy surge protectors to avoid adding battery disconnect-related labor to an invoice, she said.
"If you listen to that, you're completely liable for the airbags being deployed," Montanez said. The surge protector holds enough charge to fire the bags, he said — even a 9-volt battery contained enough juice to do so.
It's why OEMs want you to disconnect the airbag control module, he said. Otherwise, one runs into situations where dangling wires and connected accelerometers trigger the air bags activated during the repair process.
Felder said that she often instructs shops: "The best advice is not to take repair advice from the tool truck guy."
More information:
Collision Hub "Repair University Live" Livestream channel, April 12, 2017
ACDelco Technical Delivery System (GM paid repair procedure site)
Genuine GM Parts (GM free repair procedure site)
Images:
Hosts Kristen Felder (Collision Hub), left, and  Larry Montanez (P&L Consultants) interact during a discussion of "clipping." (Screenshot from Collision Hub video)
Repairers also shouldn't attempt to circumvent OEM repair procedures on disconnecting a battery (necessary to do any welding) — instructions which can be so detailed they advise remembering and resetting radio presets or obtaining the radio lock code, according to L&L Consultants co-owner Larry Montanez. More vehicle systems are being hooked up to the battery, he said April 12, 2017. (Screenshot of General Motors repair procedures on Collision Hub video)
Share This: