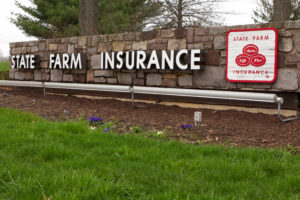 State Farm will require between one and two technicians at every Select Service auto body shop to have passed I-CAR's aluminum and steel welding program by March 2018, it announced Thursday.
I-CAR's "Steel MIG Welding" (WCS03) and "Steel Sectioning" (SPS05) courses must be passed by Dec. 31, and "Aluminum MIG Welding" (WCA03) must be finished by March 31, 2018. I-CAR will cut State Farm shops a break on pricing, according to an I-CAR webpage describing the changes.
"Facilities with 10 technicians or less will be required to have at least one technician complete the training to maintain their certification, while facilities with 11 or more technicians will be required to have at least two technicians complete the training," State Farm wrote Thursday.
Various combination of other OEMs' courses (Audi, Jaguar Land Rover, Mercedes and Toyota) and one from welding training firm Lew Kinney will also satisfy this requirement. 
A multi-store operation which only performs aluminum repairs at specific facilities in its chain ("load leveling") will only need to meet the aluminum training requirement at those shops, according to State Farm.
"State Farm believes it's important for Select Service Program network members to have ongoing collision repair education," State Farm senior media specialist Justin Tomczak said in a statement. "I-CAR's programs, including the Welding Training & Certification, are widely recognized as the industry standard for training. We selected I-CAR since it has the largest network of instructors to deliver training and because of the financial benefit it provides our network facilities. This effort will further strengthen our repair network's integrity, efficiency and dedication to our customers."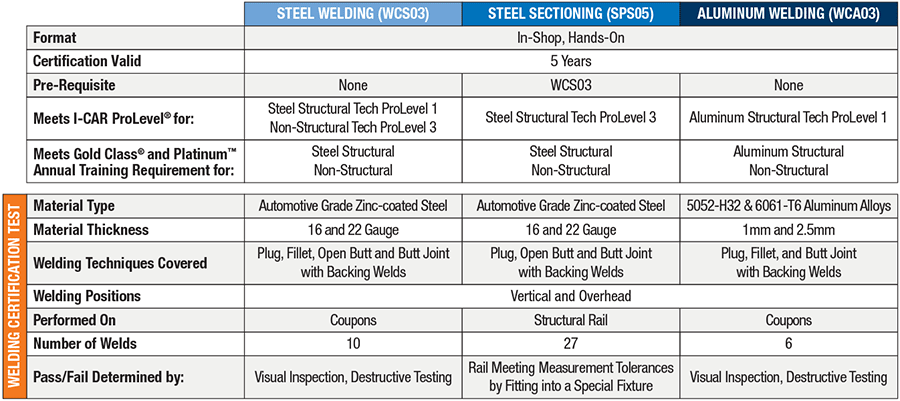 The shops might have to buy some new equipment if they haven't already. I-CAR says it checks welding students' shops to ensure they have the correct gear.
"The program begins with the Welding Capability & Readiness Assessment of the facility's gear, equipment and infrastructure (Phase 1)," I-CAR wrote in a news release Thursday. "Each program includes in-shop instruction on welding theory (Phase 2), followed by a skills assessment, then intensive hands-on practice with coaching as appropriate (Phase 3). Students are then required to pass a formal welding certification test to I-CAR standards (Phase 4)."
To some degree, that should help State Farm ensure its shops are staying current on equipment — a sort of indirect DRP audit.
"State Farm Select Service repairers who participate in I-CAR's Welding Training & Certification Program will also benefit from an assessment of facility infrastructure and equipment," State Farm wrote Thursday. "This includes coaching and troubleshooting to ensure readiness for a successful training event. Once a facility passes the assessment, students will receive personal instruction, practice on the equipment they use in-shop every day and evaluate their skills through a certification test."
I-CAR in February reported a 60 percent increase in its welding students and 71.6 percent more "welding events" in 2016. A year prior, the organization warned the industry that 69 percent of technicians lack any I-CAR welding certification, even on steel — a statistic I-CAR President and CEO John Van Alstyne repeated Thursday.
"With vehicles rapidly changing – featuring new advanced technologies and material combinations – it is crucial that we address the growing repair complexities our industry is facing," John Van Alstyne said in a statement Thursday. "Estimates show approximately sixty-nine percent of technicians who weld in collision repair facilities today still lack formal welding training. I-CAR commends State Farm's commitment to quality repairs and its recognition of I-CAR's Welding & Training Certification program as the industry standard for quality welding training."
State Farm shops can register at www.i-car.com/selectservicewelding.
"We commend State Farm for taking the bold step to require welding training for its vast repair network, especially given the growing repair complexity in today's vehicles that feature different materials and advanced technologies," Van Alstyne said in another statement Thursday. "State Farm's investment in ongoing collision repair training can yield improved work quality, efficiency and customer satisfaction."
While an important step toward ensuring the nation's No. 1 auto insurer will refer customers to shops that know how to properly weld a vehicle, the State Farm-I-CAR program raises questions for the carrier and its direct repair program shops, as well for I-CAR.
For State Farm:
How many existing in-network shops meet these qualifications today, and will State Farm only refer business to those locations or similarly qualified non-DRP repairers until the other network shops meet the new criteria?
Is one or two trained technicians per location enough from a practical basis to ensure customers are getting what they need?  This seems as though it would create a cycle-time-killing backlog if the spirit of the mandate — no unvetted staff weld vehicles — is followed.
What happens if these technicians leave for another shop? Is the shop required to notify State Farm and refuse referrals?
How does State Farm (and its customers) ensure that only the I-CAR-vetted technicians weld customer vehicles?
What took them so long to require this, given a promise to send customers to shops which will provide "Quality, professional repairs?"
"State Farm made this requirement change so that more of the industry, and ultimately every technician, has the knowledge and skills to perform proper welds," I-CAR wrote in an FAQ.
Asked these questions, Tomczak provided the following statement: "Repair facilities participating in our program should work directly with their State Farm contacts to address any questions."
State Farm could have used its influence to set the industry bar even higher — more I-CAR-graded welding staff, or a tech with European OEM welding certification to boot. But at the end of the day, it is of course the collision repairer's responsibility to be properly trained and equipped to repair any vehicle they accept — regardless of the baseline requirements set by a carrier or even an OEM network. (After all, nothing prevents a shop from training all of its welders; I-CAR will even throw in a free "Vehicle Technology and Trends 2017" course if a State Farm shop trains more than the minimum.)
If State Farm puts checks in place to uphold the spirit of the welding requirement — nobody without I-CAR approval welds a State Farm car — then shops who don't train more staff will likely blow cycle time and get dropped from Select Service. It would indirectly raise the bar.
Besides, in all fairness, if the state of industry welding ability tested by a third party is as bad as I-CAR indicates, then it seems like State Farm's actually ahead of the (rather sorry) curve.
We asked I-CAR Thursday afternoon for a sense of how many carriers have similar requirements regarding welding or other I-CAR training, and how what State Farm is proposing stacks up to other shops industrywide.
We also asked if the educational organization would cut similar deals with other carriers, or if the discount was exclusive to State Farm. In either case, would such relationships and guaranteed student volume raise a conflict of interest — would I-CAR grade such insurer candidates easier to avoid losing the business?
Continue to check Repairer Driven News for updates from both entities.
More information:
I-CAR Select Service welding program
I-CAR Select Service welding FAQs
I-CAR welding certification webpage
Images:
I-CAR's welding certification requirements as of April 2017. (Provided by I-CAR)
The State Farm Northeast Zone operations center in Concordville, Pa., is shown April 10, 2011. (Micah Youello/iStock)
Share This: