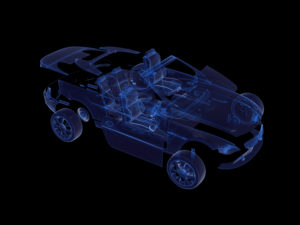 "Alternative parts" grew to 37 percent of a repair order in 2016, up a percentage point from 2015, in what LKQ CEO Robert Wagman on Thursday called a "favorable" trend that wouldn't be squelched by more complex OEM parts.
An analyst on the customer's first-quarter earnings call asked if that 100-basis-point growth in parts other than new OEM was industrywide or driven by the increasing market share of consolidating multi-shop operators.
"It's a combination of both," Wagman said.
He estimated about 50 percent of the growth was driven by insurers, and 50 percent was from a "true DRP environment." (Which means really 100 percent insurer-driven, if you think about it.)
Here's CCC "Crash Course" on parts usage data from 2016: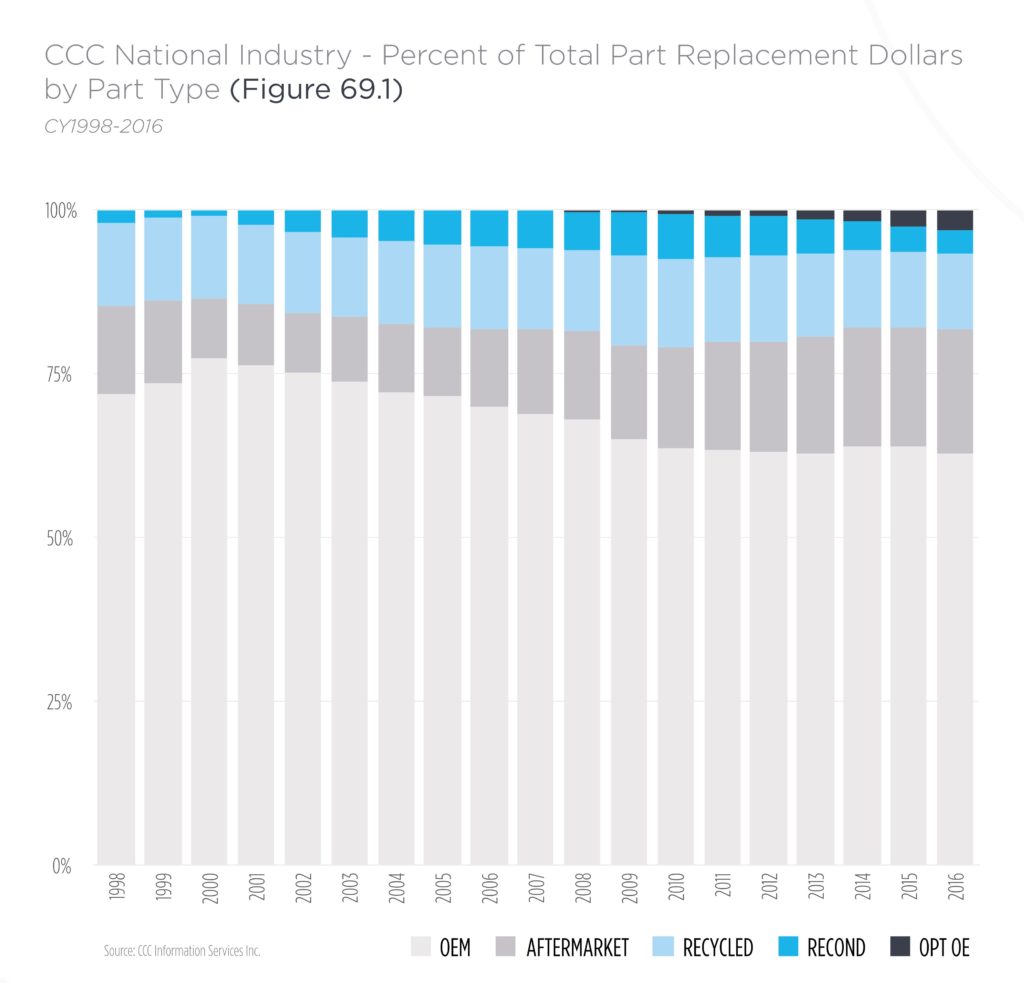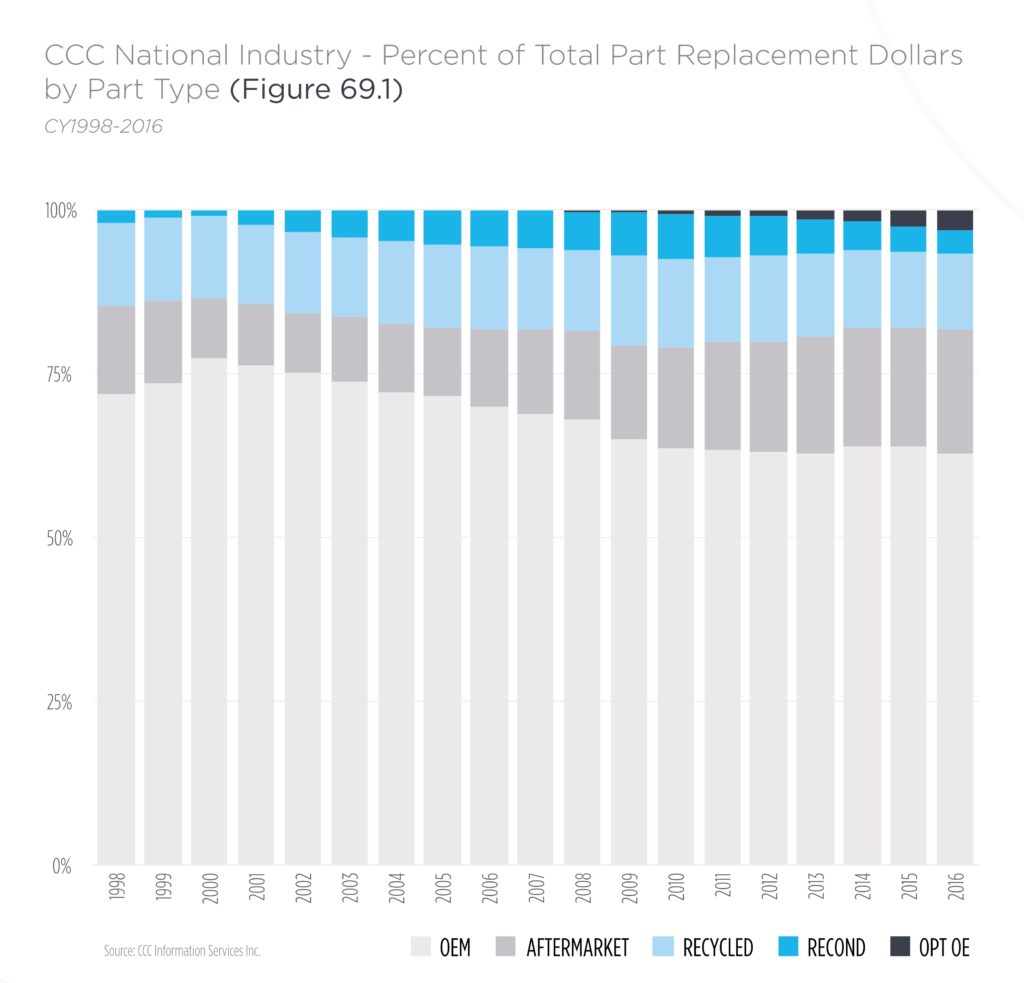 As for the supply side, Wagman said LKQ grew its North American certified parts 17 percent and collision SKUs 9 percent in the first quarter over their levels in January-March 2016. It also bought 75,000 vehicles for dismantling in North America, up 4.2 percent.
Asked if increasing OEM part complexity would cut into LKQ's business by affecting the ability of suppliers to produce imitation versions, Wagman said there would be "no issues" from suppliers.
"Aluminum, high-strength steel, all of our manufacturers have access to that," he said. In fact, they're producers for the OEs. So they have an aftermarket division and an OE division. So that should not be an issue at all."
LKQ: Weather leaves 1Q auto claims increase 'as low as its been for quite some time'
As for electronics, Wagman said insurers already refused to use recycled or aftermarket sensors.
"So those were parts we really couldn't sell before anyway," he said. "So it's really not an issue."
He reiterated his bullishness in what appeared to be another reference to metal parts.
"The more expensive components though, should bode well for us, because we can replicate them, and obviously we have them in the used as well," he said. "So we should receive a little bit of a tailwind there."
Of course, while an aftermarket supplier might be able to replicate a material, a shop, insurer and customer is gambling that a) they did so correctly and b) they even got the metal right in the first place.
Last year saw two instances of aftermarket manufacturers that failed to accomplish one or the other.
An Vermont repairer last year used an Ames Rockwell hardness tester to deduce an aftermarket upper tie bar of an Subaru and aftermarket Toyota Tundra lower radiator support were roughly 16,000 psi (110 megapascals) stronger than their their OEM counterparts.
An Australian study found the creators of an imitation Holden Commodore hood failed to craft it out of the aluminum like the original. Their steel replica might have looked similar, but the weight difference causes the hood support strut to fail — slamming the hood and jeopardizing a mechanic or owner's fingers.
Earlier in the year, Nissan resurrected at NACE an older display of another aluminum hood erroneously duplicated in steel (and weighing 30 pounds more) by an aftermarket producer. The steel version even had a warning label about the possibility of hood support failure.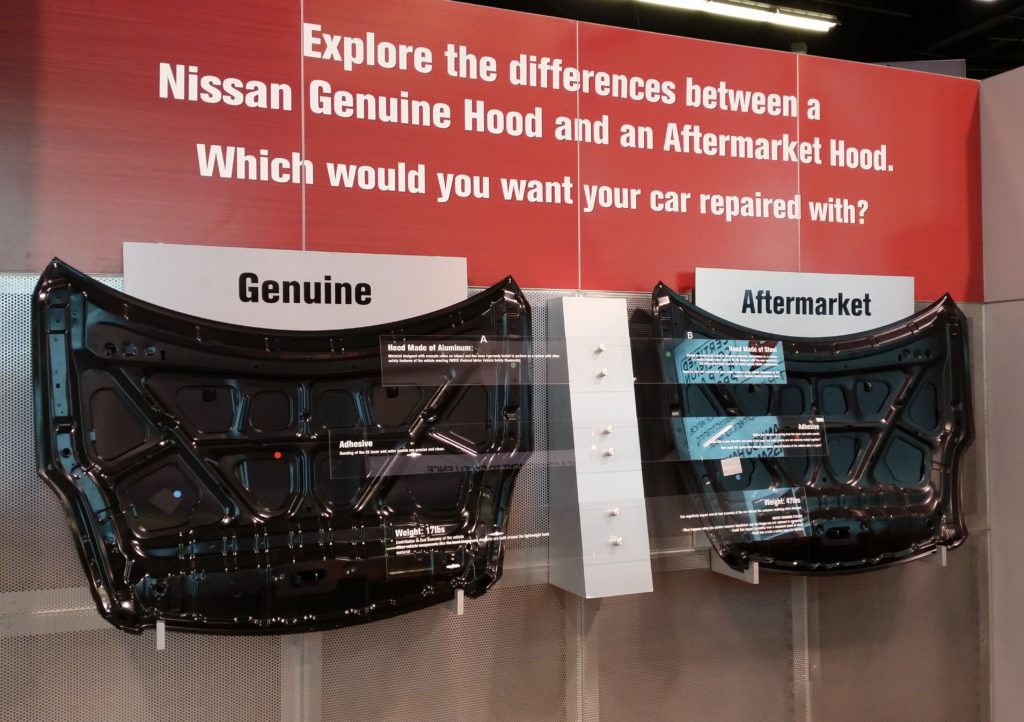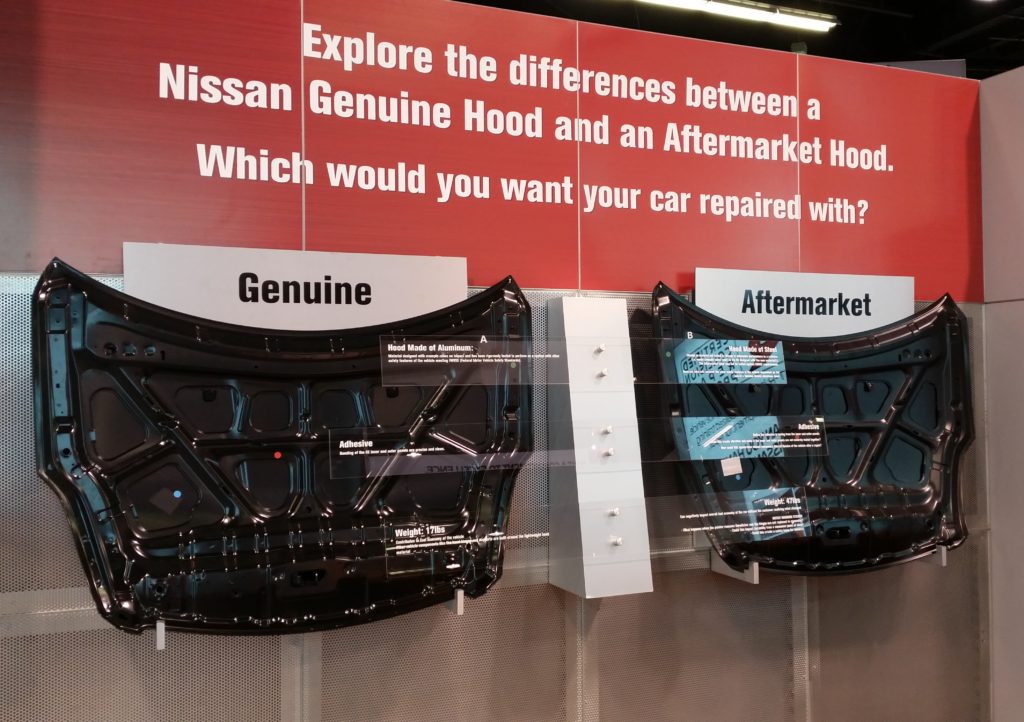 Other parts highlights:
The company married three aftermarket glass facilities from Pittsburgh Glass Works into its wholesale warehouses. LKQ bought the company in 2016, kept the aftermarket lines, and sold off PGW's OEM glass business to Vitro. "The glass location integration is on schedule, with six additional locations planned for the balance of the year," Wagman said.
A productivity initiative also led to 0.5 gross percentage points of margin growth for LKQ's North American aftermarket procurement.
LKQ bought recycler operations in Michigan and Sweden (and a specialty products facility in Pennsylvania).
Hat-tip to Seeking Alpha, whose earnings call transcript helped us more efficiently pull quotes.
More information:
LKQ first-quarter 2017 earnings call transcript
Seeking Alpha, April 27, 2017
LKQ first-quarter 2017 earnings call
LKQ, April 27, 2017
"LKQ Corporation Announces Record Results for First Quarter 2017"
LKQ, April 27, 2017
LKQ first-quarter 2017 earnings presentation
LKQ, April 27, 2017
Images:
In addition to traditional parts categories, have you considered using stock image holograms? (jm1366/iStock)
CCC data indicates an uptick in parts other than new OEM components being used in collision repair in 2016. (Provided by CCC)
Nissan at NACE 2016 presented an older display of another aluminum hood erroneously duplicated in steel (and weighing 30 pounds more) by an aftermarket producer. The steel version even had a warning label about the possibility of hood support failure. (John Huetter/Repairer Driven News)
Share This: