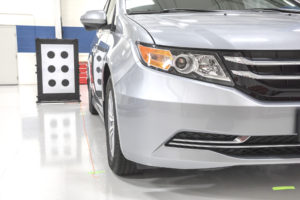 Wednesday's Collision Hub "Repair University LIVE" featuring scanning and calibration will be streamed for free, and collision repairers, insurers, and perhaps even vehicle owners themselves should take advantage of it to bone up on the topic.
Scanning got the headlines, but calibrating the vehicle electronics you're scanning is even more important, and repairers need to be doing both in accordance with OEM requirements. Otherwise, you run into nightmare scenarios like autobraking cameras pointed the wrong way or weight sensors unsafely triggering airbags for child passengers or failing to deploy them for adults.
As we like to say, scanning is like taking an X-ray of a broken arm. Calibration is like setting the fracture so the arm heals straight. On Wednesday at noon Eastern, "Repair University" will further explore the distinction between the two concepts with experts from Bosch, Collision Hub, I-CAR, Mitchell and Vehicle Collision Experts.
A season pass to the live streams and their replays costs $30, but two companies have stepped up as sponsors and led Collision Hub to waive fees for the industry to watch April and this week's films.
BASF picked up the tab for last month's stream on accessing collision repair procedures, which featured Collision Hub CEO Kristen Felder, P&L Consultants co-owner Larry Montanez, and I-CAR industry technical relations director Jason Bartanen.
Mitchell covered the bill for Wednesday's "Repair U."
"Scanning and calibration is one of the hottest topics in our industry right now and for good reason. Not only does diagnostics impact repair cost and cycle time, but perhaps more crucial is the effect on vehicle safety," Mitchell sales and service Vice President Jack Rozint, who also leads the Collision Industry Conference diagnostics task force, said in a statement. "Mitchell is pleased to be part of this important discussion with Collision Hub."
Shops and carriers can further educate themselves on the topic with an April Society of Collision Repair Specialists video and January and March I-CAR guest columns on the differences between scanning, diagnostics and calibration.
More information:
Collision Hub May 2017 "Repair University LIVE" feed
Collision Hub Livestream page, May 24, 2017
Collision Hub "Repair University LIVE" Livestream page
"SCRS Education Committee Presents – Scanning, Diagnostics and Calibration"
Society of Collision Repair Specialists YouTube channel, April 18, 2017
OEM1Stop automaker repair procedure portal
I-CAR Repairability Technical Support calibration database
Featured image: A target is placed behind a 2017 Honda Odyssey to recalibrate a lane-watching camera's aim. (Provided by I-CAR)
Share This: