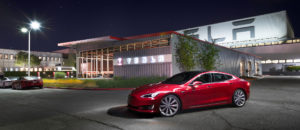 Automotive News on Sunday reported that AAA could charge Tesla owners up to 30 percent more after new Highway Loss Data Institute information showed the demographic posts much higher frequency and severity than the Model S and Model X's competitors.
The HLDI, part of the Insurance Institute for Highway Safety, essentially grades the damage incurred by models on a curve. Like other governmental statistical comparison models, it uses a base 100 system of comparison which sets the average equal to 100 and represents amounts above and below that "base" accordingly.
A score of 100 in collision for a particular model year in the data above means the car's average collision repair claim equaled the average dollar amount observed by the entire American fleet. A model with collision claims 10 percent higher than average would be rated 110, while one with bills 10 percent lower than average would receive a 90 score. This allows a carrier to understand the potential risk of insuring a particular vehicle and price the premium accordingly.
HLDI data found the 2014-16 Tesla Model S without four-wheel drive had 46 percent higher frequency and at $11,352.9, about 116 percent higher severity than the national passenger fleet averages of 7.4 and $5,256, respectively. The four-wheel drive Model S had 50 percent higher frequency and 125 percent higher severity for an overall average of $11,826.
The 2014-16 Model X got in crashes 41 percent more often and produced 89 percent higher collision severity ($9,933.84) than the entire passenger vehicle fleet.
Combine both frequency and severity, and overall losses on the Model S equate to "more than 3 times higher than average, in line with other high performance luxury cars from Audi, BMW and Maserati, which also get into a lot of crashes and are costly to repair," an IIHS spokesman explaining the methodology pointed out.
According to Automotive News:
Anthony Ptasznik, chief actuary of AAA-The Auto Club Group, said the group noticed the anomaly in company data and then investigated other data sources, primarily relying on the Highway Loss Data Institute because of its scope, to confirm its analysis. "Looking at a much broader set of countrywide data, we saw the same patterns observed in our own data, and that gave us the confidence to change rates," he said.
Other large insurance companies, including State Farm and Geico, said that claims data is a major factor in calculating premiums, but would not disclose if their Tesla-owning customers would also see rates rise.
Tesla complained that it had been unfairly lumped in with other large luxury car and SUV competitors according to Automotive News. It called the conclusion "severely flawed" and "not reflective of reality," pointing out that "it compares Model S and X to cars that are not remotely peers, including even a Volvo station wagon."


Regardless of if you feel Tesla or AAA/the HLDI's analysis is more appropriate, both parties in the dispute are actually making the same point, and it's one collision repairers and insurer claims staff should take to heart: Every unique model carries its own severity trends.
If an insurance adjuster, direct repair program key performance indicator metric, or customer disputes the severity of a specific vehicle or the overall KPI of a DRP shop on the grounds that it's higher than a fleetwide or segmentwide average, they might be comparing apples to oranges. The HLDI data can help demonstrate as much.
In 2015, we discussed with AkzoNobel senior services consultant Tim Ronak how a shop could use HLDI's research to draw conclusions about their own market and severity.
His work and our coverage at the time involved the HLDI's 2011-13 data, but the broader analysis and discussion would apply to the 2013-15 data now available on the HLDI site and the 2014-16 data used by AAA. Learn more here.
More information:
"Tesla owners should pay more for insurance, AAA says"
Automotive News, June 4, 2017
Insurance Institute for Highway Safety Highway Loss Data Institute insurance loss information page
HLDI 2014-16 large luxury SUV data
HLDI 2014-16 large luxury sedan data
Featured image: A Tesla Model S is parked near Tesla's Fremont headquarters. (Provided by Tesla)
Share This: