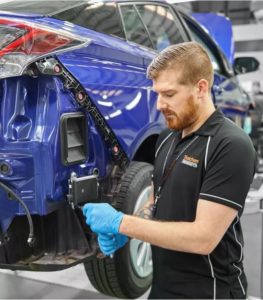 Thatcham Research on Tuesday urged automakers to figure out ways to reduce repair costs, which the British organization says have risen by 32 percent in three years to about $2,174.
"The average repair bill has risen by 32% over the last three years," Thatcham CEO Peter Shaw said in a statement. "This has been driven by the reparability of parts such as headlamps, increasing complexity of vehicle materials and technology and the rising cost of spare parts, influenced to some extent by currency fluctuations. Vehicle manufacturers must bring these costs under control."
Thatcham is like the United Kingdom's version of the Insurance Institute for Highway Safety, but it also researches and develops repair procedures as well.
Though the European Union and U.K.'s regulatory, safety and consumer demands might produce a different vehicle fleet in terms of mix and individual car specs than the U.S., Thatcham's insights can generally be tapped by American repairers to flesh out their understanding of broader automotive trends. (Besides U.S.-U.K. cultural, societal similarities, automakers are trying to build cars they can sell in as many countries as possible with as few platforms as possible; i.e.: the body of a car is the same in Britain as it is in the U.S.)
Thus, Thatcham's list of the "Top 5 Repair Challenges" might sound familiar. If they don't yet, they will soon as newer vehicles become increasingly involved in collisions.
1. ADAS systems: maintenance, repair, costs, time and resource required for calibration
2. Complexity: new skills for Vehicle Damage Assessors and engineer assessors, as multiple material types, as well as ADAS and hybrid powertrains, become a regular feature of volume production vehicle construction
3. Paint and panels: new technologies such as textured paint, or crystal finishes, and refinish on multiple materials. Panel repair is increasing in cost and complexity too – as a result of pricing anomalies, missing repair data, intrusive repair methods and lack of correct stock
4. Headlamps: LED and LED Matrix, Laser and soon OLED lighting continue to gain prominence, but often cost considerably more than a bulb headlamp and some may be impossible to repair rather than replace
5. Electrified PowerTrains: diagnosis of electrified powertrains and electrical architecture. The diverse range of technologies and tools required are not acceptable investments to expect of a bodyshop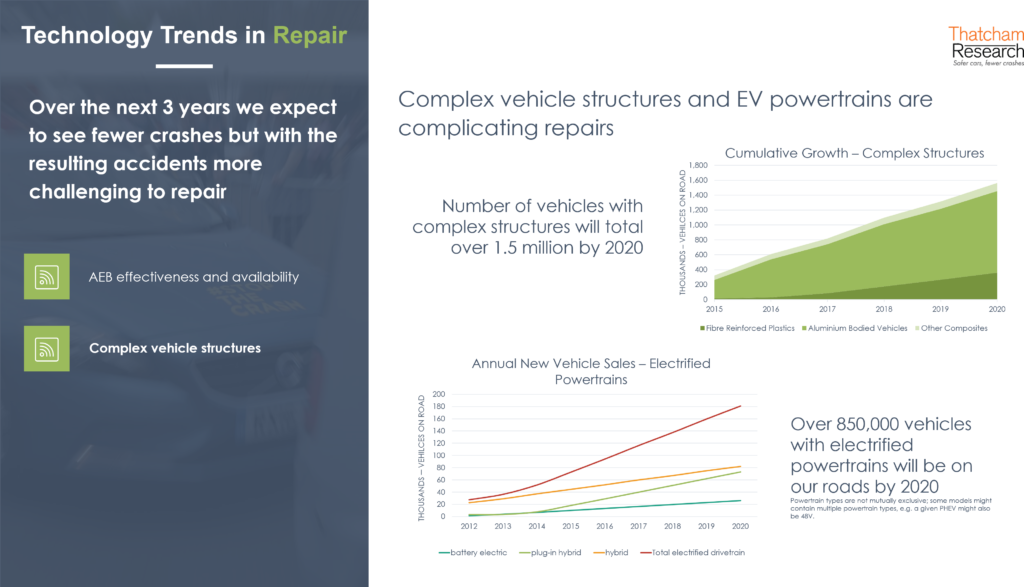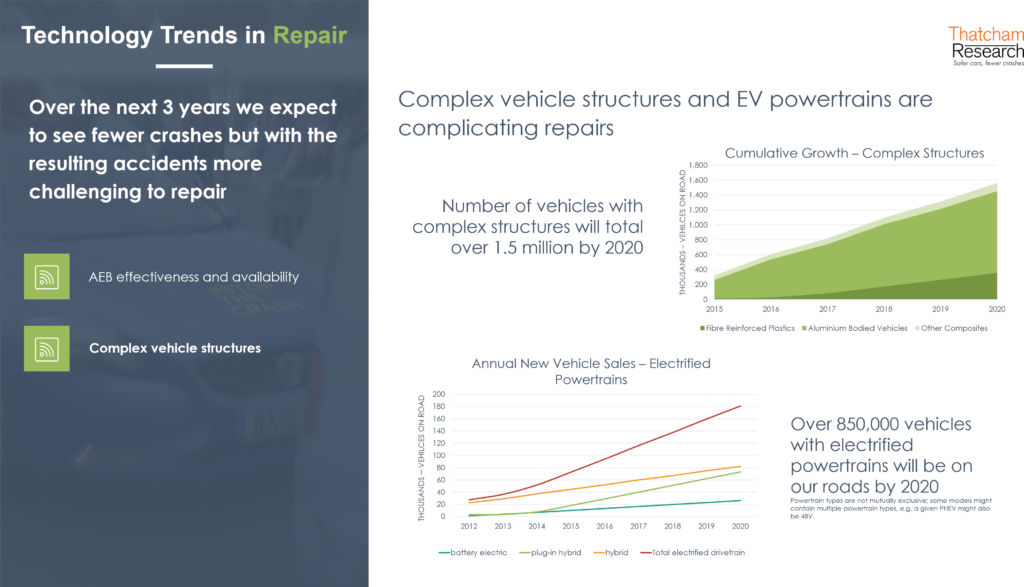 We write a lot (and Thatcham talks a lot in its news release) about the fancy technology in Nos. 1 and 2, and shops and insurers certainly need to be prepared to fix those systems and reimburse that work correctly, respectively.
But don't overlook what Thatcham's saying about 3 and 4. Headlamps, paint and panels — that's body shop and collision/catastrophic claim bread and butter. According to the trends Thatcham sees, repairs or replacement involving those factors are going to be harder and cost more. (And potentially stifle aftermarket reverse-engineering, though comments from LKQ and the Quality Parts Coalition suggest that won't be an issue.)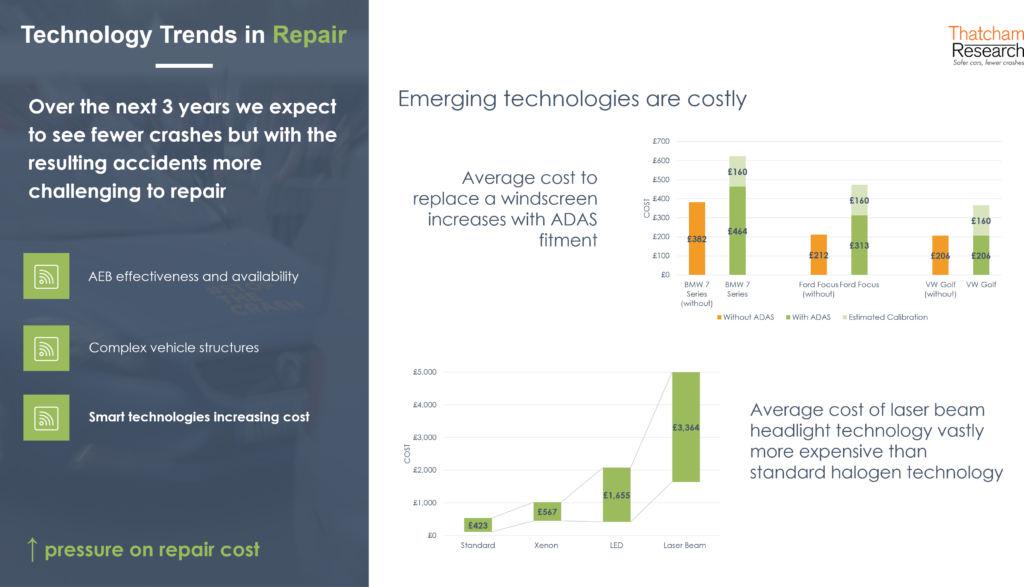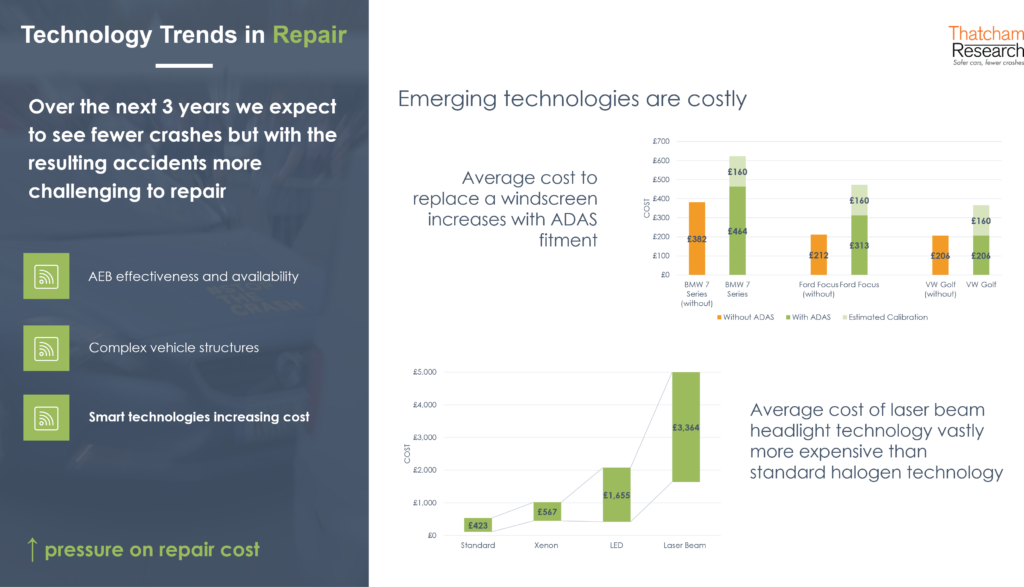 "The rising use of a mix of new materials in modern cars is leading to more intrusive repairs," Thatcham Repair Technology Centre operations manager Thomas Hudd said in a statement. "This means that where we were once able to partially replace a panel, we now need to replace it in its entirety. This is especially true of aluminium panels, which are challenging the repair industry as it is stiffer and harder to reshape than steel."
As for advanced driver assistance systems, Thatcham said such technology could increase windshield claims by as much as 123 percent. Cameras used for ADAS systems like autobraking often "look" out the windshield from their housing on the back of a rearview mirror. Because of this, work on or replacement of a windshield can be demand the camera be recalibrated — and potentially only OEM glass used for a replacement.
"The cost for windscreen mounted ADAS calibration spans from ($0 to about $906) – across car manufacturers and often across similar sensors and technology. This is unacceptable," Shaw said in a statement. "Unless urgently addressed, these costs will challenge the current model of a no-claims bonus being unaffected by a windscreen repair or replacement."
Thatcham said a Ford Focus windshield can cost 123 percent more to replace if ADAS exists on the car. A Volkswagen Golf can cost 78 percent more.
Only 5 percent (about 2 million) of the cars in the United Kingdom have standard autobraking, but "with the systems set to be more prevalent over coming years, this issue will only continue to grow," Thatcham predicted. CCC has offered a similar analysis.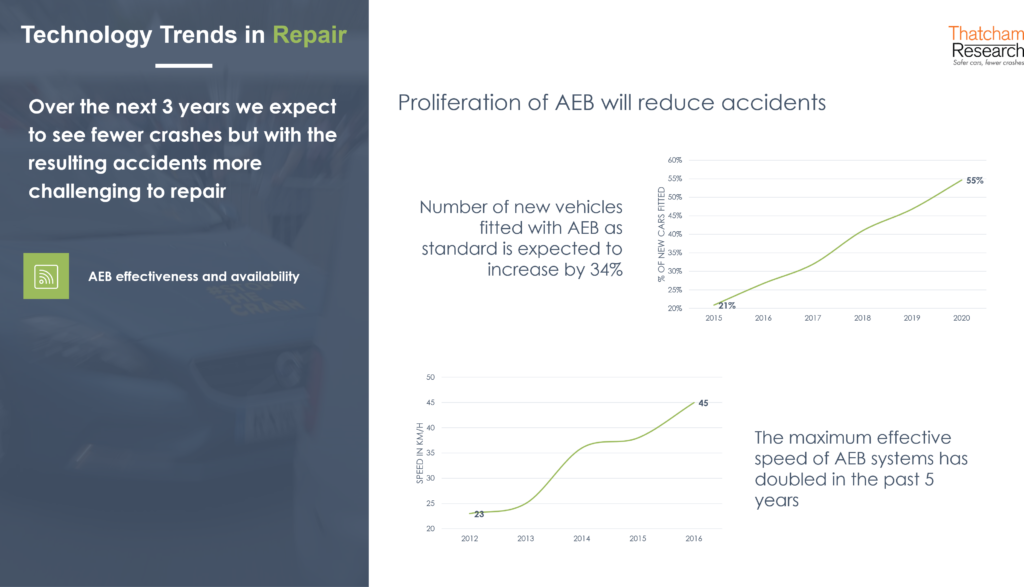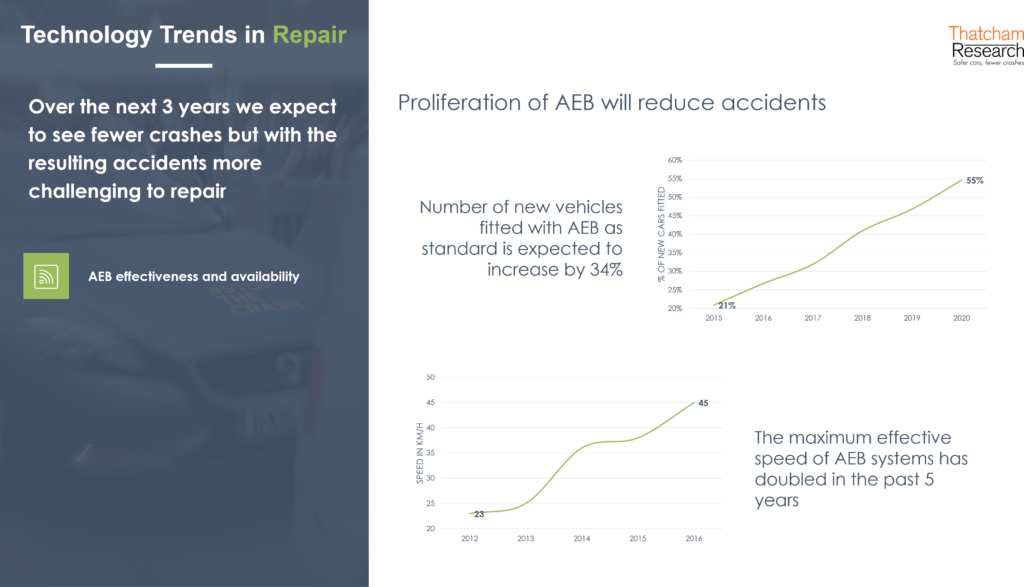 "Repairers need a new set of skills to meet the demands of the Bodyshop of the Future," Thatcham head of repair sector services Dean Lander said in a statement. "Technical expertise in diagnostics and calibration has become as vital as expertise in repairing and refinishing the physical hardware of a car. We must portray a fresh image to recruit the right people and help them to develop these new skills for bodyshops, as well as developing leadership skills to aid long term retention. This is a key focus of Thatcham's new Leadership and management foundation programme, delivered in partnership with BSG, which is launching today at Repair Focus."
Higher cost inevitable?
Thatcham's analysis seems solid and should be taken to heart by shops, insurers and OEMs. But there might not be much anyone can realistically do.
Some of this repair expense and complexity is simply the cost of automotive progress and OEMs meeting government and consumer demands — as well as pressure from groups like the IIHS and Thatcham itself for more expensive safety technology and high marks on new crash tests.
Want autobraking standard by 2022? Standard backup cameras? Electronic stability control? Smart airbags standard? A safer crash structure? Better gas mileage or less emissions? More electric cars? These realities in the U.S. were all shaped by regulators, consumers and the IIHS as well as the OEMs' own business decisions.
Still, based on auto body professionals' comments online, one OEM's engineering department might bless the aftermarket with an easy-to-fix design, and others build something that might play fine in a factory but is absolute torture on a repairer's efficiency. (And subsequently, the mutual customer's wallet in the form of premiums or higher out-of-pocket costs.)
There also appears to be room for greater standardization of calibration procedures; depending on which technique is adopted, this could cut costs. Electronics have a tendency to fall in price, which could bring down parts costs in the future.
Finally, we've heard suppliers urge OEMs to bring them into the lightweighting process early in a car's design cycle, as they might have suggestions or products an automaker's engineer hasn't even thought of. Doing the same thing with collision repair professionals under an NDA could go a long way towards shaping more affordable repairs by bending the ear of engineers ("We could fix that faster if you do X.") before a body-in-white, closure or active safety system design is set in stone.
Thatcham said it will foster meetings of automakers, repairers and insurers "to address challenges" through its Bodyshop of the Future program but didn't elaborate in the news release.
As noted above, Thatcham put the blame on OEMs. However, Jason Moseley, executive director of the United Kingdom Retail Motor Industry Federation, on Friday challenged any perception that auto body shops were also to blame for increased repair bills.
As Mosley, whose group is the parent organization of the National Body Repair Association, wrote on LinkedIn:
Over the past few months we have seen statements from various industry enclaves about rising repair costs. Lets be clear this is not on the elements that are under control of accident repair centres. Vehicles are aircraft tech – things like headlights, windscreens, sensors/radars are pushing up parts prices due to their sophistication, which is normal. Parts platforms are in abundance to try and make things more efficient and competitive….not sure thats working. The truth is that a sophisticated technology asset should cost more to repair because of the investment needed in the 4M´s. If work providers are paying more and repairers margins are at best static (from a poor base) then who is benefitting from the increase payments for repairs? I would suggest the opaqueness of the supply chain and the complexity of all the kick backs, contract terms etc.. is where the majority of issues lie ( look at staff ratios admin to shop floor in a bodyshop now..this is just to deal with the … terms and the commercial route a repair can take) .
More information:
"Thatcham Research calls for new thinking and approaches to halt spiralling cost of repair"
Thatcham, June 6, 2017
Images:
A Thatcham staffer replaces an advanced driver assistance system component. (Provided by Thatcham)
A 2017 Thatcham infographic examines the rise in "complex vehicle structures." (Provided by Thatcham)
A 2017 Thatcham infographic shows rising repair costs. (Provided by Thatcham)
A 2017 Thatcham infographic looks at automatic emergency braking. (Provided by Thatcham)
Share This: