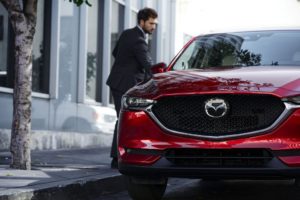 It's not just the body department that might have to adapt and potentially learn some new some procedures for the next-generation 2017 Mazda CX-5. Painters will encounter Mazda's stunning but potentially more complicated "Soul Red Crystal" color that debuted on the crossover this March.
"There's no way to get around this: Our takumi colors (Soul Red Metallic, Soul Red Crystal and Machine Gray Metallic) are more complicated than what you'd find on any other car at their price points," Mazda product communication specialist Jacob Brown wrote in an email. "Our designers want cars to be seen as art and look great in all light. Because of this, they challenged industry norms to make a scalable selection of premium paint colors that highlighted the cars' details in a way no other automaker could do this side of a custom Mercedes Designo color (which usually cost a few thousand dollars extra) or some of the colors offered on the Nissan GT-R. Soul Red Crystal, by comparison, is $595 extra, making it a bargain next to these two very comparable color and paint depth comparisons."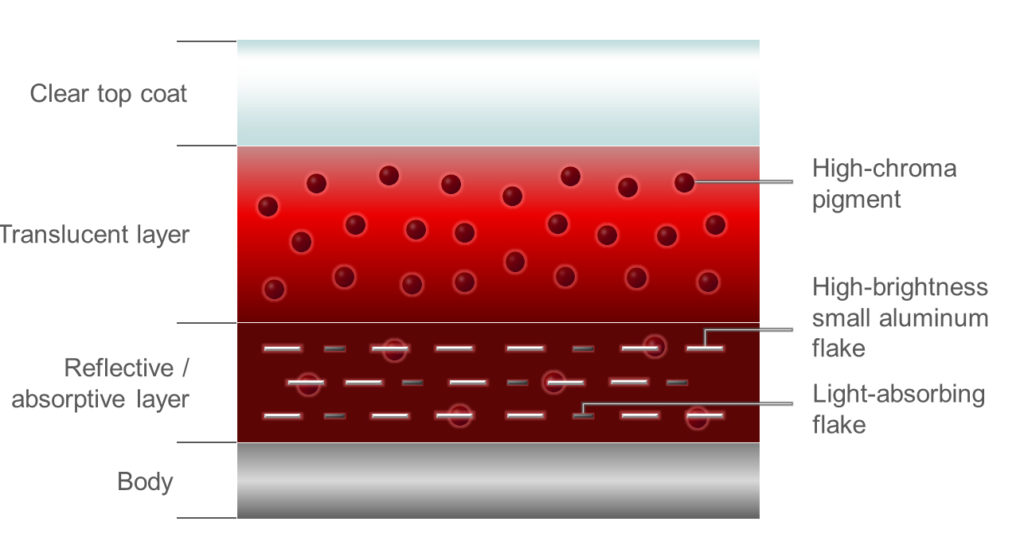 The CX-5 was Mazda's top selling vehicle last year at 112,235 units, and the Soul Red Crystal color will be expanded to other Mazdas as well, according to the OEM. So the odds are good that a paint department will encounter the color in the reasonably near future, particularly after Mazda dealers sell off the remaining stock of 2016 CX-5.
Brown wrote that all auto paint shops should be able to get Soul Red Crystal, known to the aftermarket as paint code 46V. All the major paint manufacturers either have produced a version or are working on one that can be sprayed and blended on a panel in a shop, he wrote.
"Several paint suppliers have developed mixing kits; others still only offer Soul Red Crystal in factory paint packs," Brown wrote. "It varies depending on the paint supplier and shops that work with the suppliers."
He noted PPG has already offered instructions and support for shops trying to spray 46V.
"Admittedly, there is some complication," Brown wrote. "In the case of Soul Red Crystal, it is a four-coat process between the primer, base coat, tinted clear coat and clear coat."
Some painters might not yet have encountered Mazda's other new and complicated color, Machine Gray, which first appeared here in the U.S. about a year ago with the 2016 CX-9 and is available on other models too as an $300 option.
Asked if paint shop considerations for that color existed as they did for Soul Red Crystal, Brown wrote that "Pretty much all the same applies for Machine Gray."
More information:
"THE ALL-NEW CX-5 WILL HAVE YOU SEEING RED"
Mazda, 2016
"MAZDA DEVELOPS NEW BODY COLOR, SOUL RED CRYSTAL, TO SYMBOLIZE KODO DESIGN"
Mazda, Nov. 15, 2016
"PPG Repair Process for Mazda Paint Code 46V Soul Red Crystal Metallic"
PPG via YouTube, June 6, 2017
"Nexa Autocolor® Repair Process for Mazda Paint Code 46V Soul Red Crystal Metallic"
PPG via YouTube, June 6, 2017
"MAZDA MX-5 RF TO FEATURE MACHINE GRAY PREMIUM COLOR DESIGNED TO COMPLEMENT KODO DESIGN"
Mazda, March 22, 2016
Images:
Painters will encounter Mazda's stunning but potentially more complicated "Soul Red Crystal" color that debuted on the 2017 CX-5 in March 2017. (Provided by Mazda)
Mazda shows the factory-level composition of its "Soul Red Crystal" paint for the 2017 Mazda CX-5. (Provided by Mazda)
The factory-level composition of Mazda's Machine Gray color is shown. (Provided by Mazda)
Share This: