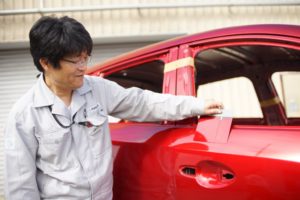 Mazda tells a fascinating story about how its team in Japan figured out how to realize the Soul Red Crystal paint vision of creative design expert Keiichi Okamoto, one of the people behind the original Soul Red and Machine Gray Metallic.
Even though the account applies to how Mazda did it in the factory, aftermarket refinishers might still appreciate the science and creativity behind the development process for the new color, as well as some details about the production of its relatively new sister premium coating Machine Gray.
Plus, the fact that Mazda's figured out how to make slick-looking paint colors it can mass-produce and sell as an option for merely $300 (Machine Gray) and $595 (Soul Red Crystal) suggests that mass-market OEM competitors could try to follow Mazda's example on their own models' paint jobs. That'd possibly translate into more complicated refinishing for the collision industry. (Soul Red Crystal, for example, has a four-stage refinishing process.)
"I wanted to create the world's most beautiful red," Okamoto said in a statement. "A color that people would viscerally feel was beautiful and that would immediately grab their attention. The CX-5 represents an evolution of the concept of 'less is more' that does not rely on character lines. This required a new red that would beautifully highlight the exquisite transitions in the body's surfaces."
He said he sought a color "like the translucent red of rubies or of red glass."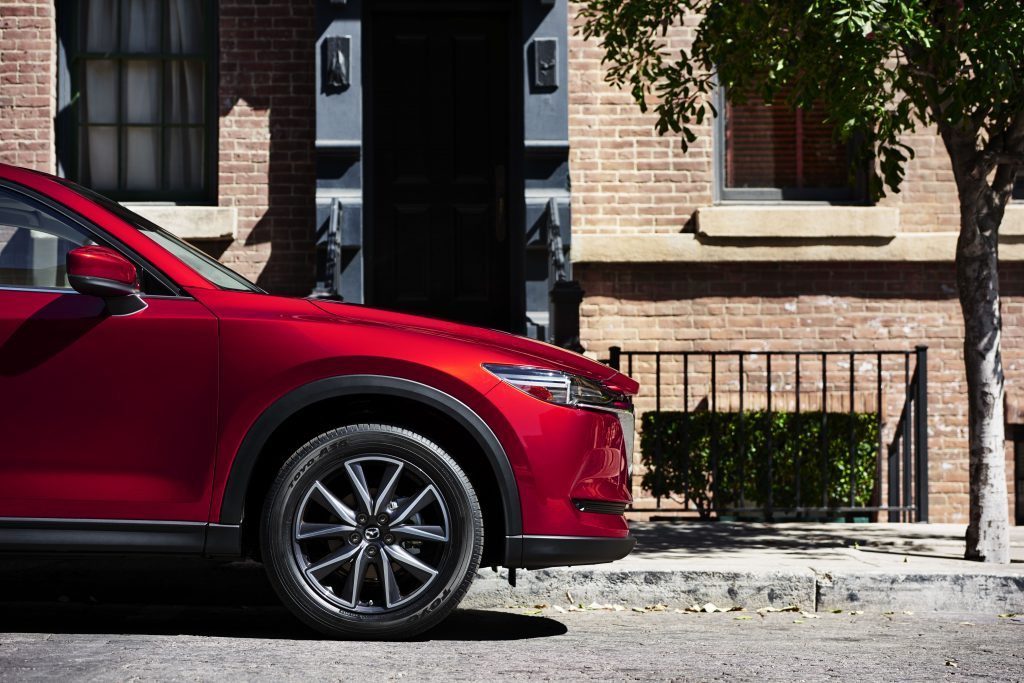 It fell to paint system expert Takakazu Yamane — whom Mazda said was was "fundamental in achieving the three-layer wet paint system" and Mazda's Aqua-tech system — to figure out how to actually make whatever color was in Okamoto's brain.
"To realize the highly translucent red that Okamoto envisioned I felt we had to first translate the ideal red into numerical values based on ergonomics," Yamane said in a statement. "That allowed us to measure how people perceived color and light and give us a goal the team could work toward."
Yamane obtained precision measuring equipment — originally intended to study the planet from satellites — and started taking measurements on red objects "at the same location and from the same position and angle as Okamoto's eyes, analyzed the relationship between the spectrum of the light and what Okamoto viewed and his response to it, and converted the data on the red they should aim for into numerical values."
Yamane's team also figured out that the blue tone most people see when they look at red was actually just an optical illusion — the measuring equipment revealed no actual blue pigment within the reds studied.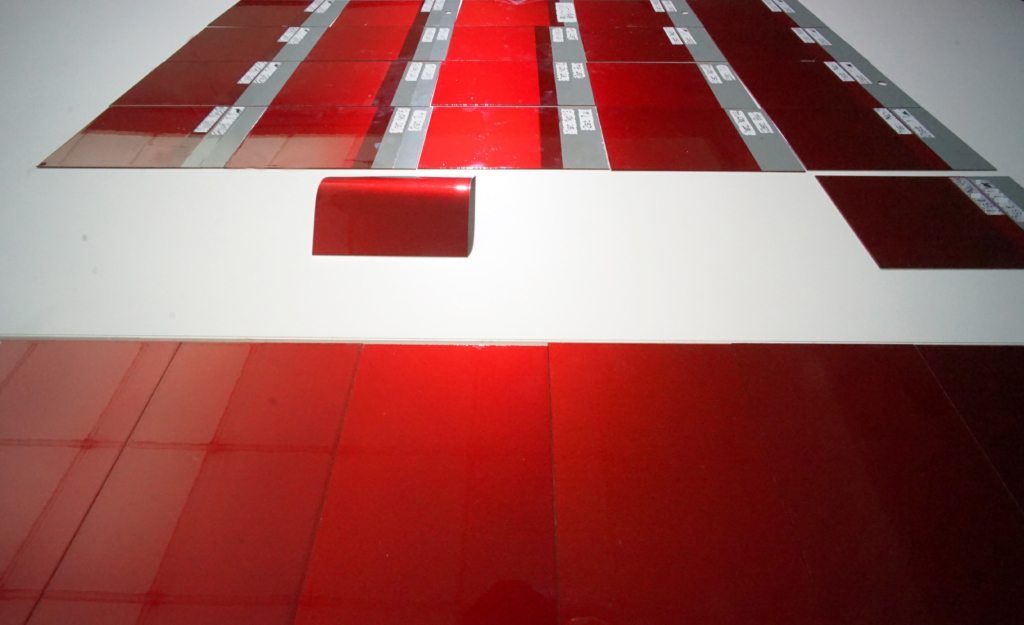 "Conversely, the team found that, if other colors are mixed with the red, people perceive them as muddiness," Mazda wrote. "So, the testing and analysis led the team to conclude that reaching its goal was not a matter of taking the ideal image and mixing colors to achieve it. Rather, the key was to work to achieve as pure a red as possible."
They handed their "ideal color" over to paint technology expert Koji Teramoto, who had to figure out how to spray the paint in just three layers with Mazda's Aqua-tech system.
As Mazda wrote:
Machine Gray has a black layer below the reflective layer on which high-brightness aluminum flakes are aligned. Letting the jet-black pigment beneath show through the gaps between the aluminum flakes creates a lustrous metallic look that highlights the contrasts in the shadows. Likewise, a translucent red layer on top of the black and reflective layers would make it possible to create a vivid red that is deep and lustrous. But that would require four layers, including the clear top layer, and require two passes down the paint line.
Mazda says the team refused to add a fourth layer, which would have been less environmentally friendly.
"I told myself there was no way we could compromise on this, and sticking to this led to a new idea," Teramoto said.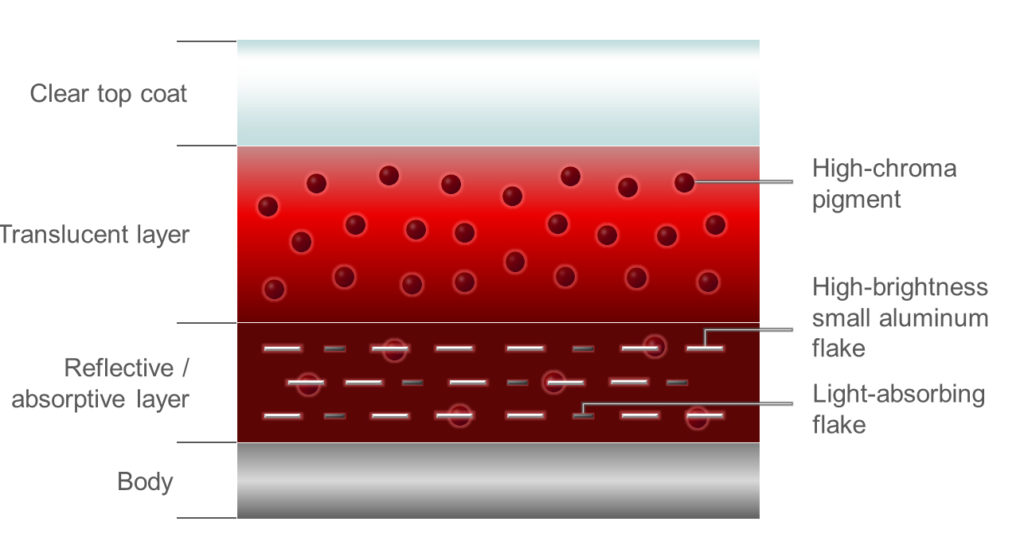 Instead, Teramoto and his team combined light-absorbing flakes along with its high-brightness aluminum flakes — knocking out both in a single coat of paint. Mazda controls both groups of flakes to ensure they never touch during when paint is sprayed in the factory.
"The smallest particle the human eye can perceive from a distance of approximately 30 cm is about 25 microns," he said in a statement. "We tried to make the flakes imperceptible, by using flakes of 12 to 15 microns."
Mazda said all of the flakes have a uniform size.
The color has 50 percent more depth and 20 percent more saturation than the original Soul Red, according to Mazda.
Machine Gray
Soul Red Crystal follows Mazda 2016 release of Machine Gray, which first was available with the next-generation CX-9 and is seen below on the MX-5 "Miata" RF. The color makes a vehicle "look as though it were carved from a single ingot of steel," according to Mazda.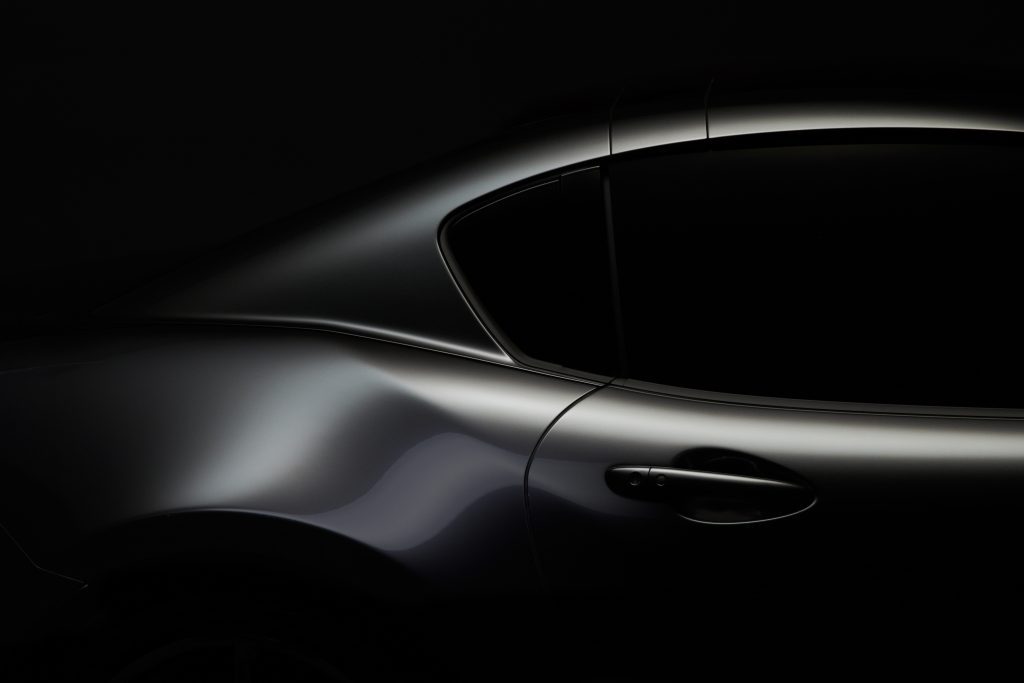 Mazda wrote that "perfect, blemish-free panels are a necessity" with the color (possibly a consideration for the aftermarket as well), describing "ultra-precise stamping and assembly."
Like Soul Red Crystal, Mazda figured out how to apply Machine Gray in a three-step process. (Mazda notes that this doesn't include its "electrodeposited layer," which is probably a reference to e-coat primer.)
The reflective layer contains extremely thin, high-brightness aluminum flakes and must be applied very precisely to ensure even coating. During the drying process the thickness of this layer shrinks to approximately 2.5 microns, about one quarter the thickness of most reflective layers. This causes the aluminum flakes to lie flat with regular spacing between each flake, just as if the layer had been hand-painted by a skilled craftsman. This high-density finish gives the entire surface a sheen when illuminated, for a realistic metallic look. Jet-black pigment is used in both the reflective and color layers and is visible through the spaces between the aluminum flakes giving areas not illuminated a black hue and heightening the contrast between light and shadow.

More information:
"TACKLING THE CHALLENGE OF CREATING A COLOR THAT INSTINCTIVELY LOOKS BEAUTIFUL"
Mazda, 2016
"THE ALL-NEW CX-5 WILL HAVE YOU SEEING RED"
Mazda, 2016
"MAZDA DEVELOPS NEW BODY COLOR, SOUL RED CRYSTAL, TO SYMBOLIZE KODO DESIGN"
Mazda, Nov. 15, 2016
"MAZDA MX-5 RF TO FEATURE MACHINE GRAY PREMIUM COLOR DESIGNED TO COMPLEMENT KODO DESIGN"
Mazda, March 22, 2016
"ALL-NEW MAZDA CX-9 THREE-ROW CROSSOVER DEBUTS AT 2015 LOS ANGELES AUTO SHOW"
Mazda, Nov. 18, 2015
Images:
Paint technology expert Koji Teramoto, who had to figure out how to spray "Soul Red Crystal" paint in just three layers with Mazda's Aqua-tech system. (Provided by Mazda)
Painters will encounter Mazda's stunning but potentially more complicated "Soul Red Crystal" color that debuted on the 2017 CX-5 in March 2017. (Provided by Mazda)
Mazda describes an extensive development process for its new "Soul Red Crystal" color. (Provided by Mazda)
Mazda shows the factory-level composition of its "Soul Red Crystal" paint for the 2017 Mazda CX-5. (Provided by Mazda)
Mazda's Machine Gray color is available for the MX-5 RF.  (Provided by Mazda)
The factory-level composition of Mazda's Machine Gray color is shown. (Provided by Mazda)
Share This: