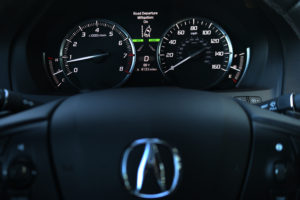 Honda observed Wednesday that nearly 500,000 Hondas and Acuras in America already have at least one advanced driver assistance system technology like autobraking, lane keeping, road-keeping and adaptive cruise control.
The Honda Sensing suite, which packages all of these together, was present on a third of new Hondas sold, and the more advanced AcuraWatch suite exists on 70 percent of all new Acuras sold, the company said.
By March, 100,000 Acuras already sported the system, the OEM said that month.
Autobraking alone has tremendous potential to reduce the number of crashes (and subsequently your repair orders), and the other systems would seem to cut accidents further. This could be intensified by what Acura called a greater demand for safety features among Millennials.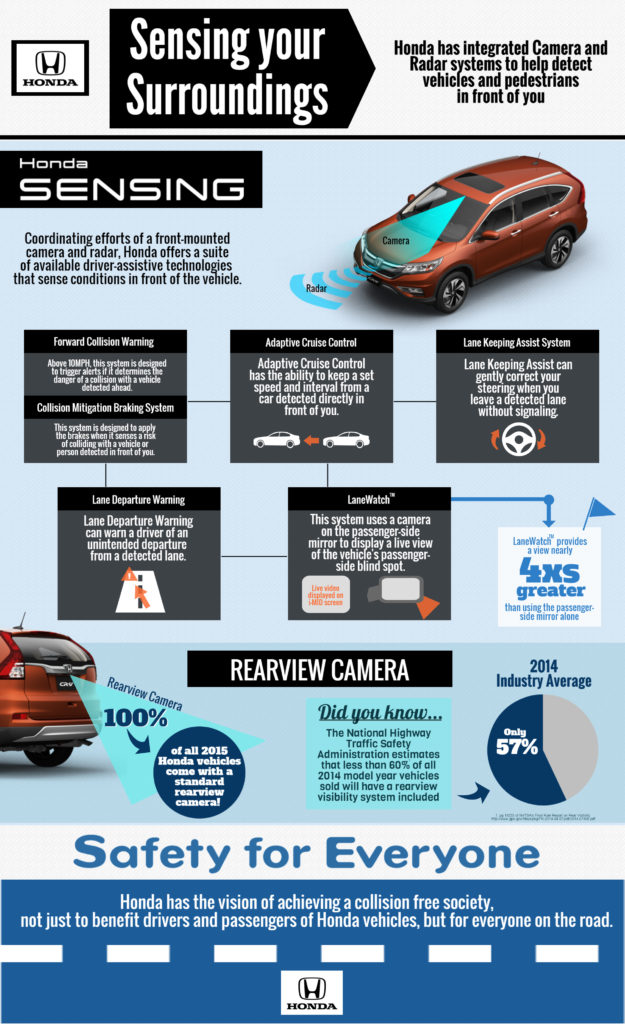 Consumer demand
"Recent research indicates that younger, Millennial buyers of Acura's two top-selling models, RDX and MDX, put a greater emphasis on safety features, ranking it as their third most important purchase reason compared to older buyers that rank safety as less important," Acura wrote.
In April, J.D. Power found a similar result across all age groups. Everyone but Generation Y had less trust for autonomous vehicles — but they all wanted low-level autonomous safety functions like those in Honda Sensing and AcuraWatch.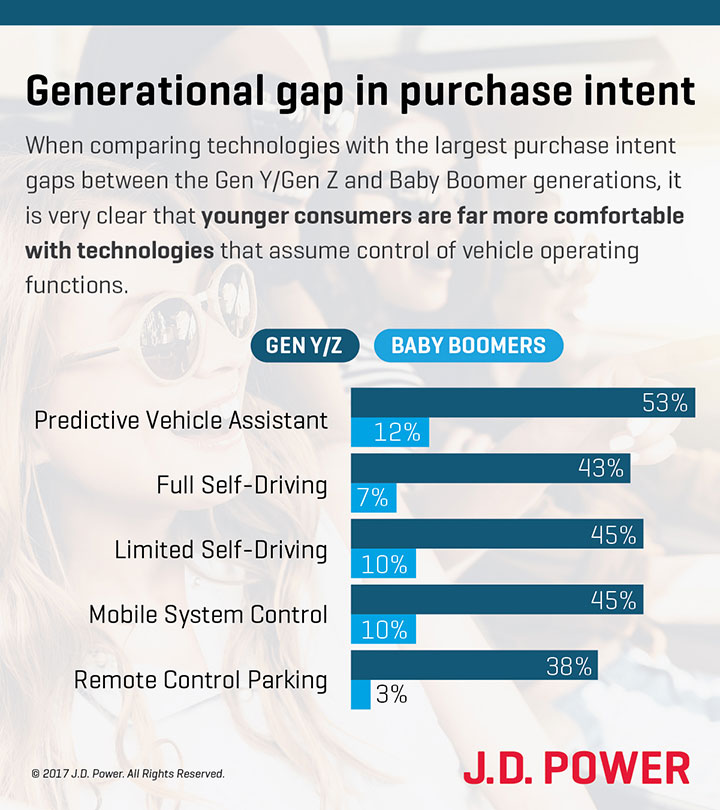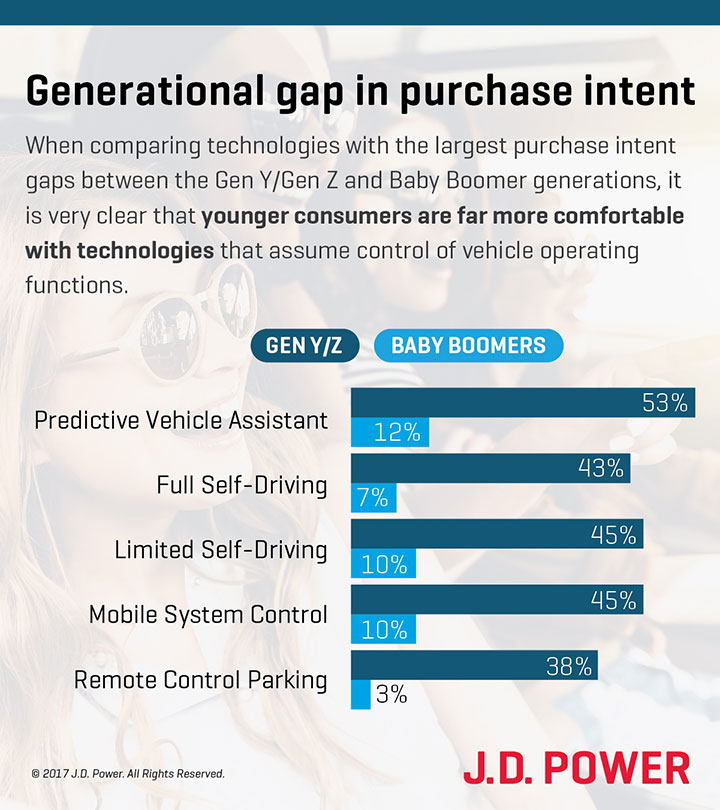 "Six of the top 10 features that consumers were most interested in before learning the price—smart headlights, camera rear-view mirror, emergency braking and steering system, lane change assist, camera side-view mirrors and advanced windshield display—come from these two categories (safety and driving assistance)," J.D. Power wrote in a news release. The "Tech Choice" study asks about more than 40 features.
Even when they know the price, customers still want a variant of autobraking over a cheaper convenience function, according to J.D. Power's results.
"The 31% of consumers willing to pay $700 for the advanced version of this system (adds steering) is greater than the percentage of consumers who would pay for less expensive technologies like digital key at $250; dash camera at $300; and mobile system control at $400," J.D. Power wrote.
We're not sure what version of autobraking "adds steering," but it might be the self-swerving-around-obstacles tech announced for the XC60. That City Safety upgrade swerves the car if it estimates that autobraking won't be enough to avoid an impact. It might also be simply a suite like Honda's or Toyota's Safety Sense where the car can keep its lane. It's probably not Tesla's Enhanced Autopilot, which can brake and steer itself to nearly Level 3 autonomy, since that costs $5,000.
In any case, you get the idea — the technology is popular with customers. That means you'll see more of it in your shop but possibly fewer actual cars to work on as the technology lowers collision rates.
"We are working toward a zero-collision society, and this approach is resonating strongly with younger luxury customers who show increasing interest in safety technologies," Acura Vice President and general manager Jon Ikeda said in a statement. "Deploying active safety and driver-assistive technology broadly is one way we are taking care of our customers and differentiating Acura."
On the plus side for shops, knowing that customers in general place a value on such systems — and presumably their continued proper operation — should make it easier to explain to a vehicle owner or adjuster why exterior damage that "doesn't seem that bad" still might require additional steps to recalibrate hidden safety technology.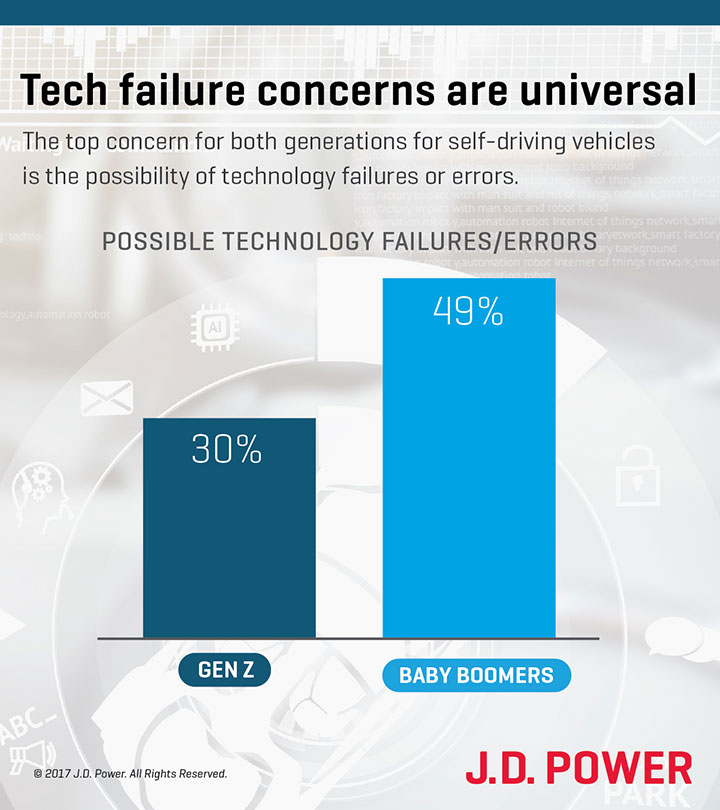 More tech on Acuras
Drivers who hold out on buying certain Acuras until later this year will also receive "Traffic Jam Assist," which offers "increased driver assistance and convenience in stop-and-go highway driving," according to Acura.
The AcuraWatch adaptive cruise control already had "Low-Speed Follow," which is a version of the high-tech cruise control that works at slower velocities. Traffic Jam Assist is similar, but takes it a step further.
With this technology, an Acura can slow and stop itself to avoid running into the vehicle in front, just like adaptive cruise control, but then accelerate again from that stop should traffic resume. The car also can steer itself by pairing the lane-keeping system "extended by adding electromechanical steering," with the cruise control, Acura wrote.
Acura said AcuraWatch is standard on the 2017 MDX and RLX and an option for all of the other cars and SUVs it sells.
More information:
"Hands Off? Not Quite. Consumers Fear Technology Failures with Autonomous Vehicles"
J.D. Power, April 18, 2017
"100,000+ Acura Vehicles on the Road Now Feature AcuraWatch™ Advanced Safety and Driver-Assistive Technologies"
Acura, March 9, 2017
"Honda Targeting Introduction of Level 4 Automated Driving Capability by 2025"
Honda, June 7, 2017
Images:
AcuraWatch Road Departure Mitigation is shown on the 2017 Acura MDX. (Provided by Acura)
This Honda graphic displays the Honda Sensing technology available for some of the 2016 model year. (Provided by Honda)
Results from J.D. Power's 2017 Tech Choice study are shown. (Provided by J.D. Power)
Share This: