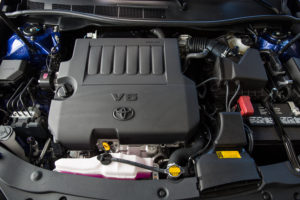 "Do you think that you need to consult the repair manual to replace the radiator support?" a Toyota trainer asked a Guild 21 audience on Thursday.
The overwhelming response: Yes.
"We have a really smart audience," Toyota Collision Repair and Refinishing Training administrator Agustin Diaz said, joking earlier that he'd replaced a lot of supports in his decades-long career, and "I don't remember seeing the repair manual."
But like the read-the-manual-to-disconnect-a-battery discussion from a recent Collision Hub Repair University, Diaz's demonstration of how the existence of advanced technology — in this case, a millimeter-wave radar mounted to the radiator support — on a 2016 Camry demands greater care than had perhaps been expected on past front-end repairs.
The millimeter-wave radar on the 2016 Camry is part of the Toyota Safety Sense suites the OEM plans to make standard on all Toyotas and Lexuses. It plays a role in advanced driver assistance systems (ADAS) such as automatic braking and adaptive cruise control. Screw it up, and an inattentive customer might plow into the car in front of them — and blame the incident at least partially on your shop.
Using an aftermarket radiator support on a vehicle with this technology won't work, Diaz said.
"This is what you need to do when you replace a radiator support," he said. "You have to use an OEM replacement part. … It's paramount."
The millimeter-wave radar has to sit precisely where Toyota intends it — all front-end measurements must match the OEM's tolerances, Diaz said. (If a shop's still not measuring vehicles, consider this a wake-up call.)
But it's not just the radiator support that must match OEM requirements. Diaz also showed how the Camry's instructions demand the radar system be bolted on not only with a specific torque measurement but also in a specific sequence.
"You have a tighten sequence … for a reason," Diaz said.
Even if a collision repairer outsources the actual calibration of this sensor to a dealership, the service center might kick it back to the shop if the radar was installed in an incorrect position, according to Diaz.
Position is important because the millimeter-wave radar is supposed to "see" about 490 feet ahead of itself within a 20-degree horizontal plane and a 4-degree vertical one, which "pretty much covers the lane in front of you," according to Diaz.
The device must also be calibrated in an elaborate series of preparations and calibration steps. To learn more about that and about the other procedures and topics discussed in the article, consult Toyota's OEM repair procedures.
Diaz also Thursday showed the dynamic laser radar sensor on an unspecified Sequoia. The part is mounted on the front bumper reinforcement, and Diaz recommended only replacing that bumper beam with an OEM part. Anytime such a sensor is mounted to something, use an OEM edition of that something, "and you'll be OK," he said.
More information:
Toyota official OEM repair procedures
Images:
The 2015 Toyota Camry XSE engine compartment in shown. (Provided by Toyota)
Installing millimeter-wave radar on the 2016 Toyota Camry demands a specific torque and bolt sequence, as shown in this screenshot from March 27, 2017, repair procedures. (Provided by Toyota)
This screenshot of April 10, 2017, Toyota repair procedures demonstrates the position of the 2016 Toyota Sequoia's laser radar system. (Provided by Toyota)
Share This: