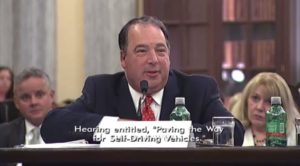 The Senate Commerce, Science and Transportation Committee has held two hearings on autonomous vehicles, most recently Wednesday, but absent from both conversations appears to be the automotive aftermarket that'll have to fix those self-driving cars.
Which is a problem, for mistakes on a repairer's part could be disastrous. Have a camera or radar system out of place, and the car thinks it's somewhere it's not or stops for nonexistent vehicles. Put the wrong windshield on a car, and the camera itself might not work. Fail to calibrate the steering angle sensor after a wheel alignment, and the car is reacting to an incorrect thrust angle.
Even if a robust combination of global positioning, radar, mapping and V2V and V2I technology could in the distant future be able to hedge the vehicle's bets by providing a "second opinion" into the vehicle's position, would we be able to be confident in the AI's ability to interpret mixed signals? Or would the car be forced to stop itself and call for help, thereby defeating the purpose of a self-driving car?
On Wednesday, the only hint of the aftermarket's role came during a question about the ramifications of self-driving cars and insurance.
"The OEMs would like to be protected from aftermarket adjustments to the vehicle," Alliance of Automobile Manufacturers President and CEO Mitch Bainwol said.
He then switched gears to discuss the potential for self-driving cars to reduce collision frequency and insurance premiums to decline.
Share This: