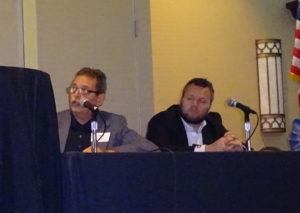 High-profile collision repair scan tool manufacturers Collision Diagnostic Services and AirPro on Friday agreed to settle and drop their dueling false advertising lawsuits.
AirPro CEO Lonnie Margol declared Monday that "an unwarranted cloud of uncertainty has finally been lifted."
"All claims asserted against AirPro Diagnostics by CDS have now been dropped providing full vindication for our company and our highly skilled team of professionals," he continued in a statement. "We will now be able to focus our energies on communicating AirPro Diagnostics' competitive edge technology and unmatched services to the domestic and international collision repair community."
Repairify, the parent company of asTech manufacturer CDS, first sued AirPro in 2016. Its most recent version of the lawsuit, filed in February, alleged AirPro made false or misleading advertising in violation of federal and Florida law.
It also alleged that that two former CDS employees — including well-known AirPro representative Chuck Olsen — breached noncompete clauses in going to work for the rival scanning company and AirPro itself committed tortious interference in hiring them. It sought undetermined damages and blocks in such behavior.
AirPro countersued, accusing CDS of similar state and federal false advertising violations. In addition to at least $10 million in damages and attorneys' fees for each of its two claims, it sought injunctions against the kinds of statements it had alleged.
Under the terms of the settlement, neither company will pay the other anything, and Olsen and former CDS employee Wilfredo Rodriguez are formally out of their prior employment agreements with CDS.
The dispute pitted two collision repair-focused diagnostic tools manufacturers against each other at a time when the auto body industry sought guidance and equipment for scanning vehicles. Court documents alleged the fight spilled into industry events, with each company allegedly falsely bashing the other's product to potential customers there.
"I have to say, I fear that this — that this litigation is one of those instances that's — it almost feels, to me, like one of those family breakups that — cases that is equally about principle, and that a lot of good money may be thrown after bad if — if it isn't resolved," Middle District of Florida Judge Marcia Howard said during an injunction hearing in January, according to a transcript provided by AirPro. "So I see this as being very expensive litigation to pursue. And it might be better if you-all could resolve it in some way, but I'm going to leave that to you-all to see if you can work it out."
Featured image: Chuck Olsen of AirPro and Jake Rodenroth of Collision Diagnostics Services appear during an April 2017 Technical Committee panel at the Collision Industry Conference. Their two companies settled dueling lawsuits in June 2017. (John Huetter/Repairer Driven News)
Share This: