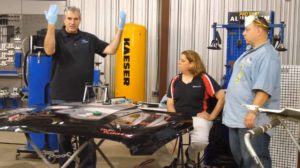 A trio of collision repair experts on Thursday's "Repair University Live" advised shops to have a separate set of tools and space not just to fix an aluminum-intensive model like the Ford F-150 but also to repair a predominantly steel vehicle with an aluminum part, like the hood on a Ford Ranger.
"You need that (dedicated area) when you're fixing a door ding on an aluminum panel," Vehicle Collision Experts CEO Mark Olson said on June's episode of the Collision Hub program. (Subscribe to the $30 year-long series here.)
Otherwise, galvanic corrosion is likely to occur — and possibly quickly. The advice echoes what we've heard from OEMs like Honda, which likes to use aluminum hoods and bumper beams on vehicles otherwise lightweighted with higher-strength steels.
Aluminum corrodes galvanized steel, which makes up about 80 percent of a vehicle's steel. But bare/mild steel corrode aluminum, which means that if you grind or scrape off the zinc galvanic patina on the steel or work on the ungalvanized stuff, you run the risk of the corrosion going the other way.
For a steel quarter panel adjacent to an aluminum door panel with a dent, "I'm gonna have to take that door off to fix it someplace else," P&L Consultants co-owner Larry Montanez said.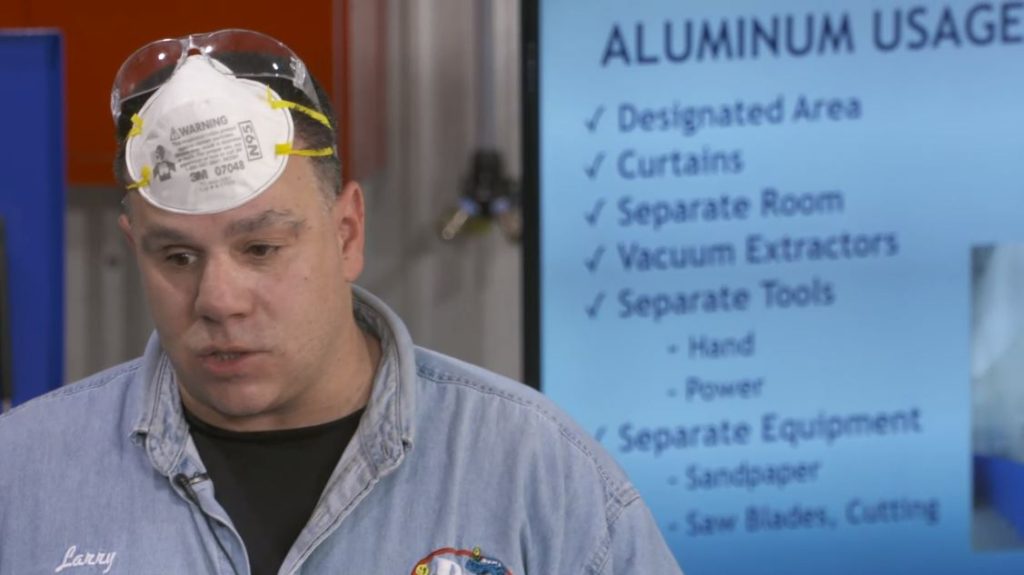 Montanez suggested a shop consider modifying an old paint booth to be an aluminum clean room if the owner doesn't want to install dustproof curtains or build an actual dedicated space. (The paint booth solution might not be possible under the terms of an OEM aluminum certification program, he noted.) The clean area must have vacuum extraction designed for aluminum work — a special setup is necessary to avoid aluminum dust explosions — and an explosion-proof fan, he said.
You also need all dedicated tools for aluminum — a cost which might fall to the shop owner, as it's unrealistic to expect technicians to buy a special aluminum-only set, Collision Hub CEO Kristen Felder said.
It really will be all new tools, Montanez said, everything from hammers to a disc only intended to remove coatings. Even a dedicated sander, as an existing sander likely has a "ton of dust jammed into it," Montanez said.
"If it costs you $250,000 to open up your steel shop, it's gonna cost you kinda close to the same for aluminum, because guess what – you have … two different shops," Montanez said. (Want to perform carbon fiber repairs? Throw in another $150,000, and you'll have "three different shops working together," he said.)
---
Learn more from Montanez at SEMA with Repairer Driven Education
Find out how to properly research manufacturer instructions with Larry Montanez, P&L Consultants, at "How to Find, Read and Understand OEM Repair Procedures" during the SEMA Show in Las Vegas. The Nov. 1 session is part of the Society of Collision Repair Specialists' Repairer Driven Education Series Nov. 1-4. Register here for the individual class or the series pass package deal.
---
Olson suggested the shop spray-paint the aluminum equipment a particular color so it's obvious which tool is which. Otherwise, a technician will inevitably just grab the first version of the tool he or she needs and start working without a thought to corrosion.
"You know how it is in a shop," he said.
Keeping aluminum segregated also matters to the paint department as well as the body side, according to Olson. Some aluminum particles can stay floating in the air for 6-8 hours, and ultimately wind up getting sucked into the paint booth to start galvanic corrosion with the steel substrate being coated, he said.
More information:
"Repair University Live" on Collision Hub Livestream channel, June 21, 2017
Ford aluminum equipment specifications on Ford's Rotunda site
Ford aluminum certification requirements
Cadillac CT
Images:
A trio of collision repair experts on Thursday's "Repair University Live" advised shops to have a separate set of tools and space not just to fix an aluminum-intensive model like the Ford F-150 but also to repair a predominantly steel vehicle with an aluminum part, like a Ford Ranger. (Screenshot from Collision Hub video)
P&L Consultants' co-owner Larry Montanez advised shops to buy a separate set of tools and have a separate area to repair aluminum, even a single part like a hood on a steel car. (Screenshot from Collision Hub video)
Share This: