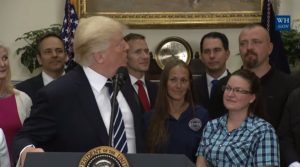 Though it's possible for a collision repairer to establish a federal apprenticeship program today, Republican President Donald Trump's new executive order might make the process even easier.
On top of Pell grants, the federal government in fiscal year 2017 spent $16.7 billion on 13 agencies' combined 43 job-training programs, but "many of these programs do not work and must be reformed," according to the Trump administration.
After all, 6 million jobs sit unfilled, the highest amount since 1980, according to the White House. (Meanwhile, Americans racked up a bunch of student debt — a student with a loan owed an average of $30,000 after leaving the class of 2016.)
"These Federal programs must do a better job matching unemployed American workers with open jobs, including the 350,000 manufacturing jobs currently available," the executive order states.
Trump ordered Secretary of Labor R. Alexander Acosta to promote apprenticeships and to consider rules assisting apprenticeship programs developed by third parties, including "trade and industry groups, companies, non-profit organizations, unions, and joint labor-management organizations."
"We're empowering these companies, these unions, industry groups, federal agencies, to go out and create new apprenticeships, for millions of our citizens," Trump said June 15. (Read transcript here.)
This could include a way for such entities to recognize "high-quality apprenticeship programs" (which we suppose would mean ones acceptable under federal apprenticeship laws) as well as "guidelines or requirements that qualified third parties should or must follow" when recognizing these programs, according to the executive order.
Such a program could be fast-tracked and have an easier time registering for the federal registered apprenticeship program currently in existence. Overseen by the Department of Labor, the program recognizes apprenticeships which meet certain criteria set forth in United States Code.
Start your own apprentice program
Though it'd probably be nice to have a less burdensome and involve means of qualifying an apprenticeship program, a collision repair business or trade group can set up a registered apprenticeship today.
Dozens of employers are listed as offering apprenticeships for an "automobile body repairer." (Two entities related to a Tennessee county's corrections programs also list apprenticeships for "auto body repairer help.") They include corrections agencies, high schools and individual auto body shops in multiple states. 
According to a FAQ, government-registered apprenticeships can run anywhere from one to six years, but typically are four years long. An apprentice currently spends about 2,000 hours of the year on the job and "a recommended minimum" of 144 hours in class. (A typical 40-hour, 50-week work-year with two weeks vacation is 2,080 hours.)
Besides the ability to fill an open position and bring in more revenue, businesses in certain states can qualify for tax credits and employee tuition, according to a fact sheet aimed at skilled trade employers.
Here's links to and discussion of some of the resources you'll need to launch your own apprenticeship program:
Conversely, if you're interested in becoming an apprentice, look for jobs here. (Caution: This site shows registered and unregistered apprenticeships.)
Trump also ordered Acosta to create and run an Apprenticeship Expansion panel vice-chaired by Commerce Secretary Wilbur Ross and Education Secretary Betsy DeVos. The body would have no more than 20 members from various business, educational or labor organizations and recommend ways to encourage apprenticeships (including cutting red tape). It'd be pretty fantastic to get a member of the automotive aftermarket on there.
More information:
Trump executive order on apprenticeships
White House, June 15, 2017
"President Trump Gives Remarks on the Apprenticeship and Workforce of Tomorrow Initiatives"
White House YouTube channel, June 15, 2017
Trump remarks after apprenticeship executive order
White House, June 15, 2017
ApprenticeshipUSA program website
ApprenticeshipUSA employer portal
Featured image: Republican President Donald Trump speaks to apprentice Charles Robel, a veteran, on June 15, 2017, the same day Trump signed an executive order regarding apprenticeships. (Screenshot from White House video)
Share This: