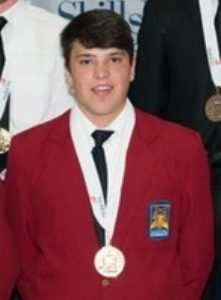 An Ohio high schooler has successfully defended his collision repair technology crown at SkillsUSA Nationals, creating another two-time winner for the industry to try and hire.
Alan Zimmerman of the Sentinel campus of Vanguard-Sentinel Career and Technology Centers (Tiffin, Ohio) won his second gold medal in the high school category. He did so despite the 2017 competition's vastly expanded welding portion. (The 2018 SkillsUSA will add plastic nitrogen welding.)
"It has been really fun," Zimmerman told the Tiffin Advertiser-Tribune. "The competition went well and I just want to thank my instructor (Carl Rusch) for getting me prepared."
His repeat follows Coloradoan Benjamin Falconer's back-to-back golds in the 2015 and 2016 high school automotive refinishing competitions at SkillsUSA.
Zimmerman was also one of the Collision Repair Education Foundation's 2016 students of the year.
"What makes Alan standout from other students is his personality and attitude," Rusch, who nominated Zimmerman, wrote in 2016, according to CREF. "Alan never once complained while preparing for his competitions. He also never missed any practice sessions. He was focused and determined. Alan also took criticism and applied what he was told to each practice session."
Zimmerman was joined in the winner's circle by fellow Vanguard-Sentinel CTC student Dylan Wertz, who won gold in the 2017 high school automotive refinishing technology category. A body shop in Ohio needing employees might want to camp out aside that campus the way Fortune 500 companies stalk Harvard Business School for candidates.
"The hard work my instructors and I put in paid off," Wertz told the Advertiser-Tribune.
Joel Hartstack of Southwestern Community College (Creston, Iowa) took home the gold in the college collision repair technology category, and Dylan Ahrndt of Ridgewater College-Willmar (Willmar, Minn.) won the college-level automotive refinish technology competition.
Besides Ohio, Massachusetts also had a good year, posting high school collision repair and refinishing silver medalists David Fors (Montachusett Regional Vocational Technical School, Fitchburg, Mass.) and Maren Williams (Shawsheen High School, Billerica, Mass.), respectively.
Tanner Fienen of Franklin Technology Center (Joplin, Mo.) and Taylor Hill of Center of Applied Technology North (Severn, Md.) took home the bronze medals in high school collision repair and refinishing, respectively.
At the college level, Summer Harrell of Northwest Technical Institute (Springdale, Ark.) and Bo Jensen of Northeast Community College (Norfolk, Neb.) took silver and bronze in automotive refinishing. Luis Renteria of Autry Technology Center (Enid, Okla.) and David Garcia of College of Lake County (Grayslake, Ill.) won silver and bronze in the collision repair category.
Congratulations to all the winners and competitors. Medalist or no, the fact that a young technician or painter made nationals suggests a bright future in the industry.
See fledgling techs and painters — and perhaps your future employees — in the gallery above and in this SkillsUSA 2017 roundup video. The collision repair competition can be seen around 4:17, and automotive refinishing can be seen around 5:55.
It's unclear if the welding footage immediately after the refinishing shots is related to the revamped auto body welding competition or is part of another competition's welding requirements.
Actually, the whole video's worth a look and good ammo for encouraging future skilled trade workers, auto body or otherwise — it's simply amazing the stuff these kids are able to do.
More information:
"Students mine SkillsUSA for gold, silver"
Tiffin Advertiser-Tribune, June 24, 2017
Images:
Alan Zimmerman, the 2016 Collision Repair Education Foundation Student of the Year, and a 2016-17 gold medalist in SkillsUSA. (Provided by Collision Repair Education Foundation)
This gallery shows images from the 2017 SkillsUSA collision repair and automotive refinishing technology categories at Nationals. (Craig Moore for SkillsUSA; provided by SkillsUSA)
Share This: