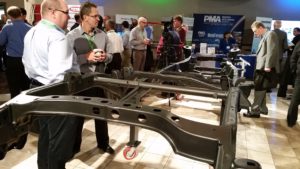 With the final variant of the Nissan Titan and Titan XD — the King Cab — now on sale, it seemed like an appropriate time to discuss some of what we learned last year about the toughened XD frame and cab atop it.
The Titan XD actually appeared before the regular Nissan Titan, which is like introducing a Super Duty Ford F-Series ahead of the regular F-150. The XD is meant as a competitor in the 2500 class of pickup, with amenities and handling somewhere between a 1500 and 2500-grade truck. The unusual rollout strategy was part of what Automotive News reports was a long-game competitive approach.
The OEM last month posted red-hot sales figures for all Titan types, up 258 percent from what Automotive News called an XD-intensive 2016 sales year. (After all, the regular next-generation Titan wasn't on sale until later in August 2016.)
Nissan doesn't break down what proportion of its sales were XD, a spokesman told us Monday. So we don't know how many you'll actually see in your shop. (For whatever it's worth, Ford says Super Duty sales are about a third of all F-Series sales, and Nissan sold 8,490 unspecified Titans from Jan. 1-Aug. 31, 2016, and 21,880 for the entire year.)
But shops should be armed with OEM repair information to ensure they're conducting not just a proper repair — but a proper repair for that particular Titan variant. Automatically fixing certain elements of a Titan like an XD and vice versa could be a mistake, for Nissan says the two are quite different, built on a separate chassis and with more than a foot difference in length. The cab, however, is the same.
"TITAN shares its aggressive style with the TITAN XD, but the two vehicles are completely different underneath the skin," Nissan North America trucks and light commercial vehicles Vice President and General Manager Fred Diaz said in a 2016 statement. "TITAN will compete in the heart of the full-size pickup segment – the half-ton – while the TITAN XD provides a unique solution for customers by bridging the cost and capability gap between traditional half-ton and full heavy-duty pickups. Between TITAN and TITAN XD, we will cover about 85 percent of the full-size truck market."
"We've said before that even the lug nuts are different from TITAN to TITAN XD," he also said then.
The cab and frame of the 2016 Titan XD were one of the headliners at the 2016 Great Designs in Steel conference (see slides). Nissan experts then described their ultra-high-strength steel design for elements of the cab and their high-strength-steel design for the frame.
The frame is 99 percent high-strength steel between 370 and 540 megapascals, with just 1 percent of mild steel to round it out. Tom Domlovil, XD manager of upper body design, said less than half of the entire XD cab is mild steel — 48 percent. (Another Nissan diagram from the event shows 42 percent, but appears to be missing the roof panel.)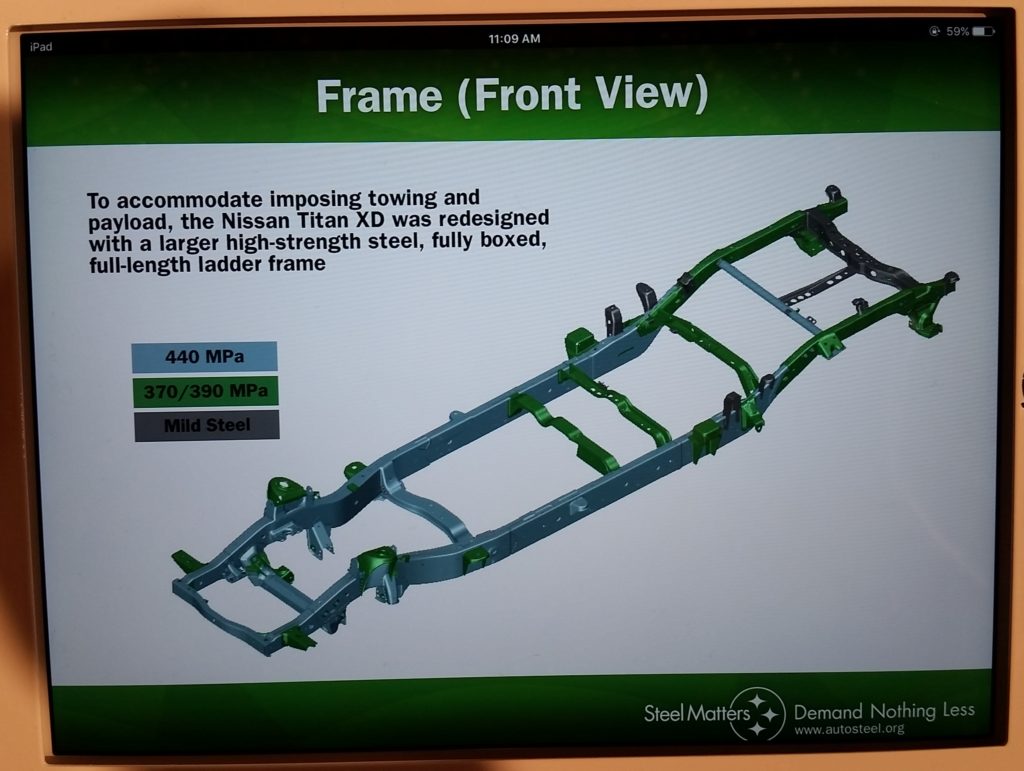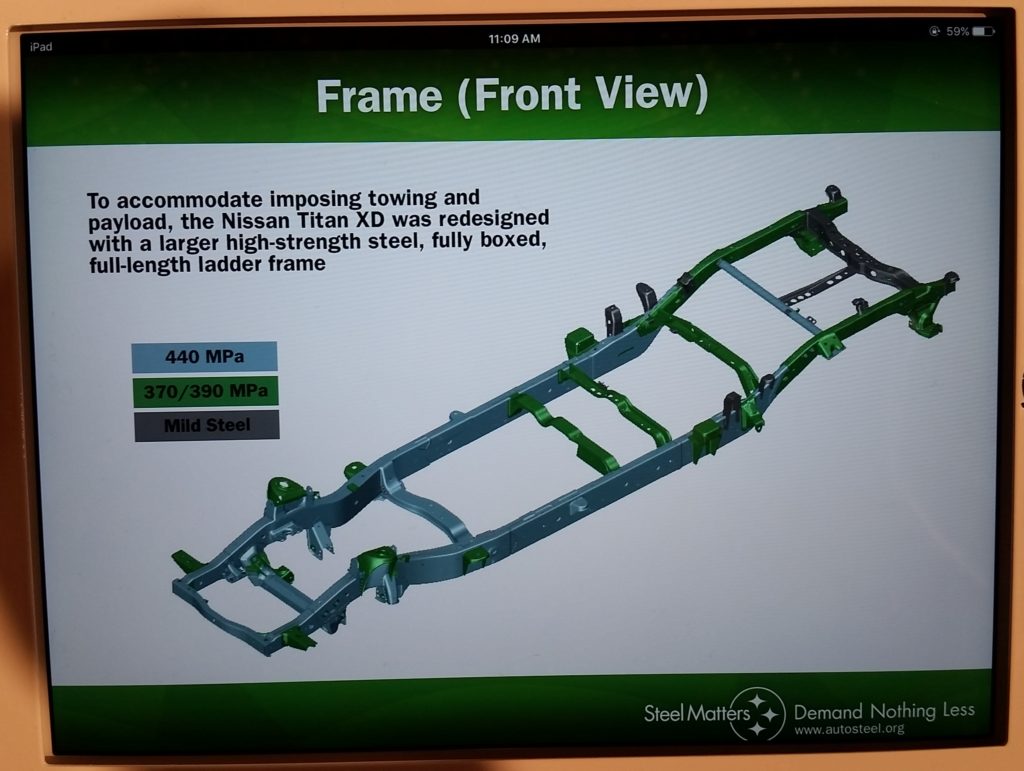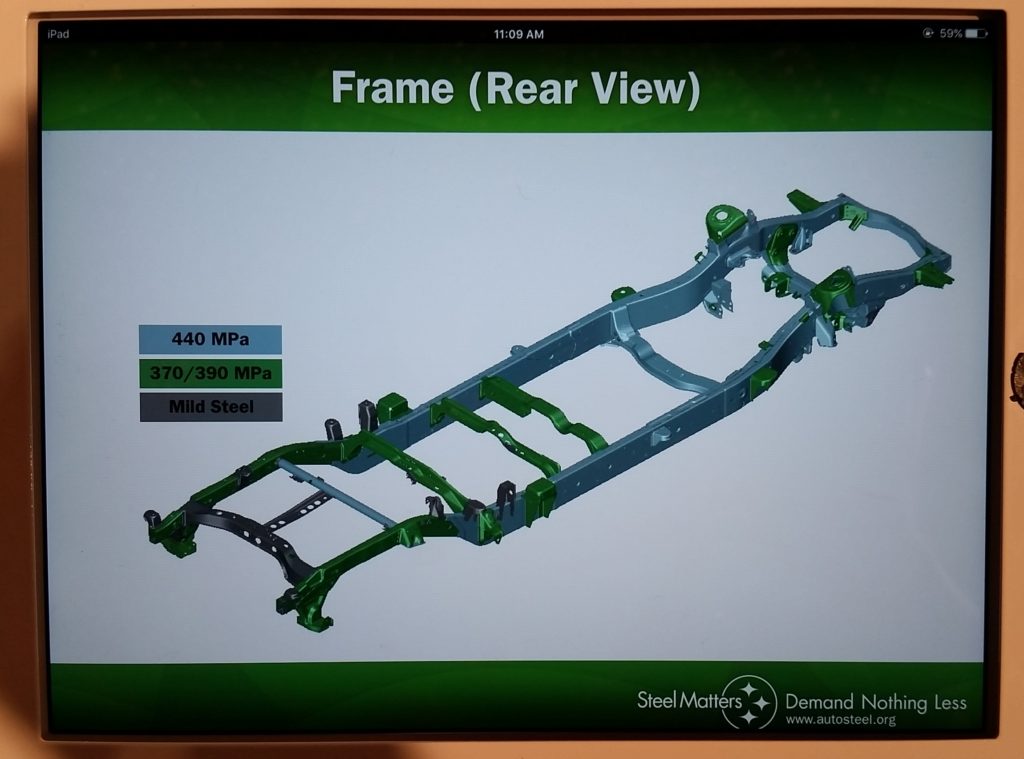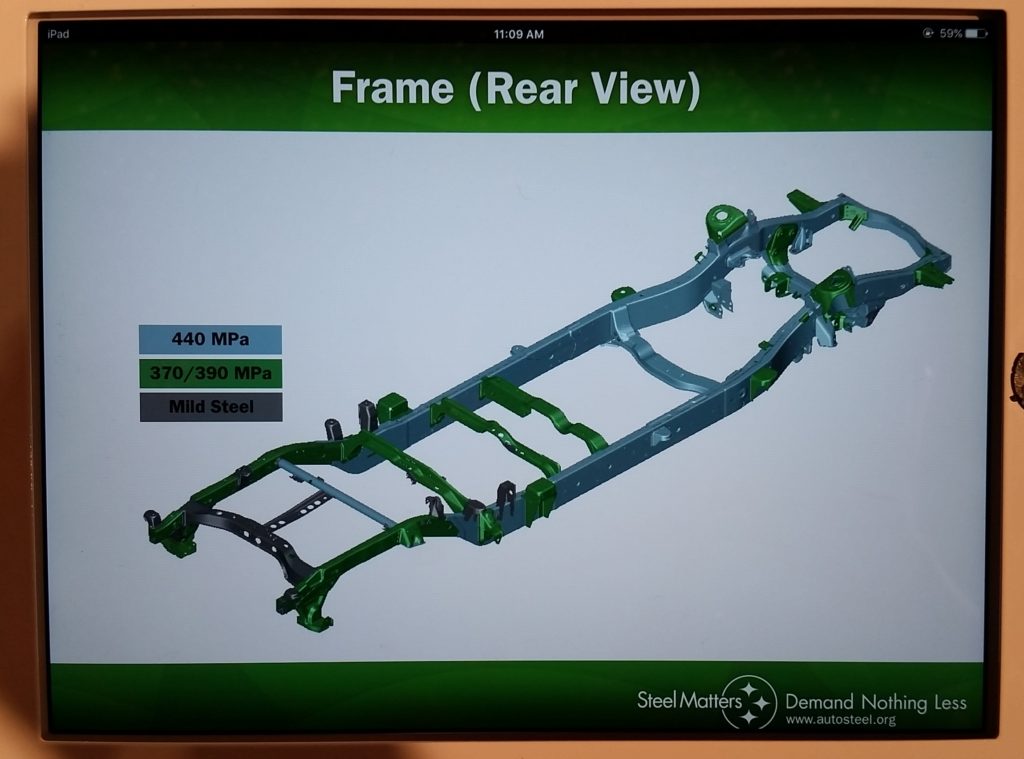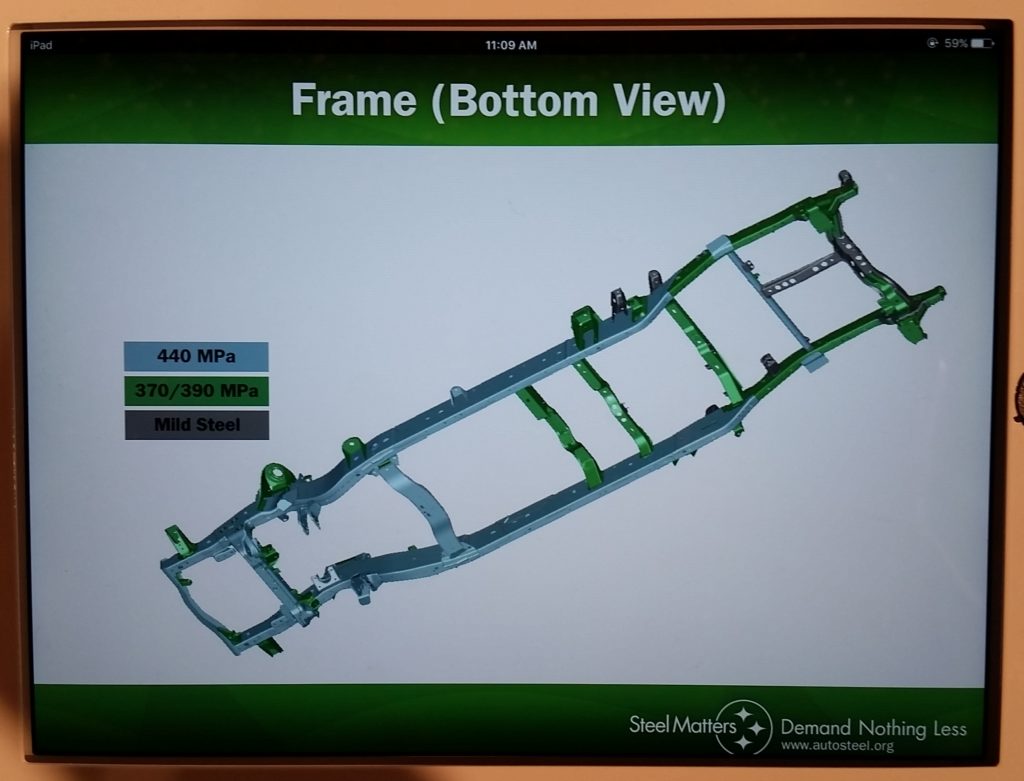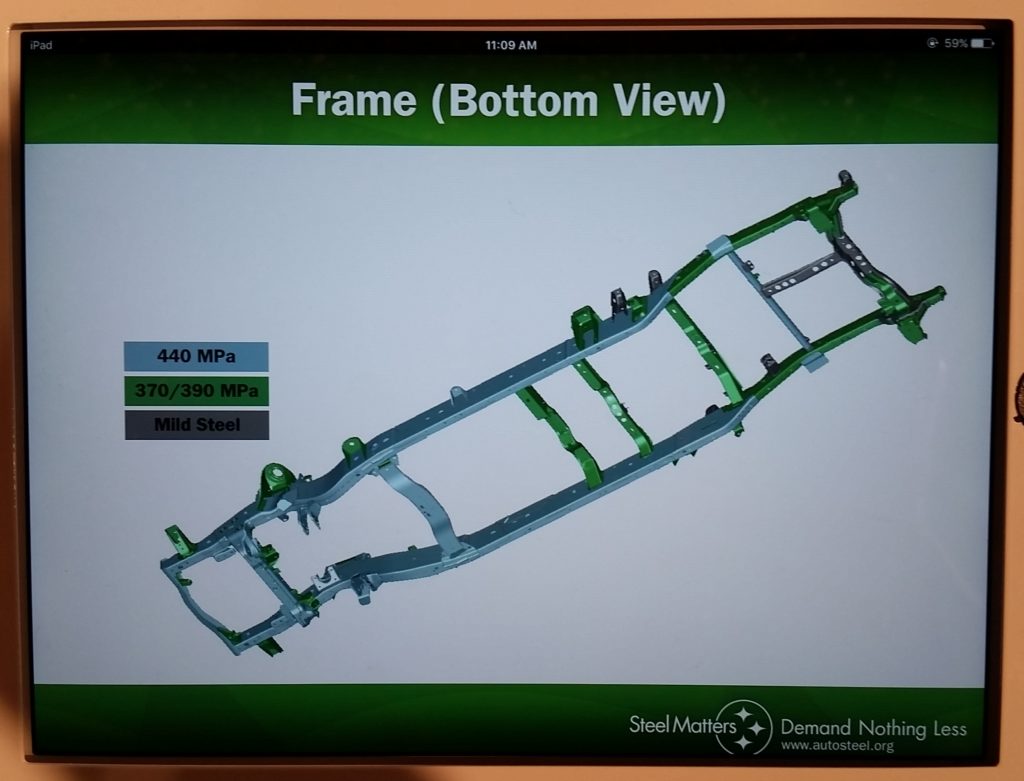 While high-strength steel generally doesn't have as many restrictions as the advanced- (usually 590 MPa and higher) or ultra-high-strength steels (usually 780 MPa and higher) found in the cab and frame rails of unibody vehicles, it's possible that the design does affect how repairers can approach frame repairs.
At the very least, the frame should be more difficult to pull, and frame parts will cost more than those used in a traditional mild steel frame because of the more advanced steel alloy.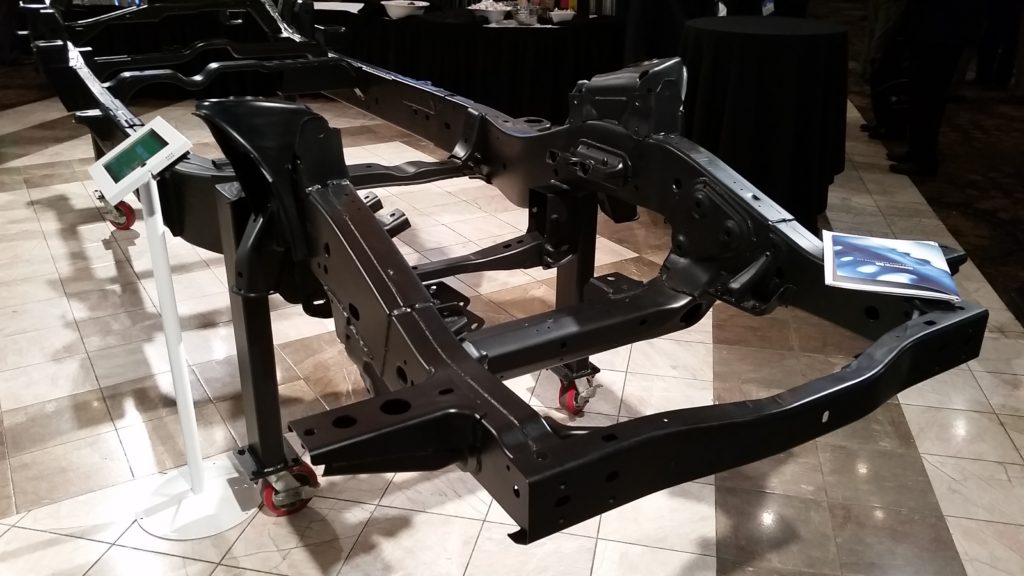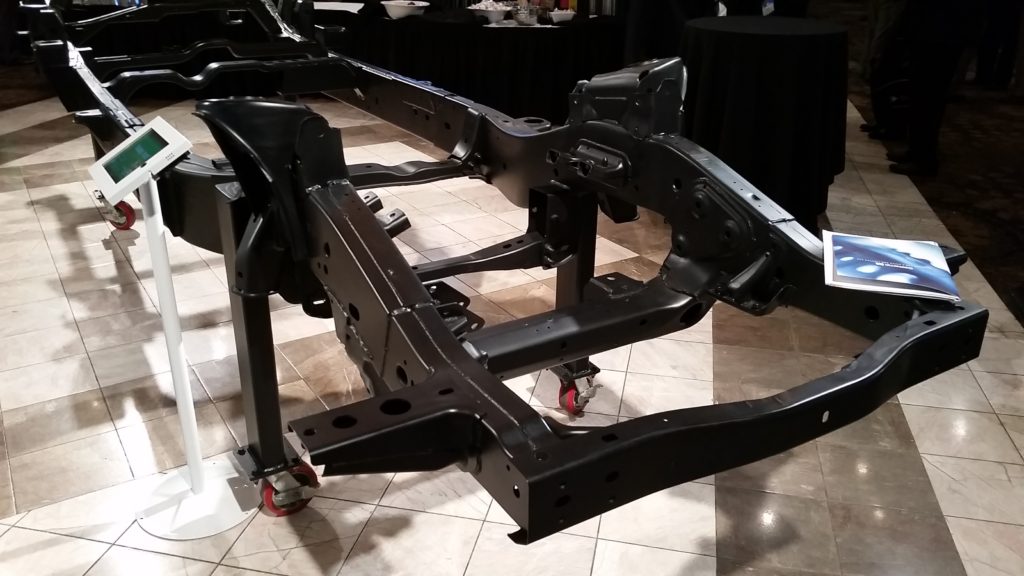 The truck also can have a factory-installed gooseneck hitch — which Nissan said was a first for a light-duty truck — which might add complexity to a collision repairer's frame and bed work. It's mounted under the bed with a structure that ranges between 400-540 MPa.
The XD frame adds an extra bolster, its seventh, and the tailbolster has been increased to 440 MPa steel. The rear struts of the bed ramped up from from mild steel to 440 MPa steel.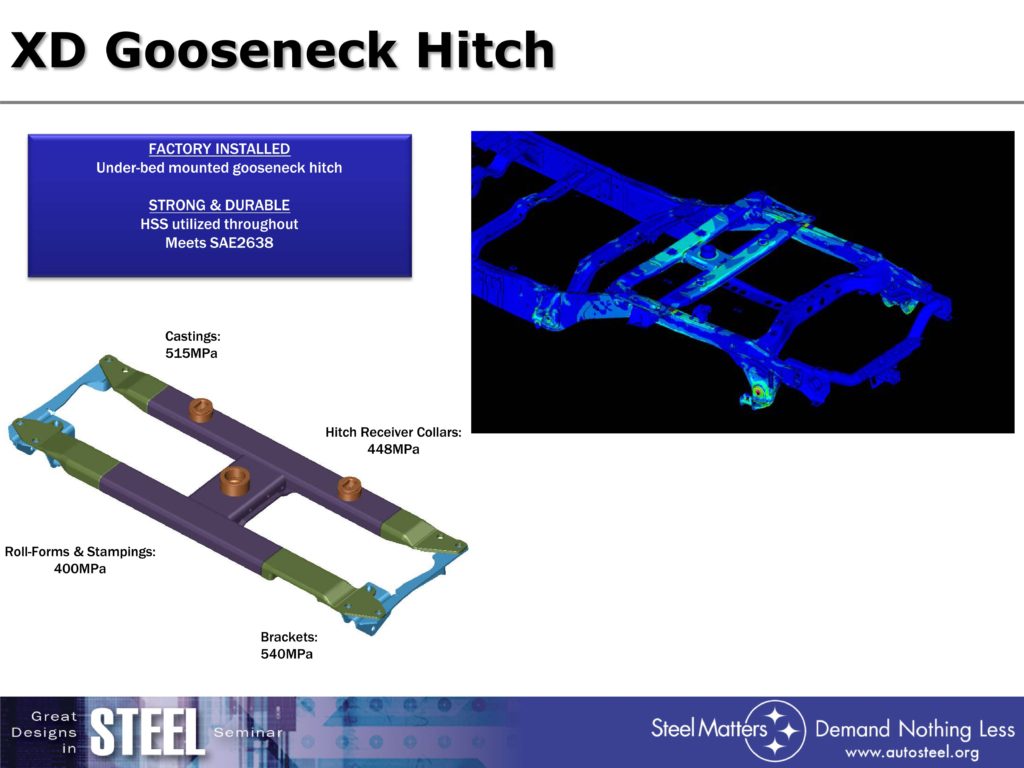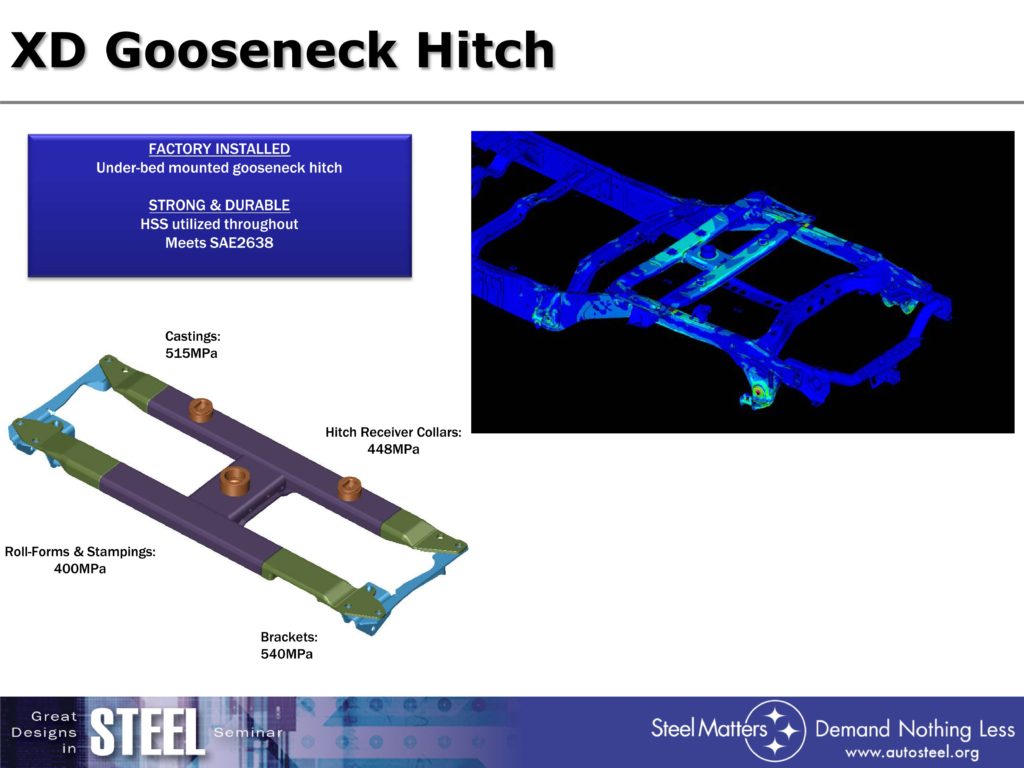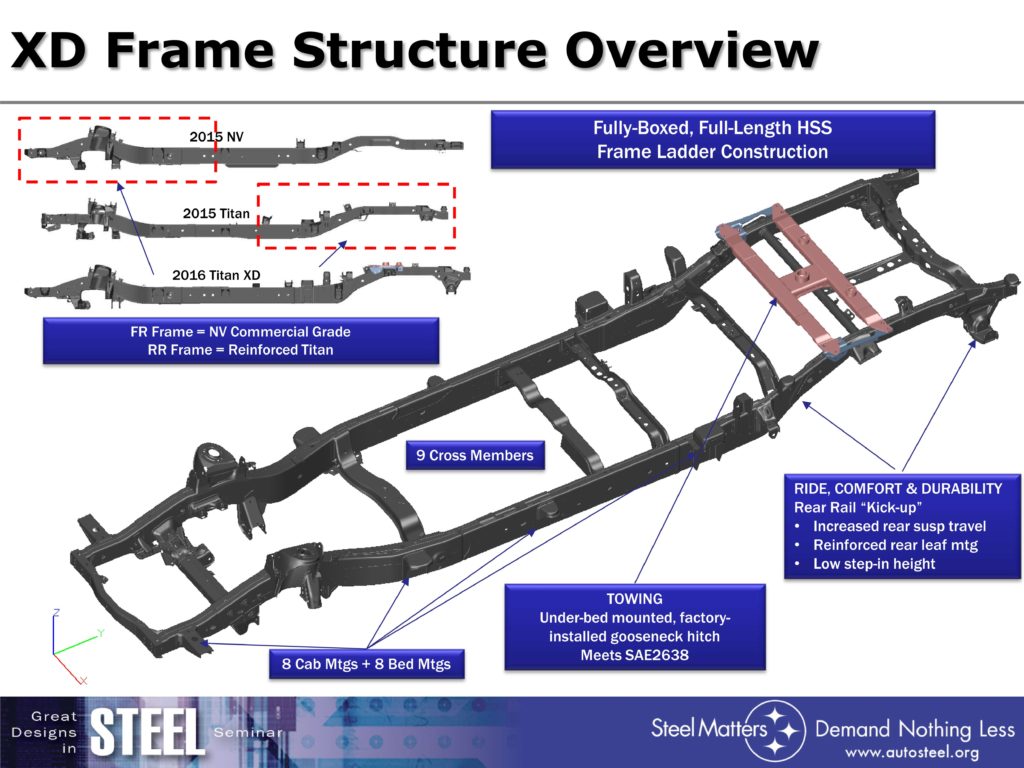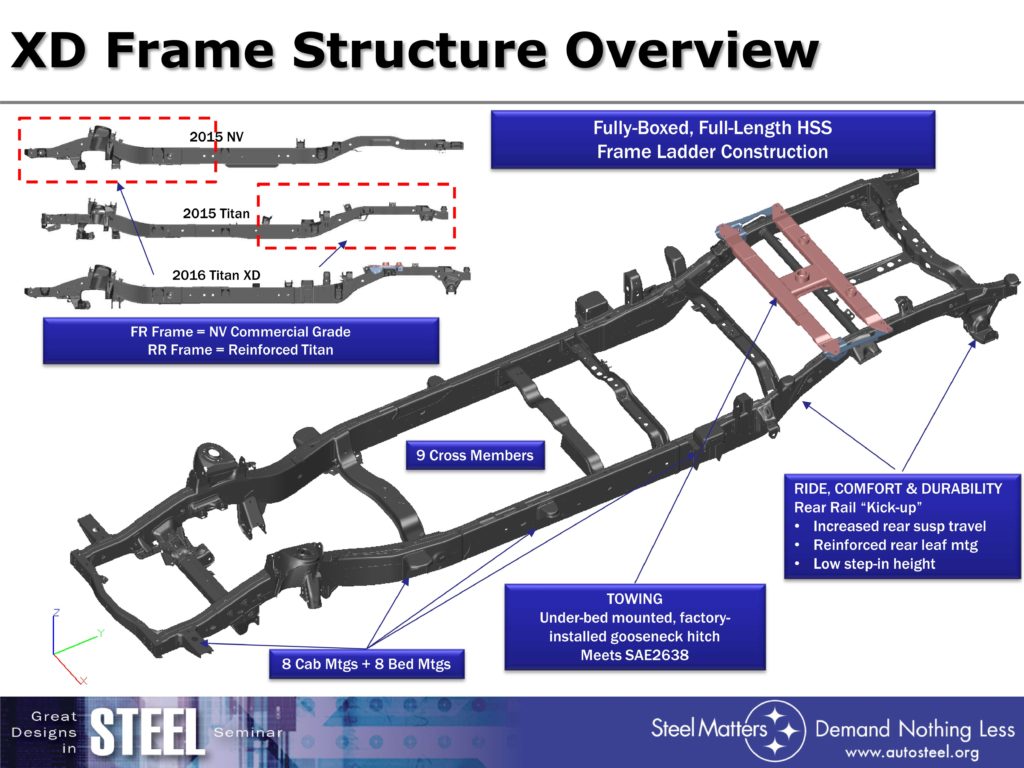 The frame has nine crossmembers, with No. 3 upgauged 65 percent and No. 4 upgauged 30 percent as well as a reinforced rear rail "kick-up" design for comfort (the rear suspension gets another 100 mm of stroke), durability and to house the gooseneck mounting. It also has eight cab mountings and eight bed mountings.
"The XD has a unique customer" in terms of bed needs, Domlovil said. The bed floor panel itself was upgauged 20 percent and sports 20 percent more welds, according to Nissan.
The cab — and remember, this is on the regular Nissan Titan too — includes Nissan's first hydroformed steel, which has a tensile strength of 980 megapascals.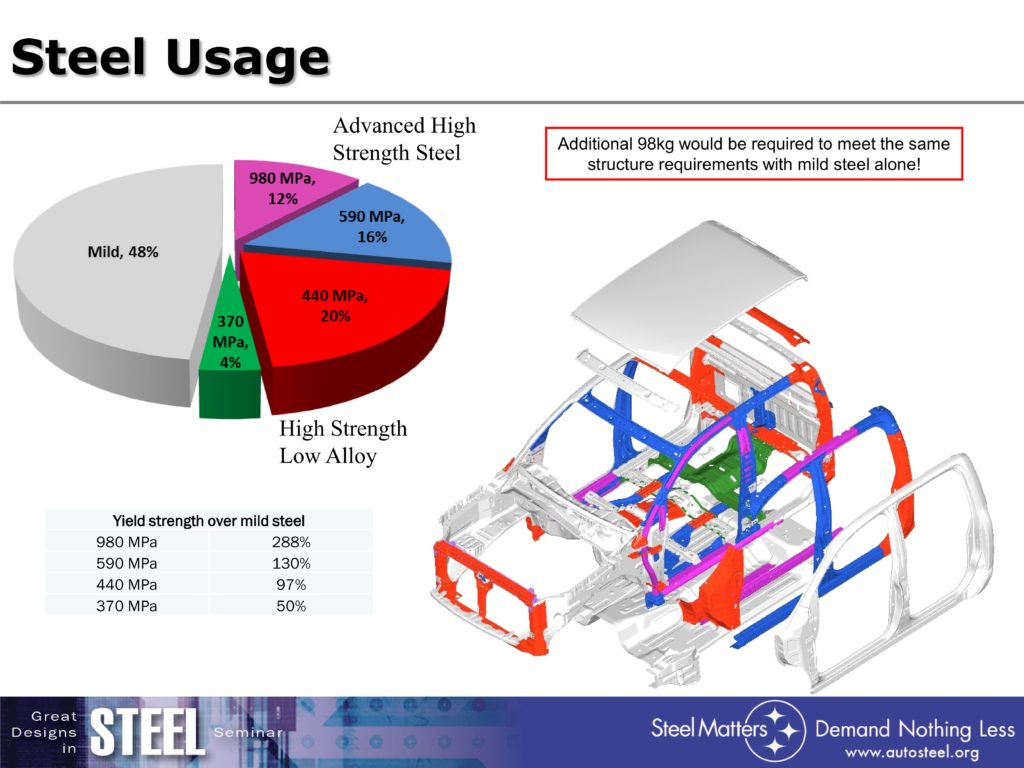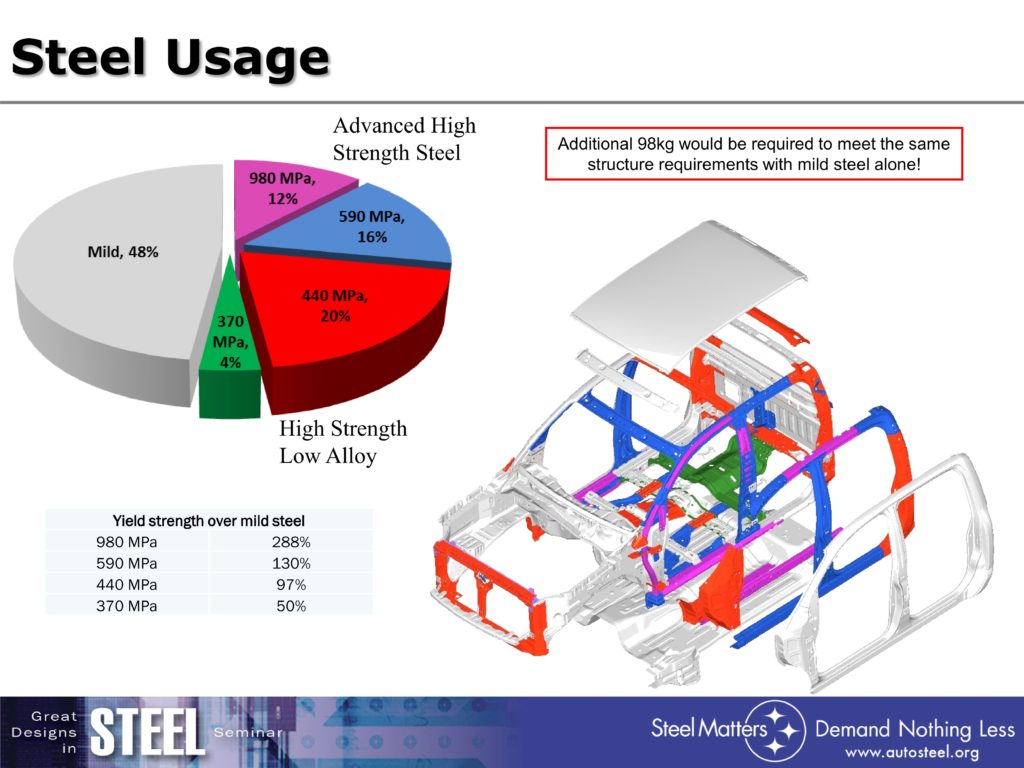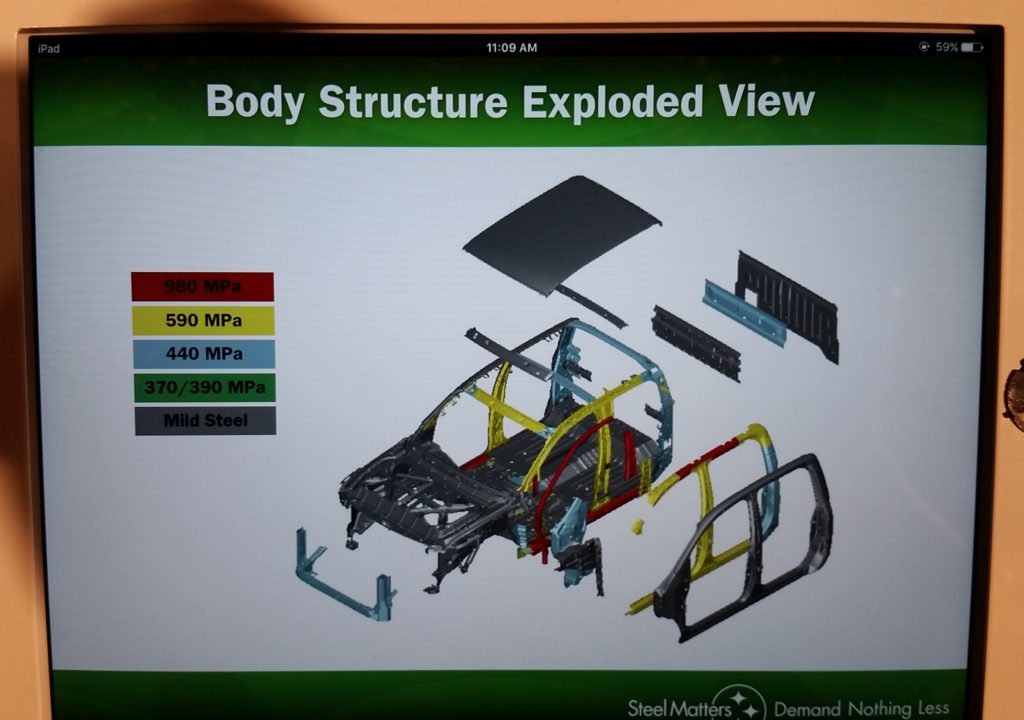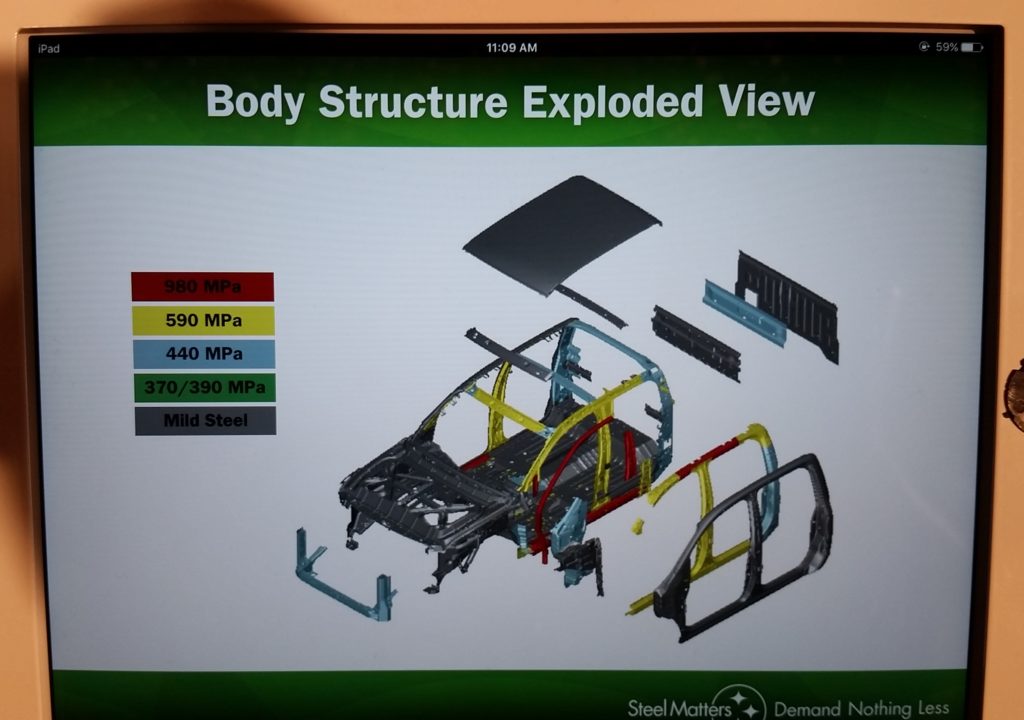 The tube runs from the frame rail up the A-pillar and ends at about the top of the B-pillar and increases that area's strength by 25-30 percent, according to Tessmer. He said no steel above 980 MPa was used on the Titan XD.
"Roof crush was one of the major considerations," Domlovil said.
The cab's frame rails and another part of the roof rail and B-pillar are also 980 MPa ultra-high-strength steel.
He noted that the last-generation Titan had a "very poor" B-pillar structure. However, Nissan redesigned it and combined it with a "very critical" rear lock pillar joint for better side-impact crash performance.
The Titan XD wasn't subject to Insurance Institute for Highway Safety testing, Tessmer said. However, the regular 2017 Titan with that cab indeed posted "good" ratings (the highest) in side-impact and roof strength tests — though it only received a "marginal" rating in small-overlap testing.
More information:
"Nissan's radical strategy for the Titan pickup"
Automotive News, May 8, 2017
"Nissan shows all-new 2017 TITAN pickup at 2016 New York International Auto Show"
Nissan, March 24, 2016
2016 Nissan Titan XD Great Designs in Steel slides
Steel Market Development Institute, May 2016
Images:
The 2016 Nissan Titan XD's frame, shown here at the 2016 Great Designs in Steel, is only 1 percent mild steel. (John Huetter/Repairer Driven News)
980-megapascal ultra-high-strength steel (red) can be seen underneath 590 MPa advanced high-strength steel (yellow) on the cab of the 2016 Nissan Titan XD at Great Designs in Steel. (John Huetter/Repairer Driven News)
The 2016 Nissan Titan XD also can have a factory-installed gooseneck hitch — which Nissan said was a first for a light-duty truck — which might add complexity to a collision repairer's frame and bed work. It's mounted under the bed with a structure that ranges between 400-540 MPa. (Provided by Nissan via Steel Market Development Institute)
Less than half of the 2016 Nissan Titan XD cab is mild steel. (Provided by Nissan via Steel Market Development Institute)
Less than half of the 2016 Nissan Titan XD cab is mild steel. (John Huetter/Repairer Driven News)
Share This: