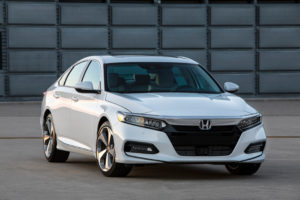 The 2018 Honda Accord is 29 percent ultra-high-strength steel, the company announced Friday — the highest proportion of the 780-megapascal-and-up grades in any mass-market Honda car.
This lightweighting of the No. 9 vehicle in America (according to GoodCarBadCar's tallies) is yet another reminder that a modern collision repairer simply can't expect to fix cars the same way they used to — and likely not with the same equipment either.
Honda said more than half of the 2018 Accord — 54.2 percent — was "high strength steel (above 440 MPa)." Other next-generation Hondas jump from 440-megapascal steel to 590 MPa steel, the threshold for "advanced high-strength steel," and we'd expect the Accord to do so as well.
"Underneath the skin is a more rigid and lightweight body with our highest ever application of ultra-high strength steel, plus a new aluminum-intensive chassis with available Adaptive Dampers," American Honda Honda Automobile Division Senior Vice President Jeff Conrad said Friday, according to Honda.
Cross into 590 MPa, and repair procedures start dramatically changing on Hondas. Parts become replace-only, unsectionable except in certain areas, and increasingly unable to tolerate heat. Welding faces greater restrictions, and starting at 590 MPa steel, Honda also demands increasingly stronger MAG welding wire than the standard ER70S-6 shops have been using for years.
The wire must be equal in tensile strength or greater than the weakest metal being welded. The OEM also recommends using solely 980 MPa welding wire for all of those steel grades, all the way down to the 270 MPa mild steel. That way, shops can avoid a costly — or life-threatening — mistake caused by swapping between different wire strengths, according to a Honda expert.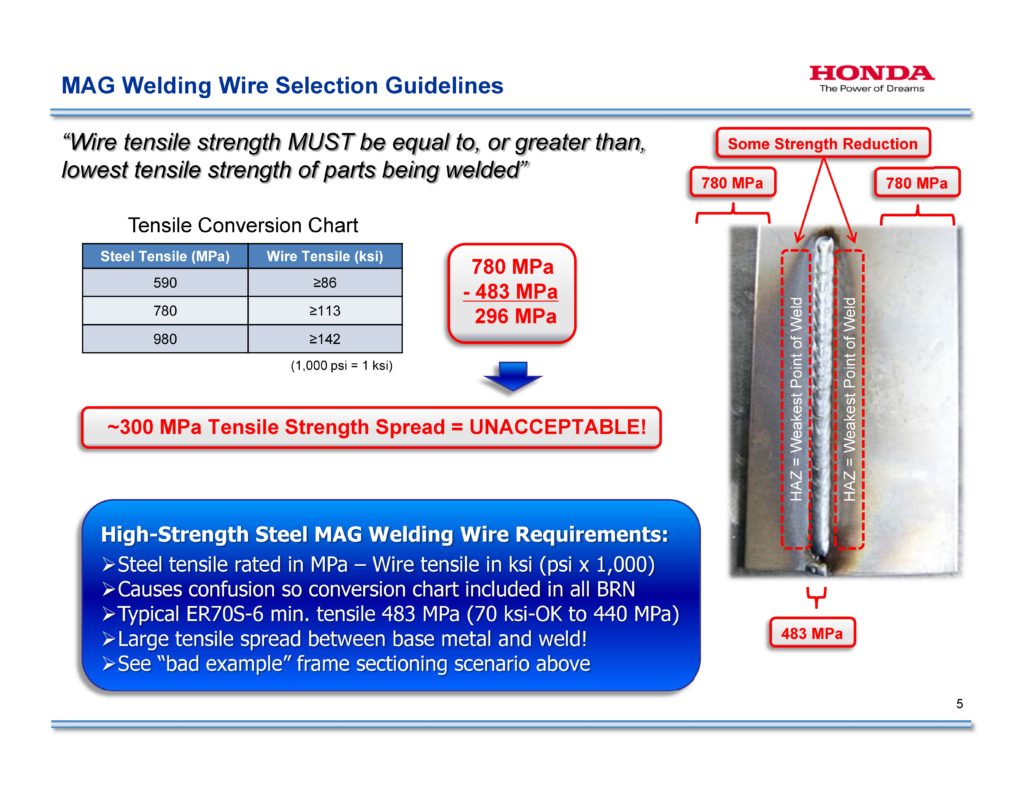 The car itself weighs 110-176 pounds less than the 2017 Accord, the last model of the sedan's ninth generation. The light, strong metals and "extensive use of structural adhesives" — a first for the Accord, Honda said — have increased torsional rigidity 32 percent and bending rigidity 24 percent, according to Honda.
"We are redefining the Honda Accord for a new generation of buyers by bringing something unexpected that challenges the idea of what a mainstream sedan can be," American Honda Automobile Division Senior Vice President Jeff Conrad said in a statement. "Even as we advance core values like great driving dynamics, safety performance and efficiency, the distinctive design of this all-new 2018 Honda Accord will help it appeal to both head and heart in equal measure."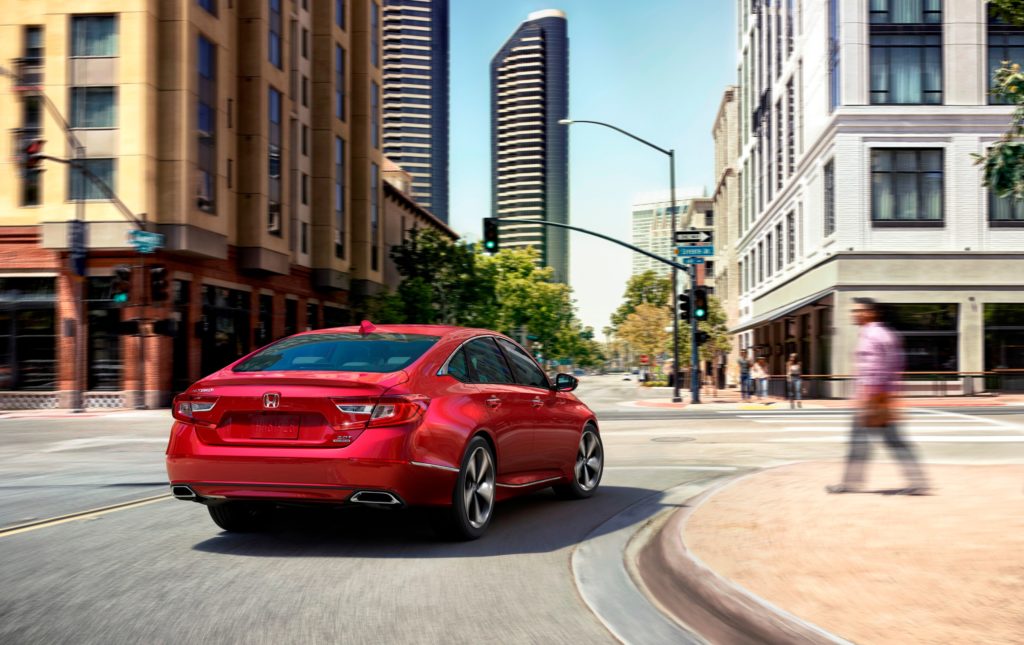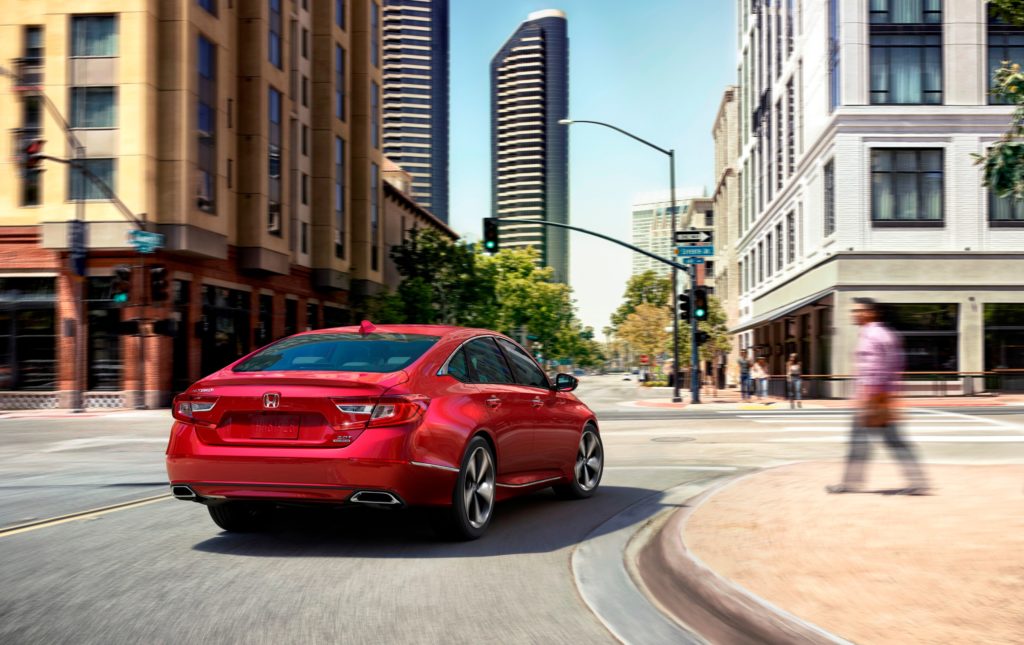 Honda also describes "tailor-tempered rear frame members for improved crash-energy absorption," which sounds a lot like the "soft zones" it built into the 1,500 MPa Civic rear frame rails on the four-door Civic so they deform predictably during a crash. Those rails can't be repaired or sectioned by a body shop; as of this writing, they're replace-only.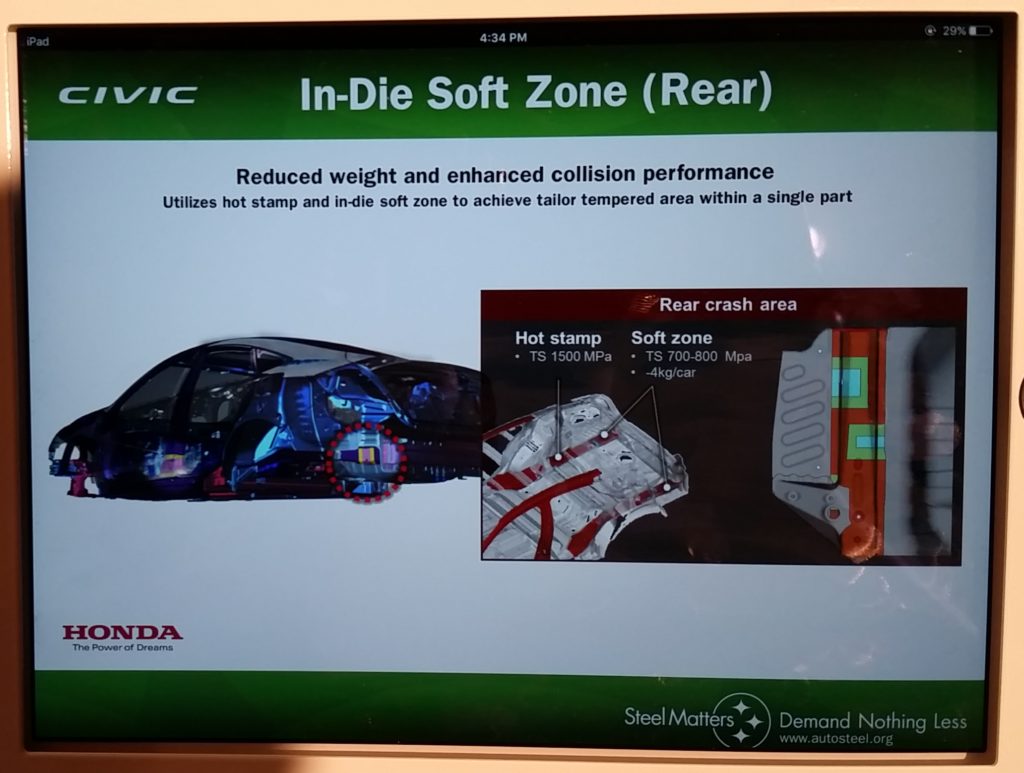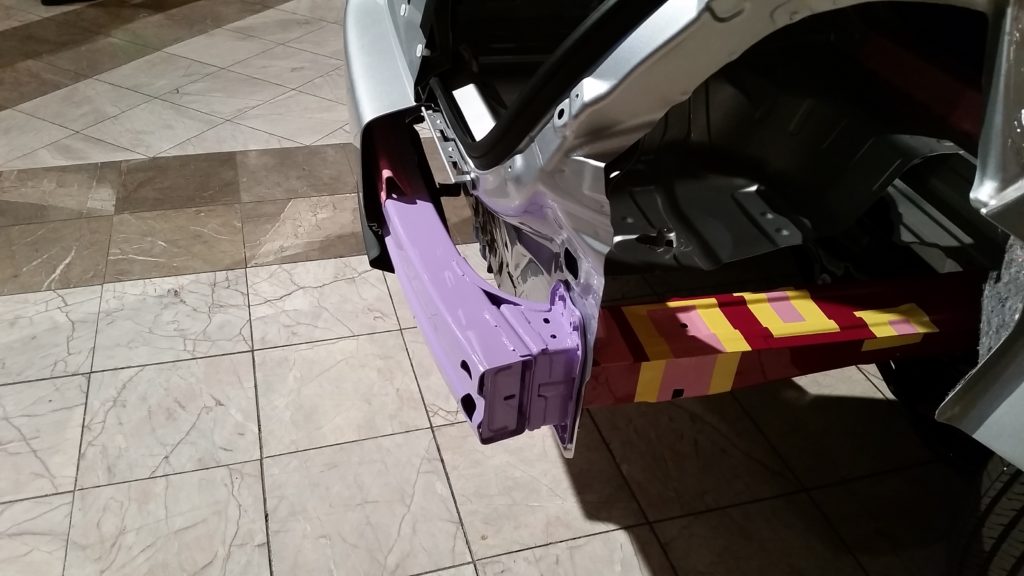 Honda also wrote Friday that the Accord also has a "crash stroke front frame" but didn't elaborate. This could be a reference to the kind of collision engineering it built into the 2016 Civic.
Civic body designer Shawn Crichley said during Great Designs in Steel 2016 that the Civic has small brackets on the subframe, seen in the following video (which also uses the term "crash stroke"). These pull the subframe down and bend it strategically to absorb more frontal-collision energy.
The next-generation Honda Civic sports aluminum front and rear bumper beams. Honda didn't indicate Friday if any of those parts would be aluminum on the 2018 Accord, but the car was designed upon the same Advanced Compatibility Engineering body structure. Shops working on aluminum elements of predominantly steel Honda vehicles would still need the same dedicated tools and space they would on a predominantly aluminum F-150, according to Honda.
"Aluminum is aluminum … corrosion is corrosion," Honda collision repair expert Chris Tobie, who has since became the Acura NSX Performance Refresh Center product support coordinator, wrote in a February email. "And yes, (aluminum) repair all requires the same precautions. Parts cost is a big part of whether to repair or replace aluminum components, so that will factor into the equipment a shop requires.  Aluminum bumper beams, like steel ones, are replace only. Never repair these!"
Other 2018 Accord highlights possibly of interest to collision repairers:
• The car has "full underbody covers, which also aid aerodynamics, front and rear fender and engine compartment insulators" for a quieter ride.
• OEM wheels might be necessary, as the Accord alloy wheels include "Honda-proprietary resonator technology."
• The car has a three-mic "Active Noise Control system" which is new to the Accord. Essentially, look for microphones in the ceiling.
"ANC is designed to reduce low frequency sound in the cabin caused mainly by the roughness of the road surface," Honda describes it on the 2018 Acura TLX. "The overhead microphones pick up sound waves and send them to the… processor, which creates and sends a precisely timed 'reverse phase' audio signal to a special amplifier. In turn, the amplifier drives the door speakers to cancel the original noise signal."
• All 2018 Accords will pack in Honda Sensing standard. Features like autobraking could cut into collision repairer volume, but scanning and calibration are going to be even more important than ever on the Accords you do see. The car has autobraking, adaptive cruise control — which will also work at low speeds – lane departure warning, road departure mitigation and even traffic sign recognition standard, and other advanced driver assistance systems are available as options.
"Finally, we're delivering our most advanced suite of safety and driver-assistive technologies with Honda Sensing as standard equipment on every new Accord," Conrad said, according to Honda. "And this is not limited only to autonomous emergency braking, with features in multiple option packages, like some mid-size sedan competitors. It includes a full suite of features as standard equipment on every single trim level of Accord. So, we expect Accord to continue to earn top safety ratings."
Correction: An earlier version of this article incorrectly described the substrate of the 2016 Honda Civic's hood. The hood is made out of steel. The article has since been corrected to reflect this.
More information:
"Dramatic Design of Reimagined 2018 Honda Accord Signals New Direction for America's Retail Best-Selling Midsize Sedan"
Honda, July 14, 2017
Jeff Conrad on 2018 Honda Accord
Honda, July 14, 2017
"Honda Body Repair Manual Welding & Sectioning Guideline Revisions"
Honda Body Repair News, August 2016
Honda Independent Repair Website
Images:
The 2018 Honda Accord Touring is shown. (Provided by Honda)
Honda in December 2016 explained why auto body shops needed to weld higher-strength steels with equally strong wire. (Provided by Honda via VeriFacts)
The soft zones on the 2016 Honda Civic can be seen in this Honda slide from the 2016 Great Designs in Steel. (John Huetter/Repairer Driven News)
The soft zones on the 2016 Honda Civic can be seen in this cutaway from the 2016 Great Designs in Steel. (John Huetter/Repairer Driven News)
Share This: