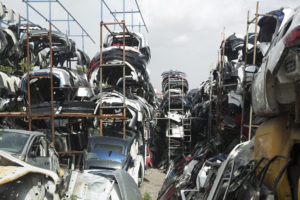 The latest "Who Pays for What?" survey found insurers relatively receptive to charges for cleaning up recycled parts, but resistant to compensate shops for additional labor on non-OEM parts.
It's an unusual contradiction, and a somewhat hypocritical one given that carriers are typically the ones demanding parts other than new OEM components.
The April survey results, available online for free to collision repairers (and for sale to other interested parties), were generated by polling "a record" 1,042 shops nationwide. Shops were asked how often insurers pay when asked by a shop to be compensated for their work. The percentage of shops which didn't ask insurers is also tracked.
Of the shops who billed insurers for washing or degreasing salvage parts, 47 percent were paid "always" or "most of the time," up 3.6 percentage points, according to the survey by Collision Advice and CRASH Network. Around a sixth of the hundreds of respondent shops never asked.
But requests for test-fitting or other extra labor to make an aftermarket part work on a customer's vehicle were only paid "always" or "most of the time" 20 percent of the time shops asked, up 1.1 percentage points. A little less than a third of the hundreds of respondent shops never asked.
As usual with the "Who Pays?" surveys, State Farm and USAA are by far the best about paying shops who asked to be compensated, though all of the Top 8 insurers do reimburse shops who ask for such work.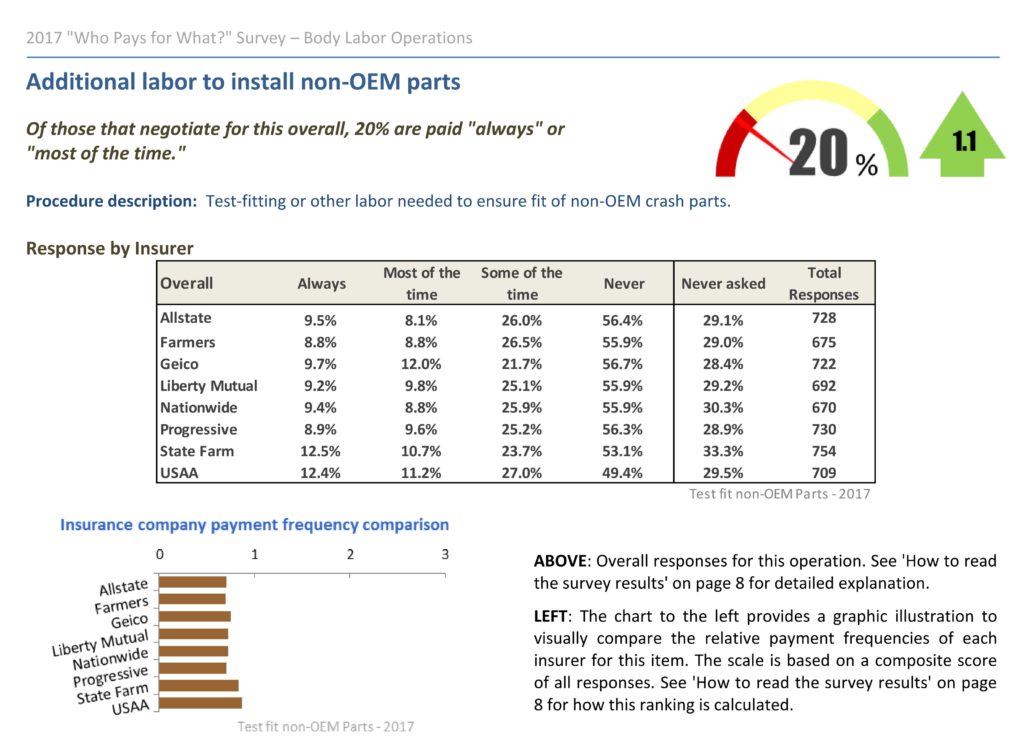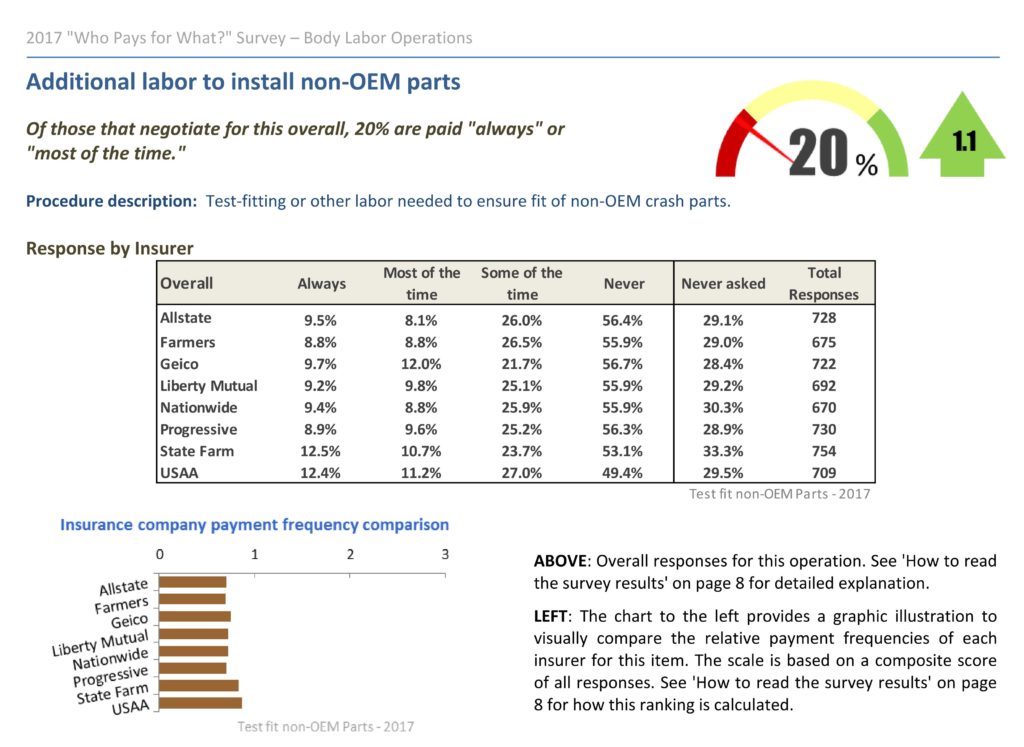 DEG and P-Pages
For the record, all estimating service labor rate times are based on installing new, undamaged OEM parts on a new, undamaged, unmodified vehicle.
CCC: "OPERATION TIMES LISTED ARE BASED ON NEW UNDAMAGED PARTS INSTALLED ON NEW UNDAMAGED VEHICLES AS INDIVIDUAL OPERATIONS. TIME HAS NOT BEEN CONSIDERED FOR ALIGNMENT PULLS, DAMAGE RELATED ACCESS TIME, DAMAGED, USED, REMANUFACTURED OR AFTERMARKET PARTS. SOME OPERATION TIMES ARE APPLICABLE AFTER BOLTED, ATTACHED OR RELATED PARTS HAVE BEEN REMOVED. REFER TO SPECIFIC FOOTNOTES ATTACHED TO OPERATION TIME LISTING."
Audatex: "Labor allotments suggested by Audatex estimates are for replacement of new and undamaged parts."
Mitchell: "THE LABOR TIMES SHOWN IN THE GUIDE ARE IN HOURS AND TENTHS OF AN HOUR (6 MINUTES) AND ARE FOR REPLACEMENT WITH NEW, UNDAMAGED PARTS FROM THE VEHICLE MANUFACTURER ON A NEW, UNDAMAGED VEHICLE." (Double emphasis Mitchell's.)
All three estimating services are clear that test-fitting a typical part is not included, according to the Database Enhancement Gateway. Admittedly, CCC is a little confusing on this one, which might explain some of the resistance. (CCC also makes an exception and adds a single instance of test-fit time for a bonded panel; the other two IPs methodology could not be determined.)
Take the new 'Who Pays?'
The "Who Pays?" surveys, which report direct repair program and unaffiliated shops' success in negotiating with the eight largest auto insurers, can be used in a shop to prove a) you're not the "only one" who bills for a particular procedure and b) the adjuster's carrier certainly has paid for that procedure. Get the full April survey results and prior reports here.
They also encourage a shop to consider invoicing the legitimate not-included work they're doing rather than just eating the cost or mistakenly believing it to be part of an estimating service's labor time. (For more on not-included procedures you might be missing, check out free resources like the Database Enhancement Gateway and the SCRS Guide to Complete Repair Planning.)
Owners, managers or estimators are encouraged to take the current survey, which runs until the end of July and asks about "not included" mechanical and frame repair procedures. Topics include labor rates in those category and reimbursement for "set-up and measure," alignments and recharging the AC. Responses are confidential; the surveys only publish aggregate information. Participants will receive a free copy of the results of the poll.
More information:
Take the July "Who Pays for What?"
"'Who Pays for What?' survey finds improvement in payment for not-included body labor operations; latest survey on frame and mechanical operations is now open"
Collision Advice and CRASH Network, June 30, 2017
"Who Pays for What?"survey results
Images:
Recycled or aftermarket parts might require additional labor a new OEM part doesn't. (gece33/iStock)
Data from the April 2017 "Who Pays for What?" shows insurers aren't consistently paying for the labor demanded by non-OEM parts. (Provided by Collision Advice and CRASH Network)
Share This: