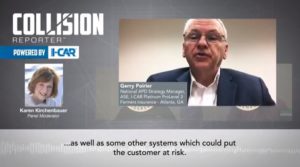 A Farmers representative agrees on a new I-CAR video series that failure to properly calibrate a car "could put the customer at risk" or at least lead to vehicle issues, and diagnostic trouble codes aren't always indicated by a dash light.
The comments by Farmers national APD strategy manager Gerry Poirier were part of a YouTube eight-video set, done in conjunction with I-CAR's new quarterly "Collision Reporter" magazine. The films divide up a Q&A with Poirier, Collision Advice CEO Mike Anderson and Collision Diagnostic Services director of client services Jake Rodenroth regarding scanning and calibration.
Neither of the points above should hopefully be revelations to a collision repair professional, but they might be useful in explaining to a Farmers adjuster or policyholder why you need to perform scanning or calibration. The interviews with Anderson and Rodenroth, conversely, should provide an auto body business owner or technician with deeper insights.
Poirier's answers at times do seem to muddle fairly straightforward manufacturer instructions and best practices related to diagnostics, similar to recent "case-by-case"-type comments from State Farm and GEICO. On the other hand, all three insurers' acknowledgement of situations where scanning would be required at least allow a shop or customer to challenge mistaken "we don't pay for that" stances by adjusters.
Poirier calls OEM position statements "very broad" and said the collision repair industry needs to be "patient" while unspecified people within the industry worked to "develop procedures surrounding it (scanning)."
If Poirier meant repair procedures, the guys who built the car already have given everybody instructions within position statements and OEM repair procedures. As Nissan observed last year, such broadness is likely intentional — when it wrote "all," it meant all vehicles must be scanned.
If Poirier's referring to the discussion over what's a fair charge for it, then that's certainly still being worked out. (And even that won't be one-size-fits-all — some subletting will be inevitable unless a shop has five or six figures worth of scan tools.) Anderson says as much in one video, predicting labor times coming from the information providers soon.
Asked about the importance of diagnostics on a scale of 1-10, Poirier also says that one repair might be a 10 because of a "severe enough collision" with electronic systems involved, while another would be "very little," such as a scratch on a fender "where there would possibly be no reason to do a scan on the vehicle."
"Every situation is unique," he tells I-CAR moderator Karen Kirchenbauer.
While factually accurate, the comment obscures the practical reality that diagnostics are going to be necessary nearly all of the time after and even before a repair. Poirier even appeared a year ago on a panel of OEMs who said as much.
Something as simple as disconnecting a battery or removing a part can triggers the need for scanning, assuming the OEM who built the car in the first place doesn't require it every time right off the bat. CCC puts the average repair order at $2,861, which suggests there's not going to be a lot of "scratch" claims so insignificant they wouldn't require a scan.
However, Poirier encouraged shops to approach scanning like any other repair and do their research, advice which if followed should provide a shop with the documentation needed to support their charges.
Get links to the first issue of Collision Reporter, a fun diagnostics infographic and the videos here, or visit I-CAR's YouTube channel here.
More information:
"Introducing the I-CAR Collision Reporter"
I-CAR Repairability Technicial Support portal, July 14, 2017
I-CAR Collision Reporter portal
Featured image: A Farmers representative agrees on a new I-CAR video series that failure to properly calibrate a car "could put the customer at risk" or at least lead to vehicle issues. (Screenshot from I-CAR YouTube video)
Share This: