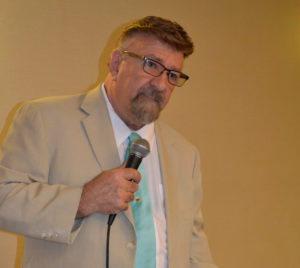 Alliance of Automotive Service Providers of New Jersey Executive Director Charlie Bryant last month encouraged his membership to submit complaints to the state when they encounter insurer misbehavior.
Doing so will help establish the carrier is engaging in a "general business practice," according to Bryant — a threshold he said was required by the New Jersey Department of Insurance before it'd take action.
"We're all familiar with the ways that insurers complicate our daily business," Bryant said, according to a July 17 AASP-NJ post. "And everyone in this room knows that these practices are not once in a blue moon. They happen regularly. But the Department of Insurance says that they cannot take action against an insurer unless the damaging things the insurer is doing can be proven to be a 'general business practice.'"
According to New Jersey Administrative Code 11:2-17: 
N.J.S.A. 17:29B-4(9) and 17B:30-13.1 prohibit insurers from engaging in unfair claims settlement practices. The purpose of this subchapter is to promote the fair and equitable treatment of claimants by defining certain minimum standards for the settlement of claims which, if violated with such frequency as to indicate a general business practice, would constitute unfair claims settlement practices in the business of insurance.
He likened it to if "a police officer had to catch you running a red light three times in one week before he could give you a ticket," according to the trade group.
Thus, it's imperative a shop owner not just grumble about such behavior but alert the Department of Insurance.
"When you encounter an insurer that says, 'we don't pay for that,' or 'you're the only one who charges for that,'" Bryant said, according to the AASP-NJ. "Do yourself and your fellow shop owners a favor and submit a complaint to the DOI. If we work together as an industry, we can get changes made."
Shops in other states might want to check their own regulations and perhaps take Bryant's lesson to heart. The "general business practice" qualifier appears to exist in other states as well, which might mean a similar documented pattern is necessary before a DOI will care about your problem.
"There are certain things facing us that we won't solve here tonight," Bryant also said, according to the AASP-NJ. "We may not even get them solved completely through (the DOI) regulations. I believe the only way we will really make this industry better is through standing our ground, working together and by bringing the terrible things insurers are doing to us to a court of law."
Bryant suggested several basic best practices in the form of questions, which according to the trade group "led to a variety of reactions as hands went up and down in response to these basic business practices."
"Who gets an authorization to repair every time a car comes in?" Bryant asked, according to the AASP-NJ. "How many of you work off an insurance estimate? How many don't write your estimate? Is your auto body license number on your estimates and your business cards? Do you give a warranty on your work and list the terms of that warranty for your consumer? Do you give notice to your customer that they have the right to receive replacement parts?"
The organization also shared a quote from an attendee encouraging shops to educate their customer.
"Explain to them their rights as your client and your rights as a shop," the attendee advised, according to the AASP-NJ. "Tell them everything you're doing, why you're doing it, and how it's going to help them."
Bryant also reminded the crowd about the AASP-NJ's resources for members, available here.
Details: 732-992-8909 or www.aaspnj.org.
More information:
"AASP/NJ Meetings Ignite Industry Conversation"
Alliance of Automotive Service Providers of New Jersey, July 17, 2017
Featured image: Alliance of Automotive Service Providers of New Jersey Executive Director Charlie Bryant in June encouraged his membership to submit complaints to the state when they encounter insurer misbehavior. (NJ Automotive/Greco Publishing)
Share This: