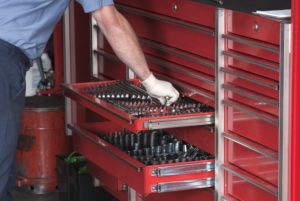 A recent high-profile incident involving a stolen paintless dent repair trailer with what media reports indicate was at least $200,000 in tools inside is a tradesman's nightmare.
It's unclear if the tools were insured, but either way, the devastating theft might spur techs to consider insuring their gear — or shop owners to offer such coverage as a perk. We spoke to a garagekeeper's insurer and a company selling tool policies directly to technicians to find out more about the concept.
The theft
WDAF reported June 26 that Kansas City Dent & Tint's trailer was recovered. However, the fate of the eight crew members' gear inside is unclear. (KSHB reported there were ten staffers with tools.)
"The average guy has about $15,000 to $20,000 in tools on his cart that he uses," Kansas City Dent owner Keith Stirling told KSHB. "Each one is kind of custom-suited to him, so it's not kind of a universal kit that you can buy."
Starling told WDAF that the thief or thieves "took the stuff that allows me to make money, and I can't even make money to get myself back out of it."
Employer-provided
Tools might not always be covered under an employer's policies, even though agents should be frequently suggesting they add it, according to the companies we contacted. It might behoove both a technician and owner to see what's protected and what isn't.
"If the business owner is working with an agent that works in this space day in day out—the need for tool coverage is obvious and proposed on each and every deal—along with the package of coverage for the rest of the so-called Garagekeepers exposures," wrote Gerald Cecil, sales and marketing vice president for garagekeeper's provider Arrowhead Automotive Aftermarket.
It's also mentioned in an Arrowhead renewal checklist promoting various coverages to a garagekeeper's policyholder.
"There is an exposure at the shop as well as when … providing their service to a customer away from the facility," he wrote. "And, in the case of hand held diagnostic equipment, mechanical breakdown."
The argument is simple, according to Cecil: Tools are "mission critical" and can and probably should be insured whether they're provided to the technicians by an owner or owned independently by the employee.
"Tool coverage can be an employee benefit and many forward thinking employers provide and present to their employees that way," Cecil wrote. He said it might be cheaper to insure as an addition to an employer's existing policy than under an employee's.
It's possible that tools could be covered under a personal lines policy, such as homeowner's insurance, "but not all may cover and if they do may limit coverage if used away from the home and for commercial purposes," according to Cecil. Some homeowner's policies will allow tools to be added as a "floater," but not all will permit this, he wrote.
Cecil wrote that coverage could take the form of a commercial property policy, a commercial inland marine mobile equipment floater (which despite the name applies to tools moving around on land) or possibly homeowner's insurance with an inland marine or tool floater.
A shop might want to consider the exposure of loss of income/business interruption while toolless employees sit idle; it's possible to obtain coverage for that concern. However, Cecil noted that "the claim may be handled so quickly" and tools replaced so fast that the company isn't disrupted for long enough to meet the business interruption coverage threshold (often 72 hours).
"We really are just guys that want to work, and we physically can't," Starling said to KSHB last month. He told KCTV he planned to travel June 26 and buy the necessary tools to complete his work following the June 24 theft.
If the employer owns the tools, Cecil recommended they "be listed on a statement of values that is updated annually and properly insured to value.  The coverage should be provided on a comprehensive basis—and if possible, include loss caused by mechanical breakdown(given handheld diagnostic) —and not just theft, fire, flood, etc."
The business owner can cover employee-owned tools under the same policy "and for the same perils—including off premises," Cecil wrote. "The coverage off premises is for when the employee using their tools in providing services for the employer for customer autos—and is not intended to cover the tools that may be taken to the employees home where they may be used but not for the benefit of the employer."
Cecil said many employers take the same inventory of their technicians' tools annually "or more frequently if the employee is a tool horse and insuring the employee tools on the employers commercial policy."
Employee-provided
Not all owners are so generous or forward-thinking as to add additional employee coverage, and that's where a company like Pro-Tec comes in.
The company, which itself is underwritten by Great American, sells $500-a-year policies to technicians which cover $50,000 in tools and a lower-level $250 one for $10,000 worth of protection. (The company also sells higher-limit policies and will write group policies.) Pro-Tec estimates the average technician has $10,000-$15,000 in tools.
"We know how limited coverage is for the employed mechanic or technician under the employer's policy," said Jim Bradanini, Pro-Tec owner. The dollar value can be so low — $2,500 in total — it's "like having no coverage," according to Bradanini and the company. A technician can still be out five figures worth of tools.
The program is in its ninth or tenth year, and "we write the program all over the country," Bradanini said. The policy covers a technician's tools regardless of if they're at work, home, a job site or in transit, he said.
"From a coverage standpoint, there's nothing like it," Bradanini said, though he noted that some competitors were beginning to enter the field.
Echoing Cecil, Bradanini said it's rare that homeowner's insurance covers tools (since they're for business use and removed from the home), and garagekeeper's insurance often provides "very limited coverage for non-owned property."
Technicians probably should check with their boss and see if their tools are truly covered, the answer to which might surprise an employer as well, Pro-Tec suggests in an older ad (the coverage only cost $250 then).
Bradanini said in his experience, owners didn't really care about the technicians enough to add additional tool coverage, though he recalled once writing $90,000 policies offered as an HR benefit for a company's 300 employees.
He noted it was also sort of strange that a company like Snap-On which extends tens of thousands of dollars in credit to technicians for big-ticket items doesn't require them to insure the property, unlike a company which finances a home or car.
More information:
"Thieves make off with auto body repair shop's trailer and $200,000 in tools"
WDAF, June 26, 2017
"Repair trailer stolen from KCK car dealership sets business back more than $250k"
KSHB, June 26, 2017
Featured image: Collision repair business owners and employees might want to consider taking out additional insurance on their tools. (leezsnow/iStock)
Share This: