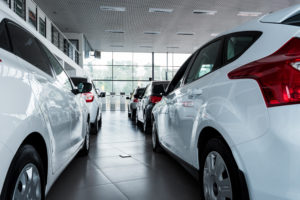 Axalta last month announced a surcharge on titanium dioxide to compensate for the company's own higher costs, and its CEO suggested Thursday other paint manufacturers would likely have to raise prices as well.
Though the company wouldn't Friday confirm price increases on automotive refinishing coatings or any other specific business lines, it would confirm that titanium dioxide is a base substance in white paint. It's unclear if Axalta was speaking generally or responding to our auto-refinish-specific question.
But white was the No. 1 car color worldwide and the No. 1 car color in North America in 2016, according to Axalta. So it seems likely that Axalta will charge jobbers more on white paint, leading to them either eating the cost or passing it along to your shop.
Axalta indicated that factory closures in China were part of the reason for a constrained supply in titanium dioxide, chemically abbreviated as TiO2. Economics 101 dictates less supply and the same demand make for a seller's market, and CEO Charles Shaver told analysts Thursday the price of the substance had risen 50-70 percent.
"We need to share the pain," he said on the second-quarter earnings call.
The charge went into effect Aug. 1, according to a July 21 announcement by Axalta:
"Due to continuing significant price increases in the cost of titanium dioxide over the past six months, Axalta Coating Systems (NYSE: AXTA) will impose a price surcharge for coating products that contain this critical raw material,"
"The surcharge will be applied to specific products sold in all regions of the world and is independent from any pricing actions due to the long-term rise in the cost of producing resins and other key components of Axalta products. The titanium dioxide surcharge will take effect on all orders received after August 1, 2017."
---
Learn about auto paint at Repairer Driven Education
Want to learn more about auto paint and refinishing? Hear from Z.P. Czornij of BASF during "The creation of car colors of the next 3 to 5 model years" and John Niechwiadowicz of QLC (for BASF) during "Thorough Estimate Techniques for Special Finishes." The sessions are part of the Society of Collision Repair Specialists' Repairer Driven Education Series Nov. 1-4 during SEMA in Las Vegas. Register here for the individual classes or the series pass package deal.
---
Shaver said he suspected Axalta's competitors were in the same boat, as "we're not that big" of a titanium dioxide user.
Shaver said some customers could see 3-5 percent increases because of what Axalta Executive Vice President and Chief Financial Officer Robert Bryant called the "TiO2 surcharge."
Axalta on the whole posted a second-quarter adjusted earnings before taxes, interest, depreciation and amortization (EBITDA) decrease of more than 9.5 percent.
In the past, the company had absorbed the increasing cost of titanium dioxide, but "we just can't do that anymore," Shaver said.
Bryant indicated the company wanted to give a sense of the pressure from titanium dioxide, which has increased "so dramatically." The TiO2 surcharge will appear as a separate line item rather than be baked into the overall price, he said.
"As TiO2 comes down, we would expect to give that TiO2 back," Bryant said. Conversely, if it goes up, Axalta would "most likely" raise the surcharge, he said.
Bryant said Axalta first noticed the raw material price increases in Asia in the first quarter of 2017; the increases subsequently spread beyond the continent.
He said the company expects raw materials prices to peak in the third quarter, but due to the "lag effect" really not peak until the fourth quarter.
This might have been a reference to when the peak is felt by customers — i.e., your jobber, and ultimately your shop if that distributor doesn't eat the cost. (And after you, the insurer or customer if your shop doesn't choose to eat the cost.) If you haven't in a while evaluated how (hourly or itemized) and what you charge for paint and materials, this might be a good time to think about your charges and expenses.
Shaver noted that as coatings manufacturers, "we get the price" upfront on raw materials, but it might take a quarter or two before the increase is evaluated (for example, an one-time anomaly) and passed on to Axalta's customers.
More information:
"Axalta Coating Systems Implements Titanium Dioxide Surcharge on Selected Products"
Axalta, July 21, 2017
Axalta second-quarter 2017 earnings call
Axalta, Aug. 3, 2017
"Axalta Releases Second Quarter 2017 Results"
Axalta, Aug. 3, 2017
Axalta Global Automotive 2016 Color Popularity Report
Axalta, Dec. 8, 2016
Featured image: Titanium dioxide can be used in white auto paint. (Greentellect_Studio/iStock)
Share This: