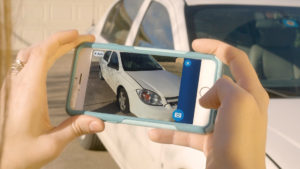 Allstate CEO Tom Wilson said last week the company had incurred $52 million in second-quarter restructuring costs largely related to its digital claims initiatives — expenses which included severance for 500 employees and closing more than 900 drive-in estimating centers.
"The majority of these ($52 million in restructuring expenses) are related to Allstate brand claims process changes and office closures due to the expansion of virtual auto claim estimating capabilities," Allstate wrote in a news release Aug. 1.
"It's really related to the shutting down of other stuff," Winter said of the line item during an Aug. 2 second-quarter earnings call. (Special thanks to Seeking Alpha, whose transcript of the call helped us quickly confirm what was said and check quotes.)
"This is about the cost for severance for people who are no longer be required, so that's over 500 people," Winter said on the conference call. (See slides.) He said Allstate "knew we were headed here" and had structured many of the company's 937 drive-in centers to go to month-to-month leases, but the company's 10-Q indicates some "post-exit rent expenses and contract termination penalties" were still incurred with the switch.
The staff and infrastructure weren't needed under new claims processes which Allstate President Matt Winter said use technology to "take some of the inefficiency out of the system."
Allstate last year started Quick Card Pay, which Allstate President Matt Winter said pays a customer's debit card in seconds.
"Quick Card Pay is the fastest claim payment method in the P&C industry," he said on the company's Aug. 2 earnings call.
The company has combined that with QuickFoto Claim photo estimating and its Virtual Assist video chats with auto body shops about supplements, according to Winter. The idea was to eliminate the inefficiency in the claims process of "dead time" adjusters spent driving to inspect cars and to body shops for estimates and supplements, he said.
"Approximately half right now of all driveable vehicles are currently being inspected through our QuickFoto method of settlement," Winter told analysts on the call.
Winter said all three of these initiatives have led to "a dramatically more productive and more efficient claim system."
"We've taken a cycle that used to take five to seven days in order to get eyes on a vehicle and get an estimate … we've done that now in hours, and we are literally doing that in under 24 hours," Winter continued.
Body shops have raised the potential for photo estimates to miss something that a physical estimator would catch, and an analyst asked about the quality of QuickFoto Claim.
"Overall the quality has been quite good, actually slightly better than we expected," Winter said. "And the productivity and efficiency savings have been tremendous."
He did note: "Supplements are slightly higher, but rather an insignificant amount."
The company "did a lot of testing along the way" and still applies both in-person and secondary examinations of claims.
Eating nearly $52 million to generate efficiency might seem counterintuitive, but Wilson said Allstate expected to make its money back in "a relatively short period of time," sometime longer than "five days" but shorter than "five years."
While the speed at getting the initial estimate out of the way might be good for everyone, photo estimating could be problematic if customers aren't educated to the amount of damage which could be overlooked — though Allstate has argued that its physical adjusters could miss the same things. It seems like Allstate might want to use the switch to photo estimating as an opportunity to revise its KPIs (if it hasn't already) and give direct repair program shops a pass on at least the first supplement given what is likely to be body shops' increased importance in catching hidden damage. (Of course, the idea of a shop adhering strictly to an initial insurer estimate alone is ludicrous whether that estimate is generated in-person or by a desk reviewer. Experts and OEMs suggest all vehicles need to be scanned, measured and torn down — none of which the insurer is likely to have done in either case.)
Virtual Assist seems less controversial, so long as the adjusters on the other end behave in good faith once presented with video evidence of whatever needs to be done in a supplement and shops are willing to engage with the call center. We talked to a non-DRP shop in June that reported the process was extremely fast and smooth — an encouraging sign.
Interestingly, Allstate's willing to share Virtual Assist with competitors. Wilson on Aug. 2 said Allstate would offer the technology to any careers who'd like to use it, noting that collision repairers were already trained to use the Skypelike app. Interested parties should contact Arity, Allstate's spinoff telematics arm, he indicated.
"We think we're ahead of other people," Wilson said.
More information:
Allstate second-quarter earnings call
Allstate, Aug. 2, 2017
Allstate second-quarter earnings transcript
Seeking Alpha, Aug. 2, 2017
Allstate second-quarter earnings call slides
Allstate, Aug. 2, 2017
"Allstate Delivers Strong Second Quarter Operating Performance"
Allstate, Aug. 1, 2017
Allstate, Aug. 1, 2017
Images:
Allstate's QuickFoto Claim is shown. (Provided by Allstate)
Allstate has launched Virtual Assist, a new Android and iPhone app which allows a collision repairer to video-chat with a remote Allstate adjuster. (Provided by Allstate)
Share This: