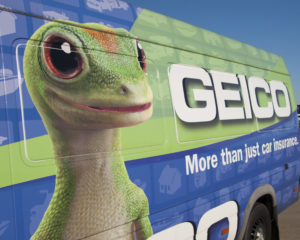 Higher premiums by GEICO don't seem to be scaring anybody off.
Parent company Berkshire Hathaway reported Friday that the nation's No. 2 insurer raised average premiums 5 percent but saw voluntary policies-in-force rise 10.2 percent in the second quarter compared to April-June 2016. Over the first six months of the year, GEICO added 876,000 voluntary auto policies.
"The increase in average premiums per policy was attributable to rate increases, coverage changes and changes in state and risk mix," Berkshire Hathaway wrote in a 10-Q.
GEICO might have been picking up some of the defectors from insurers like Allstate which also raised rates and/or tightened underwriting standards to maintain profitability. This could lead to a potentially higher-risk and bargain-focused customer book at GEICO.
Higher-volume shops or DRP facilities affiliated with GEICO and Allstate, or other Top 5-10 insurer competitors might notice these trends.
Allstate President Matt Winter observed last week that his carrier targeted essentially its worst-performing demographics in its book with rate increases — which probably means the more crash- or claim-prone folks. (Special thanks to Seeking Alpha, whose transcript of the call helped us quickly confirm what was said and check quotes.)
"As a result, the quality of our book increased," Winter said. More of the "worst performing segments" switched carriers, and fewer customers in those segments signed up for policies, he said. However, now that Allstate plans to levels off rate increases and try to grow, it might be less likely to get hit with the "new business penalty" (new customers tend to produce more claims) by attracting higher-quality policyholders, according to Winter.
"So I don't expect that (new customers) to be a significant drag" on profitability, Winter said.
---
Get advice for insurer interactions at Repairer Driven Education
Want to hear more about negotiating and discussing a repair with insurers? Learn from Tim Ronak and Greg Griffith, AkzoNobel, at "Severity – Why it does not matter and what to do about it!"; Keith Manich, Automotive Training Institute at "Preparing and conducting Negotiations for Collision Repair Shops"; Matthew McDonnell, Big Sky Collision Centers, at "Building a bulletproof estimate through proper documentation"; and Jake Rodenroth, Collision Diagnostic Services, at "Building the Business Case for Diagnostics in Collision Repair." The sessions are part of the Society of Collision Repair Specialists' Repairer Driven Education Series Nov. 1-4 during SEMA in Las Vegas. Register here for the individual classes or the series pass package deal.
---
Berkshire Hathaway said GEICO's property damage and collision frequency was "relatively flat" in both the quarter and first half of the year, echoing a leveling off seen by No. 3 Allstate.
However, property damage and collision severity rose 4-5 percent in the first half of the year compared to January-June 2016, Berkshire said.
There are two lessons here:
Our usual line: As Berkshire Hathaway shows, it's OK for companies to charge more when costs go up, despite what a GEICO adjuster or DRP liaison might tell you.
GEICO is adapting just fine to vehicles which are more expensive to repair. So shops and customers shouldn't feel pressured to save GEICO money — it's baking severity growth into what it already charged the customer to shoulder the risk of fixing their car.
While GEICO profit fell 26.1 percent for the quarter and 30 percent for the half, it still came out ahead at $119 million and $294 million, respectively.
"In the second quarter and first six months of 2017, our pre-tax underwriting gains declined compared to 2016, as claim costs grew faster than premiums earned," Berkshire Hathaway wrote.
But let's not forget that insurance premiums give Berkshire Hathaway leaders and financial titans Warren Buffett and Charlie Munger potentially free loans to expand their empire in the form of "float" — premiums paid by a customer who hasn't filed a claim yet.
GEICO also managed to increase underwriting expenses (which Berkshire Hathaway says are largely salaries, benefits and ads) 10.1 percent and 11.1 percent to $1.017 billion and $1.887 billion for the quarter and half, respectively, though it was spending a slightly lower proportion of premium dollars upon them.
Right now, GEICO pays out 84.3 cents in claims on every premium dollar it takes; the other 14.1 cents largely went to pay staff and buy ads.
Interestingly, Winter argued last week that "really the marketing spend is not the primary driver on the growth right now." He said retention mattered more to Allstate's policies-in-force, and while Allstate couldn't control customer price cuts, it could manage customer satisfaction and engagement and its own price consistency.
More information:
Berkshire Hathaway second-quarter news release
Berkshire Hathaway, Aug. 4, 2017
Berkshire Hathaway second-quarter 10-K
Berkshire Hathaway, Aug. 4, 2017
Allstate second-quarter earnings transcript
Seeking Alpha, Aug. 2, 2017
Featured image: A GEICO van is seen Oct. 16, 2011, at the Houston Air Show at Ellington International Airport. (Lanie/iStock)
Share This: