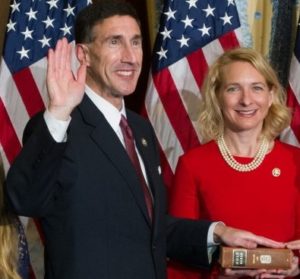 A  bill in the U.S. House would push the 34 states licensing independent insurance adjusters to establish uniform and reciprocal laws for the profession within four years.
Co-sponsor Rep. David Kustoff, R-Tenn., wrote in a news release July 24 that the "Claims Licensing Advancement for Interstate Matters Act" (CLAIM Act) would allow adjusters from across the country to swarm an area after a catastrophe.
"When disaster strikes, it is critical that consumers are able to reach their home insurance provider immediately and receive their insurance claim as quickly as possible," Kustoff said in a statement. "Unfortunately, when catastrophes occur, often thousands are affected at one time, overwhelming the select insurance adjusters in the area."
Other sponsors include Reps. Rod Blum, R-Iowa; Bill Foster, D-Ill.; Phil Roe, R-Tenn.; Ed Royce, R-Calif.; and Steve Stivers, R-Ohio.
Kustoff wrote that the bill would also save consumers money on premiums by eliminating licensing inefficiency, allow insurers to hire more people instead of spending money on meeting various state laws, and help Americans get paid faster after claims as "inconsistent state licensing regulations … slow the process of approving funds."
"The CLAIM Act would open doors for consumers to utilize independent claims adjusters in nearby states," he said in a statement. "It will also encourage the states to adopt uniform and reciprocal licensing procedures, allowing adjusters to use their home state for licensure. Most importantly, this bill respects states' rights and would ensure that each state keeps its independence to adopt rules as it sees fit."
The measure requires states to have a uniform set of licensing, ethics and continuing education requirements for independents, which could perhaps lead to more qualified adjusters across the board if some states are lacking in the latter two areas.
States could still charge whatever they want for a license, enforce whatever insurance laws they individually have, and regulate the licensed adjusters which do work in their states. The 16 states that don't have licenses (or any state which repeals licensing, presumably) would not have to start licensing adjusters under the CLAIM Act.
An adjuster whose state fails to standardize licensing within four years could apply to the National Association of Registered Agents and Brokers "for the purpose of licensure in each such State not in compliance with section 2, provided that such independent claims adjuster pays the requisite fees, including licensing fees."
It sounds as though NARAB would be able to create a parallel method of licensing usable in those states which don't comply. The Association of Claims Professionals, which supports the bill, describes NARAB as able to grant "an operational license" to independent adjusters.
"ACP fully supports this bipartisan bill and thanks Congressmen Kustoff and Foster for their leadership on this legislation, which will protect American consumers and better standardize the independent insurance claims industry," ACP CEO Council Co-Chair David North said in a statement July 25.
ACP-Bickmore research released earlier this year suggests that the average independent adjuster is licensed in 10 states. Large insurance companies employ 70 percent of the adjusters working in the U.S. today.
Claims Journal reported earlier this month that the bill was attempted in 2012 and 2013 and quoted ACP counsel David Farber as noting that a similar bill standardizing insurance agents led to 43 states being uniform in two years.
It'll be interesting to see if the CLAIM Act fares better this year now that photo estimating — and artificial intelligence photo estimating — seems to be gaining traction. Allstate, for example, has to ensure that desk reviewers working on its QuickFoto Claim initiative handle only claims from states that have licensed them; Snapsheet said it does the same thing.
Uniform licensing would remove that wrinkle and make it even easier for insurers to scale up photo estimating and video chat supplementing like Allstate — which just cut at least 500 physical staffers and 937 drive-in centers because of the increased efficiency from digital claims.
Be heard: Congressional contact information can be found here.
More information:
"Push for Uniform Adjuster Licensing With Reintroduction of the CLAIM Act"
Claims Journal, Aug. 1, 2017
"KUSTOFF INTRODUCES BILL TO EXPAND OPTIONS FOR INSURANCE CLAIMS IN TIMES OF DISASTER"
U.S. Rep. David Kustoff, July 24, 2017
"Independent Claims Adjusters Handle Millions of New Claims Annually Worth $45 Billion"
Association of Claims Professionals, Feb. 8, 2017
"Association of Claims Professionals Commends Introduction of the Bipartisan CLAIM Act in Congress to Eliminate Insurance Claims Barriers"
Association of Claims Professionals, July 25, 2017
Featured image: U.S. Rep. David Kustoff, R-Tenn., left, poses during his swearing-in ceremony in 2017. (Provided by Allstate)
Share This: