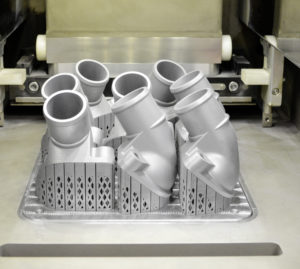 Daimler announced earlier this month it had successfully 3-D printed a "highly resistant" aluminum thermostat cover for older Mercedes trucks and Unimogs.
The shift in production of the low-demand part from traditional to additive manufacturing seems to be a preview of what collision repairers can expect sometime in the reasonably near future, particularly for older-model vehicles. It also seems to be a dream for vehicle restorers who don't mind using a replacement part manufactured in the present day.
Mercedes hadn't produced the trucks or Unimogs with those thermostat covers since around 2002, and barely anyone orders the part anymore. But it called it "essential" that a customer still be able to get one.
"The availability of spare parts during a workshop visit is essential for our customers – no matter how old the truck is, or where it is located," Mercedes-Benz Trucks Customer Services and Parts head of marketing and operations Andreas Deuschle said in a statement. "The particular added value of 3D printing technology is that it considerably increases speed and flexibility, especially when producing spare and special parts. This gives us completely new possibilities for offering our customers spare parts rapidly and at attractive prices, even long after series production has ceased."
Printing a part on demand is a much more logical way to produce them once the technology catches up with the concept. Why pay millions in production or warehousing of parts that might not ever be needed when you can just spit out the part and drop-ship it to the repairer?
Think about the reduction in severity and cycle time this scenario would yield for a body shop: "In the future, 3D metal printing might allow decentralised and therefore much faster, local production directly in the worldwide Mercedes-Benz production locations," Mercedes wrote in a news release. " This would further improve parts availability: expensive warehousing and the associated, complex transport processes would be unnecessary, with delivery times made shorter for customers."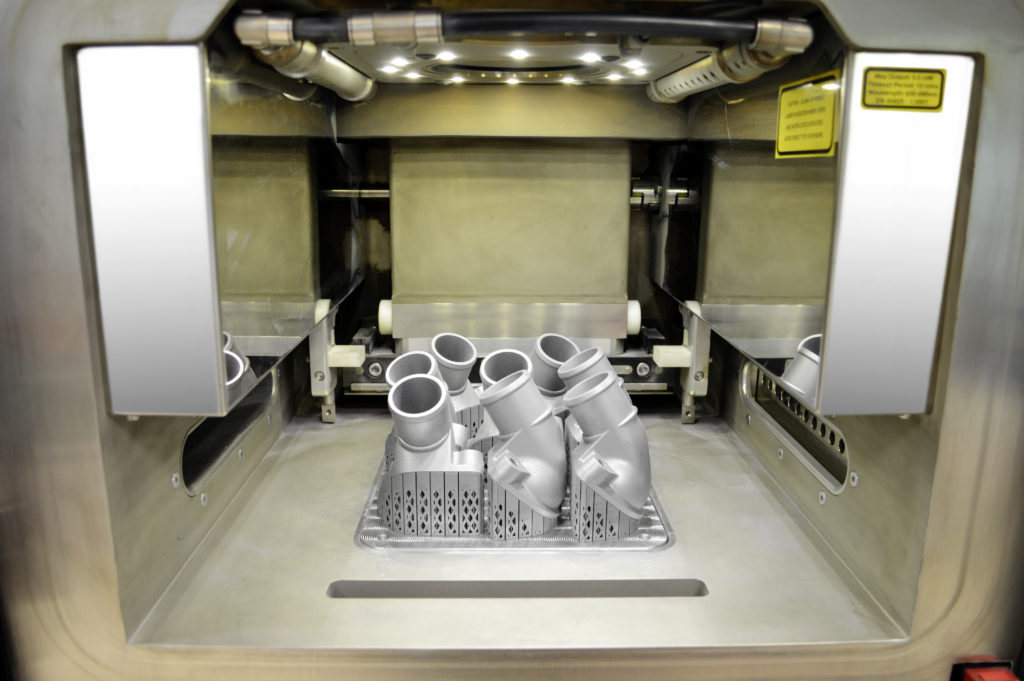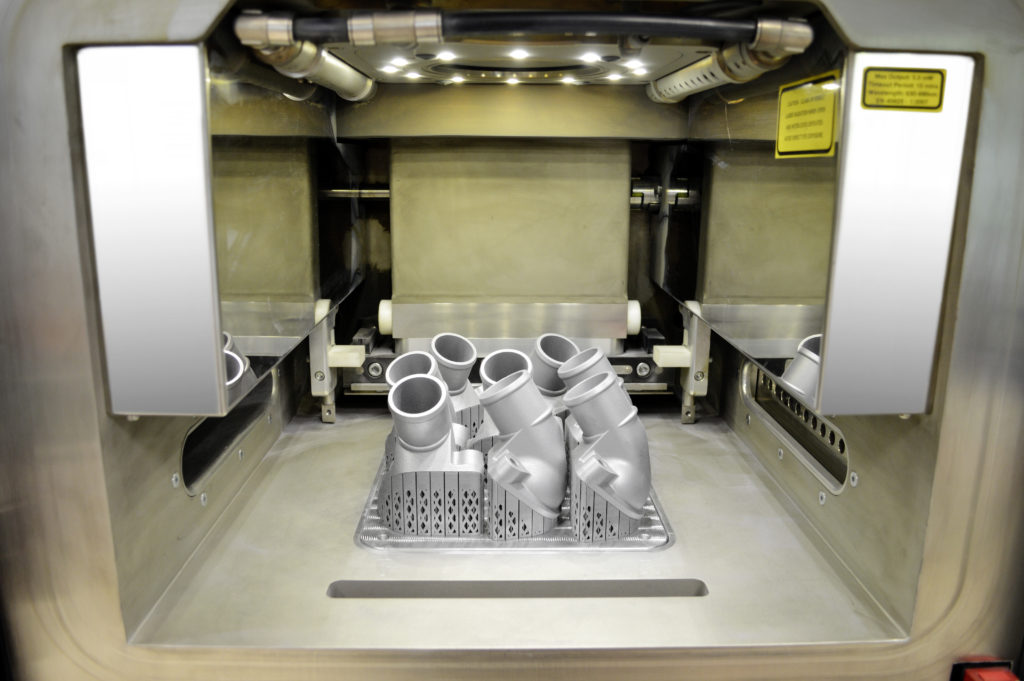 Mercedes wrote that it had already 3-D printed plastic replacement parts for customers as far back as a year ago, but the thermostat cover was its first metal component to clear "the stringent quality assurance process."
"3D printing of high-quality plastic components has now successfully established itself as an additional production method, and is particularly suitable for the production of smaller batches," Mercedes wrote.
Mercedes wrote that 3-D-printed metal has "very high strength and thermal resistance," and the aluminum parts it generated through additive manufacturing "excel with almost 100 percent density and greater purity than conventional die-cast aluminium parts."
Three-D printing also allows for the production of shapes that'd be difficult and expensive or even impossible to generate under traditional manufacturing. (Down the road, this could be useful for lightweighting production parts, as it might allow an OEM to spit out as a single part something which traditionally would have required joining multiple smaller pieces.)
"Especially when they have complex structures, 3D-printed metal parts in small numbers can be produced cost-effectively as infrequently requested replacement parts, special parts and for small and classic model series," Mercedes wrote.
The company uses "Selective Laser Sintering," which refers to forming something into a mass with heat but not melting it, for the plastic parts and "Selective Laser Melting" to produce 3-D-printed metals.
For the thermostat covers, Mercedes adds layers of powdered aluminum and silicon (and apparently magnesium, judging by the AlSi10Mg formula the OEM provided). An energy source melts and forms each layer until the OEM has the part it wants.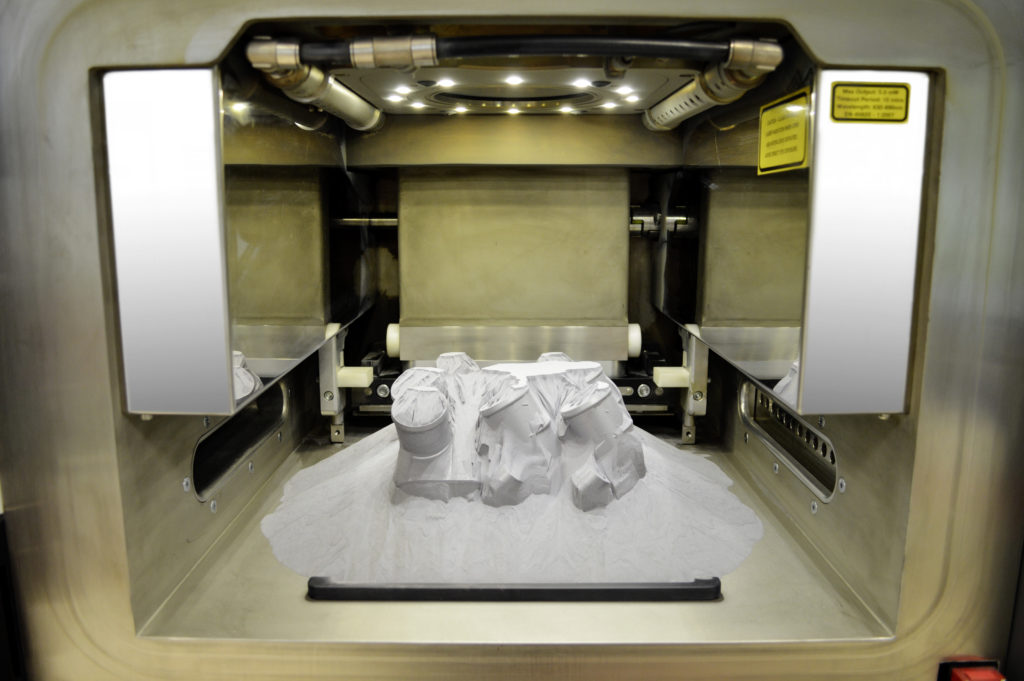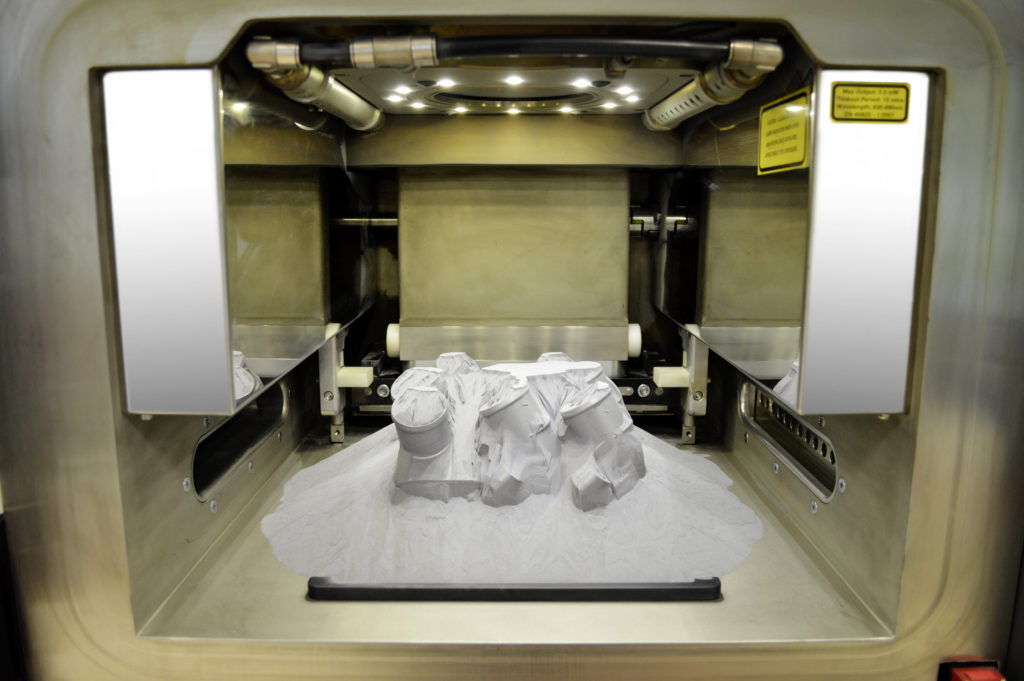 "With the introduction of 3D metal printing technology, Mercedes-Benz Trucks is reasserting its pioneering role among global commercial vehicle manufacturers," Deuschle said in a statement. "We ensure the same functionality, reliability, durability and cost-effectiveness with 3D metal parts as we do with conventionally produced parts."
Mercedes wrote that other parts attractive for 3-D printing included "peripheral engine parts made of metal, in-engine parts and also parts in cooling systems, transmissions, axles or chassis."
More information:
"Premiere at Mercedes-Benz Trucks: New from the 3D printer: the first spare part for trucks made of metal"
Daimler, Aug. 2, 2017
Images:
A laser 3-D printer's working cavity holds 3-D-printed aluminum thermostat covers for older Mercedes trucks and Unimogs. (Provided by Daimler)
A laser 3-D printer's working cavity holds 3-D-printed aluminum thermostat covers for older Mercedes trucks and Unimogs. When the platform rises, the aluminum/silicon powder falls away, revealing the part. (Provided by Daimler)
Share This: