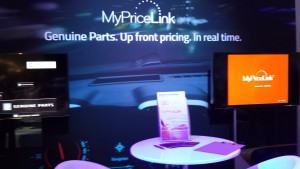 OEConnection predicted Thursday that every automaker would use MyPriceLink, its now patented technology allowing parts prices to be adjusted on the fly by OEMs.
General Motors, which co-developed MyPriceLink with OE Connection before the latter took it over, is the only automaker using the system. But estimating service providers predicted back in 2015 that other OEMs would follow during a news conference confirming the integration of MyPriceLink into their software.
OEConnection boldly seconded that prediction in a news release Thursday announcing the company had received a patent for MyPriceLink.
"MyPriceLink is set to transform the industry," OEC collision Vice President and general manager Bill Lopez said in a statement. "GM is currently using MyPriceLink to great affect and it won't be long before every automaker makes using MyPriceLink standard operating procedure to more accurately and reliably present their parts pricing."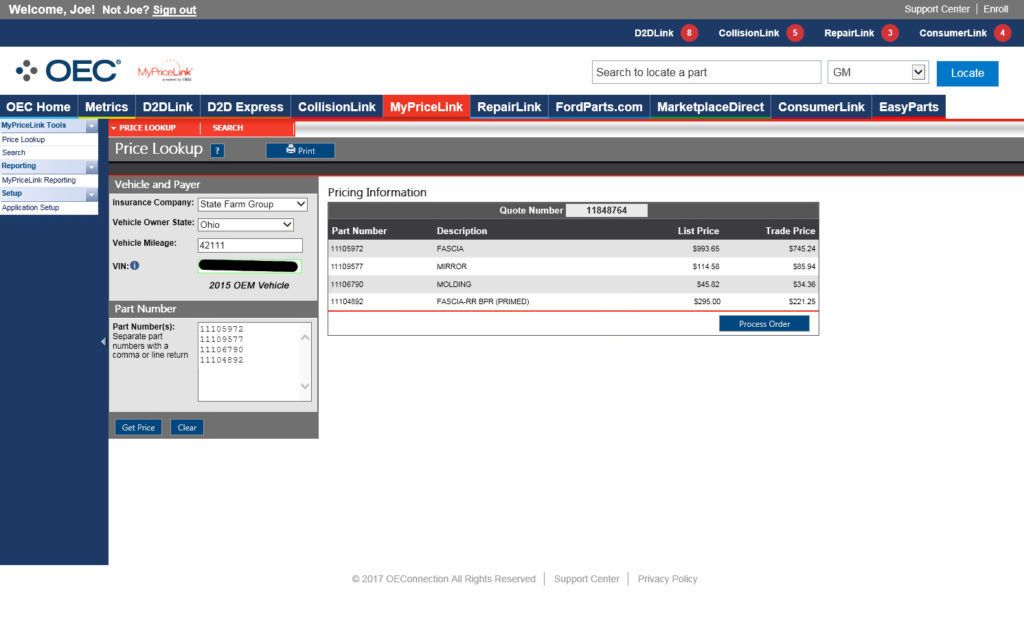 "We are talking with numerous OEMs," OEConnection marketing and culture director Geo Money said Thursday, but he said he wasn't at liberty to say more. He also couldn't comment about the scope of GM's MyPriceLink usage nearly two years after it launched.
MyPriceLink's switch from a GM-OEConnection joint effort to a program controlled by OEConnection might make it more attractive to other OEMs wary of working with a competitor, Money agreed.
The platform allows an OEM to adjust the price of various parts whenever they want — and even offer different prices to different markets.
"It's meant to be market-driven," Money said. He said he couldn't disclose if GM was market-pricing today.
MyPriceLink takes 125 million "pricing requests" daily — essentially, a shop, dealership or insurer selecting a part and receiving a quote in an average time of less than half a second. Money said the system hadn't encountered serious issues and should be able to keep up with expanded demand.
"There's few limits to this," he said. "It's a great engine."
CollisionLink and OEC's Parts Marketing Administration are used by nearly 20,000 collision repairers, 23 automakers and 8,000 dealerships in the U.S. and Canada, though Money said MyPriceLink was limited to the U.S.. Asked about taking MyPriceLink to other countries, Money said simply that there were "always plans" to expand.
Dynamic pricing seems as though it might be attractive to the auto recycling and aftermarket parts industries — particularly since they're trying to compete with the OEMs. But asked if there was any interest from those sectors, Money said, "Not that I'm aware of." OEConnection focuses on OEMs, he observed.
The issuance of Patent No. 9,747,481 doesn't change the MyPriceLink product itself, merely protects that piece of OEConnection's intellectual property. (Though Money said there weren't really any serious competitors trying to copy it.) It also sends a message that "we continue to be on the forefront of developing new technology for the industry," Money said.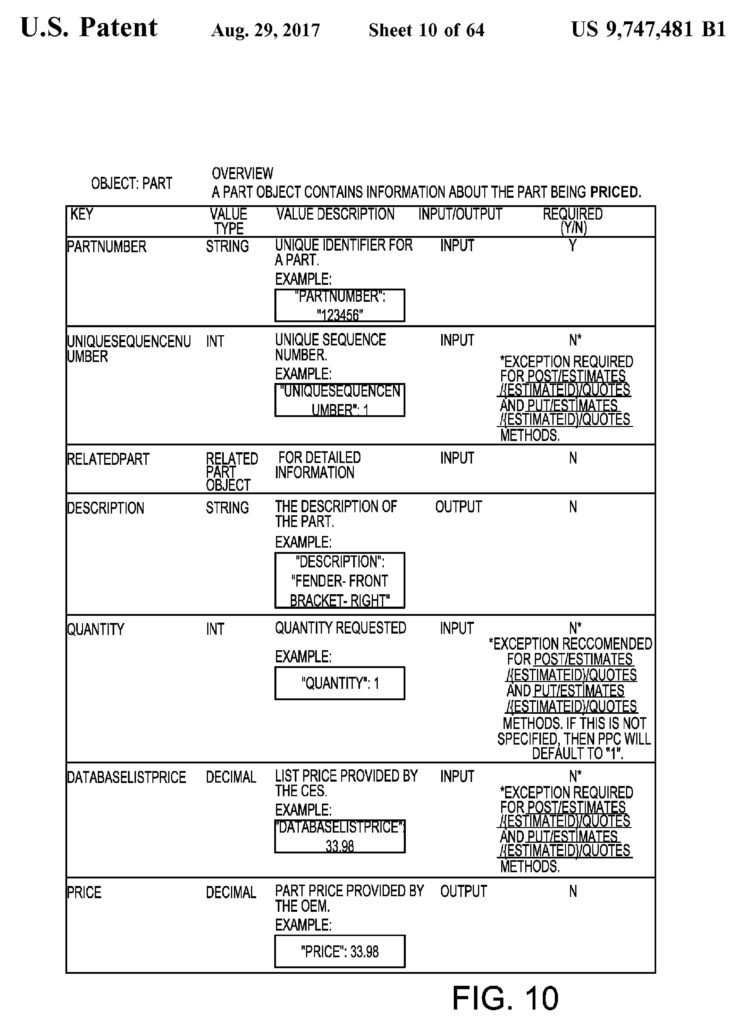 "OEC continues to lead the way in pioneering new technologies that are revolutionizing the auto parts industry," OEConnection CEO Chuck Rotuno said in a statement. "In 2001, we pioneered on-line collision parts procurement through our CollisionLink solution; in 2007, we introduced web-based parts conquesting technology through our Parts Marketing Administration (PMA) solution; and now we are providing real-time, dynamic list pricing through MyPriceLink. The combination of CollisionLink, PMA and MyPriceLink makes for a very comprehensive parts strategy for automakers."'
The company has other patent applications in progress for other aspects of MyPriceLink, according to a news release.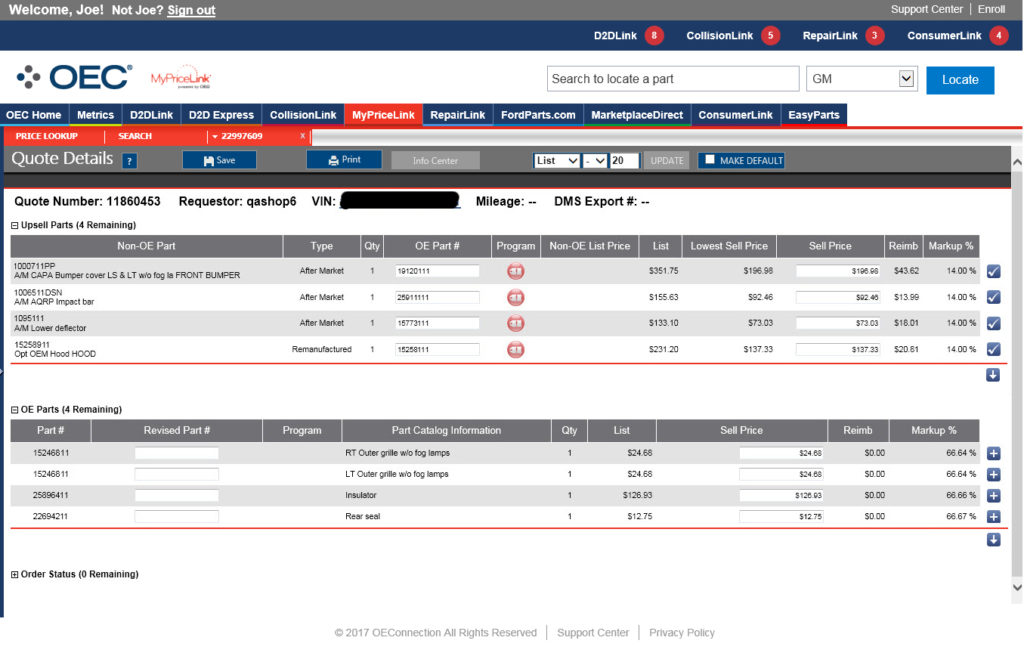 More information:
"OEC Awarded Patent for MyPriceLink®, the Pricing Engine Delivering Dynamic, Real-Time Pricing"
OEConnection via PRWeb, Aug. 31, 2017
Images:
General Motors' MyPriceLink display at NACE on July 24, 2015. (John Huetter/Repairer Driven News)
Redacted screenshots of MyPriceLink via OEConnection are shown. (Provided by OEConnection)
Patent No. 9,747,481 for OEConnection's MyPriceLink. (OEConnection patent provided by U.S. Patent and Trademark Office)
Share This: