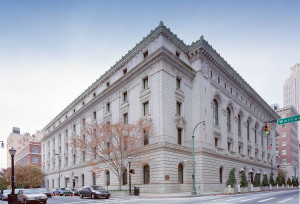 Eight auto body shops in four states received a huge win Thursday as a federal appeals court reversed a lower court decision to dismiss their antitrust, steering and unjust enrichment allegations against the nation's largest insurer.
The Eleventh Circuit Court of Appeals decision could ripple out to the other cases dismissed by Middle District of Florida Judge Gregory Presnell. Presnell, often in conjunction with Magistrate Judge Thomas Smith, consistently declared insufficient evidence to support the shops' federal allegations that large carriers were conspiring to fix prices and boycott shops and state allegations of tortious interference ("steering") and receiving services without paying for them (unjust enrichment/quantum meruit).
The decision Thursday doesn't mean the shops win their case; it merely kicks it back to the Middle District of Florida.
But given the appellate court's view that the shops presented a plausible enough case to survive a motion to dismiss, the plaintiffs — and those in the related Crawford case also before the skeptical Judge Presnell — now seem to at least have a good shot at getting their day in court.
"The automobile insurance and repair industries have customs and practices that the public frequently encounter and endorse," the majority opinion by Judge Charles Wilson declared. "The public's level of familiarity, however, has no bearing on whether such customs and practices have been employed for the benefit of a long-term scheme designed to thwart antitrust and tort laws. Wary of the prejudicial effect of preconceptions about these industries, assuming as true only those facts within the four corners of the complaints, and drawing inferences from those facts only in favor of the body shops, we determine that the shops pleaded enough facts to plausibly support their federal antitrust and state tort claims. We reverse the dismissal of those claims. …
"At no point did the body shops claim to know when, where, and how the insurance companies agreed to fix a market rate and to boycott those who charged more—nor did the shops have to. The body shops have supplied enough allegations to raise such a reasonable expectation. The body shops have consistently alleged the existence of parallel conduct and of plus factors allowing a plausible inference of an illegal agreement. And the allegations have sufficiently established the body shops' state tort claims of unjust enrichment, quantum meruit, and tortious interference. We reverse and remand for further proceedings consistent with this opinion."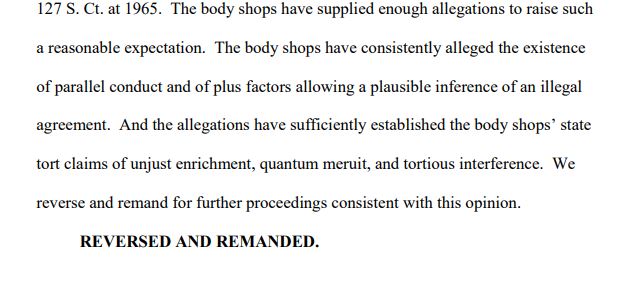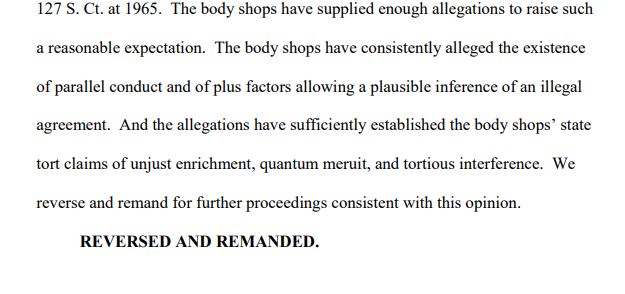 Judge R. Lanier Anderson filed a lengthy dissent declaring that only the tortious interference allegation met the threshold to stand as a worthy claim — the others were rightfully dismissed. He also felt that Wilson and sitting District Judge Barbara Rothstein's  analysis of why the tortious interference case should stand was incorrect.
Anderson argued that while he was willing to accept the shop's allegations of objectionable insurer behavior — though he questioned the shops' appellate brief as taking "undue liberties in construing the allegations that can be fairly read from their pleadings" and criticized them for failing to sufficiently amend their original case — he didn't see how many of those accusations were illegal.
"My concern with the body shops' complaints in this case—and with the majority's treatment of those complaints—is not that they have failed to adequately describe a pattern of behavior that, taken as true, might be considered objectionable," Anderson wrote. "Indeed, as to one of the asserted causes of action—the tortious interference claim—I am persuaded that these actions, if proven, are unlawful. Rather, my concern is that conduct does not become unlawful by virtue of having been deemed objectionable. Nor does it become unlawful in one context by virtue of having been found so in another. Accordingly, when considering a motion to dismiss, courts must carefully apply the well-pled allegations to the requirements of each asserted claim. With regard to the antitrust claims, binding case law indicates to me that the allegations of these complaints do not give rise to the necessary reasonable inference of agreement or conspiracy and, therefore, fail to state a claim. I also conclude that the allegations fall short of stating claims with regard to quantum meruit and unjust enrichment."
Continue to check Repairer Driven News for updates.
Images:
The Eleventh Circuit Court of Appeals is pictured. (Provided by Eleventh Circuit)
Eight auto body shops in four states received a huge win Thursday as a federal appeals court reversed a lower court decision to dismiss their antitrust, steering and unjust enrichment allegations against the nation's largest insurer. (Provided by Eleventh Circuit Court of Appeals)
Share This: