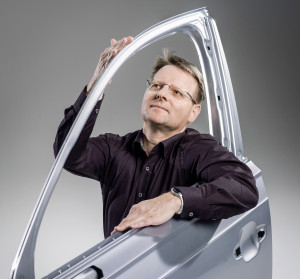 A Tuesday article in Advanced Manufacturing offers a great macro-level overview of automotive lightweighting at the OEM level — the kind of trends that directly affect how collision repairers fix vehicles and what gear and training owners and techs need.
As I-CAR's Jason Bartanen famously observed: "We don't work on mild steel vehicles anymore."
The magazine's coverage describes some of the steel and aluminum vehicle developments affecting shops, and it offers a look at an intriguing new joining method out of Ohio State:
Ohio State University (Columbus, OH) is studying "civilized explosive welding" as a way to join dissimilar materials and avoid corrosion.
With the process, a thunderbolt rams one material into another to create a welded joint.
"It's an early stage technology we're committed to," Glenn Daehn, professor of metallurgical engineering for the university, said in February at the Lightweight Vehicle Manufacturing Summit in Detroit.
"We think this is the best way to join advanced or dissimilar materials," Daehn said at the conference.
Read the Advanced Manufacturing piece, and then take a deeper dive into some of the models described with our vehicle-specific coverage.
GMC Arcadia:
"2017 GMC Acadia cut 700 lbs., has seat alert, redesigned frame rails"
Honda Civic and its rear frame rails:
"12% of 2016 Honda Civic auto body ultra-high-strength-steel"
"2016 Honda Civic designed to be 'epic,' safe through structural steel designs"
"Honda elaborates on replacing 2016 Civic's 1,500 MPa ultra-high-strength-steel rear frame rails"
Ford F-150 and Super Duty:
"100% of State Farm auto damage appraisers have taken I-CAR aluminum F-150 course — have you?"
"New Ford Super Duty cuts 350 lbs. with aluminum, HS steel; certified F-150 repairers can fix it"
"Pa. auto body GM describes 'very educational repair' of shop's first aluminum Ford F-150"
"How Ford made SuperCrew F-150 safer with aluminum, high-strength steel, glue"
Share This: