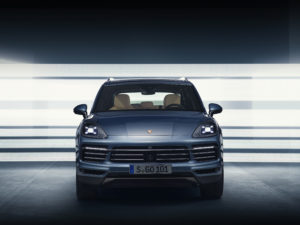 Collision repairers should expect to see more aluminum on the exterior of the third-generation Porsche Cayenne models debuting next year.
Porsche wrote last month that the 2019 Cayenne weighs 143 pounds less than the current Cayenne, "even with extensively increased standard equipment." (For more on how extra features can increase weight, see here.)
"Following the Porsche 911 and Panamera models, the new body of the Cayenne also uses an intelligent combination of alloy and steel," Porsche wrote. "The exterior is made almost entirely of aluminum as are the floorpan assembly, front section, and virtually all the chassis components."
The prior-generation Cayenne, which made its U.S. debut in 2010, had a chassis weighing 145 pounds less than the first-generation Cayenne, "thanks in part to the use of aluminum." Porsche also noted in 2010 that the second-generation Cayenne S weighed 396 pounds less than its predecessor, but the OEM didn't elaborate how it achieved this beyond a "combination of material weight minimization and overall changes in the vehicle concept such as the new, active and extra-light all-wheel drive system."
On the whole, it seems like Porsche is using a lot more aluminum this edition.
The 2019 Cayenne starts at $65,700 and goes on sale in mid-2018. Porsche sold 15,383 of them last year.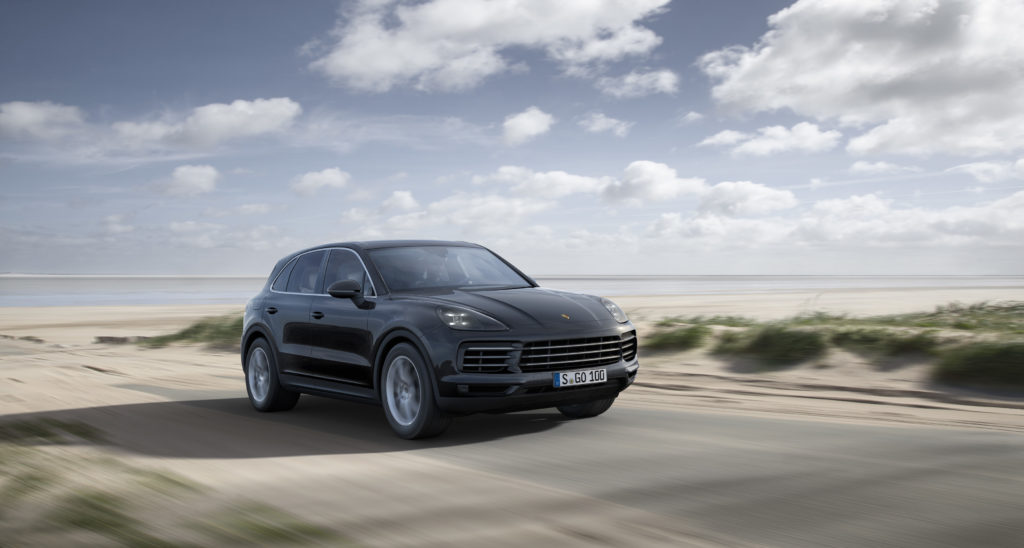 Jalopnik: New crash structures
Porsche-certified shops might also want to pay attention to what Jalopnik reported Thursday were some new structures designed to beat the Insurance Institute for Highway Safety's small-overlap crash test.
The test debuted in 2012 and involves ramming the corner of a vehicle into a structure at 40 mph. It typically requires additional engineering on an OEM's part to ace besides that needed for a frontal or moderate-offset test — and it adds another element of crashworthiness a repairer must take care to preserve.
Jalopnik on Wednesday toured the body-in-white of the 2019 Cayenne with Porsche SUV body-in-white team leader Rudiger Jahn, and shops won't want to miss the excellent photos of these protective features accompanying the article.
The 2019 Cayenne will manage collision energy and protect occupants from intrusion with "steel bolstering in the wheel well" paired with "a diagonal member that ties that bolstered wheel well structure into a central longitudinal beam," according to Jalopnik.
"The idea is that the energy from the crash that pushes the inside of the wheel well will be transferred through that diagonal member, into the strong longitudinal beam, reducing intrusion," Jalopnik wrote.
The front subframe also "precisely orients the wheel during a crash" to further minimize intrusion, according to Jalopnik.
"If you look at the vehicles that pass IIHS's rigorous test, you'll notice that they all turn the driver's side wheel in a particular way," Jalopnik wrote.
If shops compromise these new structures during their repair, they're not only jeopardizing passengers in a crash, but they're causing the Porsche SUV to drag around up to 110 pounds of dead weight — the amount of mass Jalopnik reported was added specifically for small-overlap collision protection to a SUV it was trying to lightweight. (Ironically, the IIHS doesn't seem to have ever crash-tested a Cayenne before.)
Other features
Other features that might be of interest to collision repairers:
The Cayenne has an "innovative lithium-ion polymer starter battery, which alone accounts for a weight saving of 22 lbs."
The car has staggered front and rear tires with diameters between 19 to 21 inches. Rear-axle steering is an option.
Optional Porsche Dynamic Chassis Control gives the car stabilizer bars powered by a 48-volt system. This feature also is among those analyzed by "4D Chassis Control" first seen on the Panamera, which analyzes what's going on with the chassis and suspension and tweaks it automatically in "virtually instantaneous" time. Basically, damage to the chassis or shocks is probably going to be more complicated and expensive to repair.
"When closed, the rear fascia features a new three-dimensional LED light design that features the Porsche logo spanning the width of the vehicle through a narrow strip of lights."
LED headlights are standard.
The advanced driver assistance systems are even more advanced than the typical fare found on mainstream vehicles. They include "Night Vision Assist, which uses a thermal imaging camera to detect pedestrians and animals before they are visible to the naked eye," and a "Lane Keep Assist including traffic sign recognition."
If you can save the presets, do it. Otherwise, you might have up to six unhappy customers. "Porsche Communication Management" saves six profiles worth of settings including those for lights and ADAS systems.
In addition to a camera behind the windshield, there appear to be two cameras in the grille.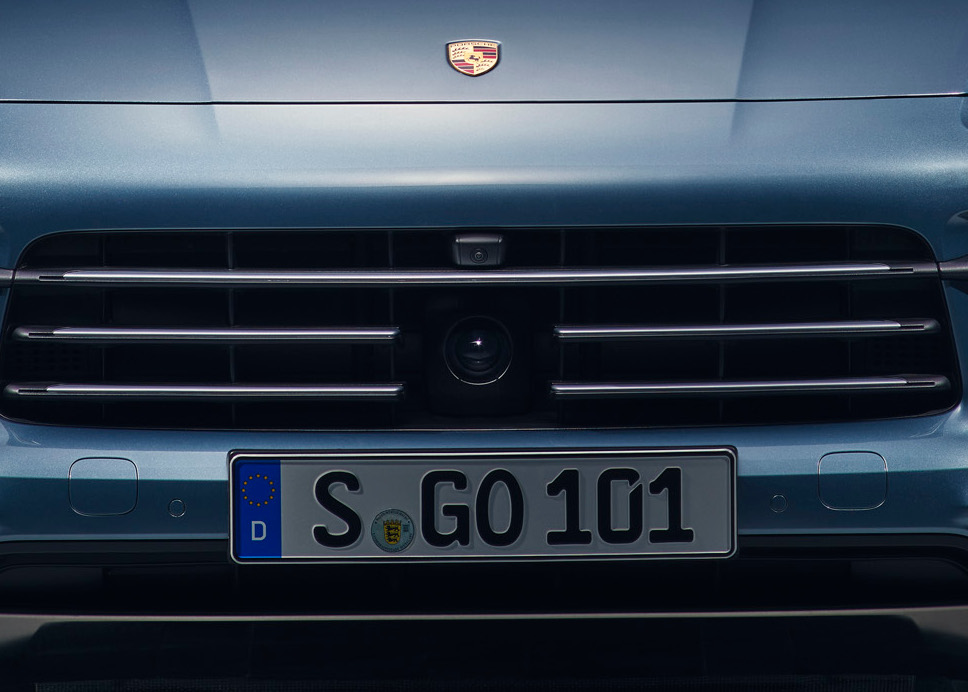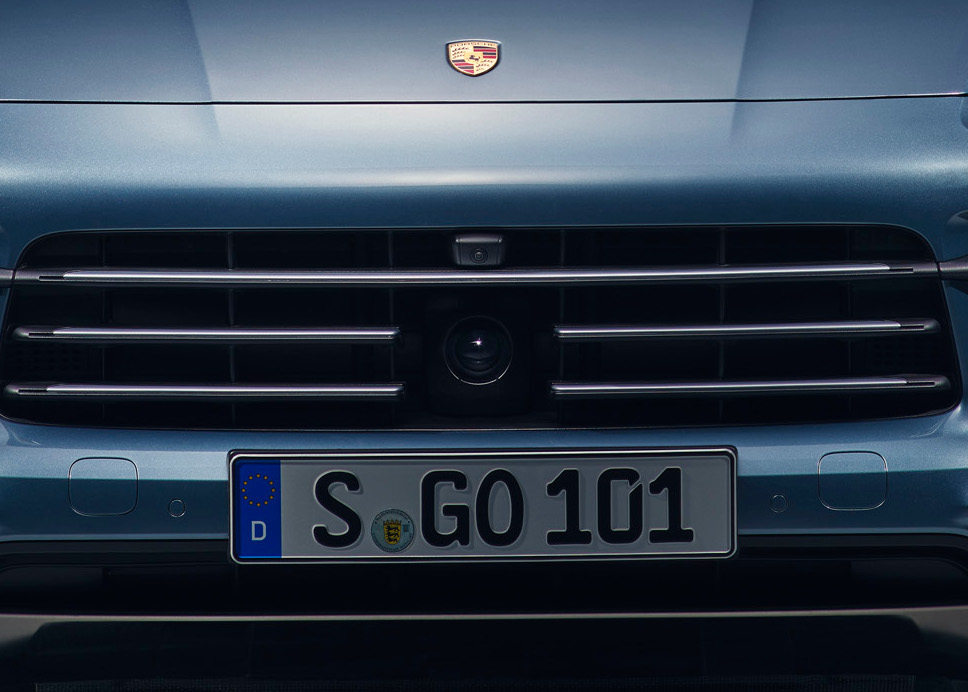 More information:
"The 2019 Porsche Cayenne Added 110 Pounds Specifically For IIHS's Small Overlap Test"
Jalopnik, Sept. 20, 2017
Share This: