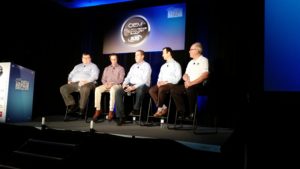 The Society of Collision Repair Specialists on Monday announced a "riveting line-up" of panelists for its SEMA OEM Collision Repair Technology Summit — including the Texas attorney who shook up body shops nationally this summer with a $1 million lawsuit.
But while Todd Tracy of Tracy Law Firm might be the most high-profile panelist at this point in the industry, collision repairers should also be intrigued and thrilled by the rest of the luminaries and issues planned for the annual Repairer Driven Education forums.
While collision repairs can register for individual sessions ($75 if you register early enough), this year's OEM Summit works as a trilogy.
"The Summit topics will address the impact that automotive research has on vehicle construction and functionality, the impact that construction and functionality has on performing once-commonplace repair procedures, and the impact that those OEM procedures – or failure to implement them – have on liability and safety," SCRS wrote in its news release.
In a nutshell, Part 1 tells you what's coming down the automotive pike so you can prepare your business or individual skill set. Part 2 examines how technological leaps like those in Part 1 change how you fix a car. Part 3 explains how and why you'll get sued if your shop didn't pay attention to the concepts mentioned in Parts 1 and 2.
Sign up for all three here ($225), or buy the all-access series pass for $375, which gets one into any Repairer Driven Education class Oct. 30-Nov. 3, the entire OEM Summit, and the normally $75 SCRS Sky Villa afterparty Nov. 2.
'How Automotive Research is Driving Change in Vehicle Design, Technology and Function'
Session 1, "How Automotive Research is Driving Change in Vehicle Design, Technology and Function," runs 9-10:30 a.m. Nov. 2. It will be moderated by SEMA vehicle technology Vice President John Waraniak, whom shops might remember from a 2015 OEM Summit session on scanning and whose own membership is likewise affected by OEM trends.
Panelists include Ducker Worldwide Managing Principal M. Scott Ulnick, whose consulting firm is one of the definitive sources for future body materials trends; Mississippi State Center for Advanced Vehicular Systems Associate Director Matthew Doude, whose facility not only develops new vehicle technology but can study drivers as well; Kaiser Aluminum engineering Vice President Doug Richman, who taught shops about aluminum properties and repairs at the 2015 OEM Summit; and Dorn's Body and Paint Vice President Barry Dorn, whose luxury-certified shop has to contend with the kind of technology the other three are studying and inventing.
"The automotive industry has proven to be a ripe landscape for revolutionary technology intended to address everything from autonomy and connectivity to structural developments for advanced vehicle light weighting," SCRS wrote. "These technological advancements rely heavily on innovative research for developing and testing complex solutions to be deployed to the motoring public. This research often stems from collaborations between automakers, in the aftermarket, and through educational institutions; all looking to advance safe, efficient and groundbreaking transportation solutions. Join this distinguished panel to gain deeper insight into the research going on today that has the potential to reshape how you repair vehicles tomorrow."
 "The Impact of Advanced Vehicle Systems on Routine Repair Process and Procedure"
Session 2, "The Impact of Advanced Vehicle Systems on Routine Repair Process and Procedure," runs 11 a.m.-12:30 p.m. Nov. 2. It will be moderated by Hunter Engineering senior product manager Kaleb Silver, whom shops might remember from the SCRS 2017 Repairer Roundtable in April and his efforts to alert collision repairers about the logistics, cost and requirements of advanced driver assistance system calibration following a simple wheel alignment. (His company also sells an aftermarket calibration option, seen below.)
Panelists include Auto Care Association regulatory and government affairs Senior Vice President Aaron Lowe, who might have some interesting details to share about how regulators see the aftermarket with regard to ADAS or even autonomous vehicles; Honda collision assistant manager Scott Kaboos, whose OEM is sending thousands of new cars with ADAS on the road and into your shops and pledges freeway autonomy by 2020; and Dean McConnell, director of the Continental ADAS business unit, global customer programs, and NAFTA OEMs chassis & safety division, whose Tier 1 company invents much of the technology being incorporated by OEMs.

"New technology is rapidly advancing on vehicles today, and Advanced Driver Assistance Systems (ADAS) are becoming increasingly more popular on new vehicles and can have significant effect on how you perform previously routine services in your collision repair facility," SCRS wrote. "While those on the road benefit from ADAS, the repair industry must change how they approach traditional services as many OEMs require additional procedures, calibrations and tools to ensure restoration of vehicle functionality. Kaleb Silver, Senior Product Manager for Hunter Engineering will present on challenges facing the industry, and the impact of advanced systems on routine services such as wheel alignments. After the presentation he will welcome the following panel to discuss the growing complexities facing the repair marketplaces."
'The Hidden Dangers of Vehicle Technology, Improper Repair Methodology and Your Liabilities'
Session 3, "The Hidden Dangers of Vehicle Technology, Improper Repair Methodology and Your Liabilities," is "perhaps one of the most critical conversations collision repair facilities should be paying attention to," SCRS noted. It runs from 3-5 p.m. Nov. 2 and will be moderated by Ellis & Associates Managing Director John Ellis, who has pointed out the difficulty shops face in knowing if a vehicle is truly electronically good to go.
The concept of liability for failing to follow OEM procedures hit home for the collision repair industry when Tracy announced this summer his company was suing Dallas-based John Eagle Collision Center on behalf of Matthew and Marcia Seebachan, who were trapped in a burning 2010 Honda Fit.
Experts for the plaintiffs said the severity of the crash and their injuries were the result of the body shop bonding the Fit's roof during hail repairs for a prior owner. Honda OEM repair procedures dictate the roof of the unibody vehicle be welded. The Seebachans are seeking more than $1 million.
And more collision repairers could be targets for similar disregard of OEM procedures, Tracy said.
"Those operating within the collision repair industry find themselves in tumultuous times," SCRS wrote. "While the functional and structural technologies in modern-day vehicles are evolving at a breakneck pace (and expected to evolve even faster on our way to autonomous vehicles), the collision repair industry faces a growing gap in skilled workers, and continual downward pressure to mitigate repair expenses and operations performed. In an industry culture that seemingly rewards those who charge the least, rather than those who perform the best, it is an increasing challenge for businesses committed to repairs that are fully compliant with OEM methodologies. In 2017 the Society of Collision Repair Specialists reaffirmed its longstanding position that "if an OEM documents a repair procedure as required, recommended or otherwise necessary as a result of damage or repair, that those published procedures would be the standard of repair until such time the documentation changes. Disregarding a documented procedure that is made available to the industry creates undue and avoidable liability on the repair facility performing the repair."
In addition to Tracy, whose clients' case goes to trial today, the panel also features Vehicle Information Services collision repair attorney Erica Eversman. Eversman has been warning the industry about their liability for a while, most recently on a Collision Hub "Repair University Live" which pointed out that techs are indeed liable for their repairs, liability follows the car for its life regardless of an arrangement with a single owner and an OEM "recommendation" should be considered a "requirement."
<
Rounding out the panel will be Audi collision programs Director Mark Allen, who has urged checking with an OEM before a repair, and Aaron Clark (Assured Performance), whose former shop Collision Solutions was the target of a lawsuit and who has a first-hand perspective of what a repairer would face.
"This panel will address an industry grappling to reconcile how to move forward for the consumer when certain automotive manufacturer requirements are expected to be performed on every occasion, but insurance claims positioning leans towards 'case-by-case' approval," SCRS wrote. "The participants will feature litigators, technology experts, and those with experience in facing liability and safety implications with performing repairs in today's environment. As current litigation exposes flaws in the rationale for deviating from OEM repair procedures, there isn't a more critical discussion to participate in for today's collision repair operator."
Space will be limited for all three events; early registration is encouraged.
SCRS also acknowledged OEM Summit supporters AkzoNobel, BASF, CCC, Debeer Refinish, PPG, Reliable Automotive Equipment, SEMA and Toyota.
More information:
"SCRS Announces OEM Summit Panelists at SEMA"
Society of Collision Repair Specialists, Sept. 25, 2017
"SCRS Announces Details on OEM Summit Sessions"
Society of Collision Repair Specialists, Aug. 28, 2017
SCRS Repairer Driven Education
Featured image: Chris Tobie of Honda, Justin Miller of Nissan, John Ellis of Ellis & Associates, Eric Mendoza of Toyota and John Hughes of FCA participate in an SCRS OEM Collision Repair Technology Summit on Nov. 3, 2016, during SEMA. (John Huetter/Repairer Driven News)
Share This: