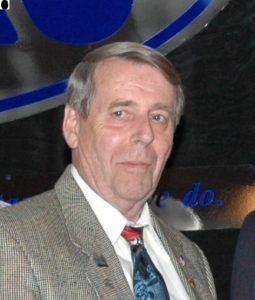 Gene Hamilton, co-founder of the Georgia Collision Industry Association and past chairman of both the Society of Collision Repair Specialists and I-CAR, died Sunday. He was 71.
"He was a hugely successful shop owner and got involved in trying to better the industry on behalf of everyone who toiled in it," Collision Industry Conference organizer and SCRS co-founder Jeff Hendler said Monday.
"From the first meeting Gene ever attended until he was unable to attend, the industry was a better place because of him," Automotive Industry Consulting President Lou DiLisio wrote in an email. "He has been sorely missed and there will continue to be a void without him, but hopefully he will be in a better place soon. For me, He is one that I will always remember as a true friend to all."
A memorial service and Celebration of Life are planned at noon Thursday at Ashton Gardens, 260 Peachtree Industrial Blvd., in Sugar Hill, Ga. The family asks that in lieu of flowers, donations be sent to the Alzheimer's Association or the Atlanta Ronald McDonald House.
Hamilton owned Sports & Imports Collision in Georgia and became active in the collision repair industry in the 1990s, according to Hendler.
Hamilton started out as a used car dealer, noteworthy for being able to price a vehicle for unsure colleagues "sight unseen" and backing it up with an offer to purchase the car for that price if unsold, son-in-law Bobby Coombs said Monday.
He entered the collision industry out of a fear that the vehicles the dealership was buying wrecked and having repaired would be unsafe for his customers. When the founding location of Sports & Imports Collision became available, Hamilton saw it as "'a perfect opportuinty for me to fix cars for myself,'" Coombs said.
Hamilton said that while he couldn't fix a vehicle himself, "'I know what a car that's been fixed right looks like,'" according to Coombs, who manages one of Sports & Imports Collision's two locations. His father-in-law never wanted to put someone in an unsafe vehicle, Coombs said.
"It kind of grew out of that," Coombs said.
Hamilton would query Coombs' then-employer, AkzoNobel, about what other repairers were doing on particular issues and was told about the Collision Industry Conference and the Society of Collision Repair Specialists. He decided to investigate, and the rest is history.
"He's always been an ideas man," Coombs said.
By 1998, Hamilton had made enough of an impact to be inducted into the Hall of Eagles, the industry's "hall of fame."
By 2000, he had been elected chairman of SCRS, after already having won the industry's "Green Shop Award" and "Industry Achievement Award" — the latter for urging manufacturers and vendors to donate money they had been earmarking for expensive NACE parties to auto body repair nonprofits.
"That's one thing that I'll always remember him for," said Coombs, who ironically had been working as a vendor for AkzoNobel when Hamilton pitched the idea. Coombs said that push to redirect the money from those "very expensive ventures" was probably one of the other items in which Hamilton took the most pride.
Dorn's Body & Paint owner Barry Dorn recalled that one of the first SCRS meetings he ever attended included Hamilton's nomination to the chairmanship. The two were talking later, and Hamilton said that Dorn could be chairman, even though at the time, "that seemed like fantasy" to the Virginia shop owner.
Eight years later, when Dorn indeed was elected chairman, Hamilton was one of the first to come up to him, stating, "'You remember that conversation we had?'" Dorn recalled.
"Gene is a stellar man and was always good to me," Dorn wrote in an email. "He welcomed me immediately when I first started going to these events."
In 2003, Hamilton was named chairman of I-CAR. He also was a board member of the I-CAR Education Foundation and Gold Class Steering Committee.
Coombs said that the time at I-CAR was probably one of the accomplishments for which Hamilton, who always felt strongly about fixing a vehicle properly, was most proud.
"I think his time as I-CAR chairman was very important to him," Coombs said.
"Thank you, for everything, Gene!" I-CAR tweeted Monday.
In 2015, SCRS honored Hamilton with the Lifetime Honorary Membership award — one of only four ever bestowed by the more than 30-year-old organization.
Coombs' wife, Sports & Imports general manager Michelle Coombs, accepted on behalf of her father and said then that Hamilton would probably tell the audience that the industry has given him more than he's given it.
"Gene Hamilton is one of the most respected and recognized people in the collision repair industry today," the GCIA wrote in 2013. "This is not only because of his many accomplishments, awards, and business successes; but also because in 1997 Gene helped start the Georgia Collision Industry Association that has helped local, regional and national repairers as well. From the beginning of his career he has held a passion for our industry. For Gene, it has never been enough to turn out high quality repairs in his facilities. He has always believed that anything he can do to improve the reputation and respect of the collision repair industry at large would not only make his business model sustainable but would assist his many friends, peers, and yes, even competitors provide safer and more reliable repairs for the consumer. In the end, it has always been about ensuring that friends and families can feel confident that their vehicle was repaired to pre-accident condition and by a true collision repair professional. Gene knows that collision professionals working together is the only way to make improvements in and to better our industry."
National Auto Body Council Executive Director Chuck Sulkala observed the timing of losing Hamilton so near the death of Executive Director Howard Batchelor.
"It'll be a huge loss for the Georgia folks," Sulkala said. He noted that Hamilton first introduced him to Batchelor; later in life, Batchelor would bring Hamilton to GCIA events.
"Now they're both gone," he said, calling it "really sad."
Hendler said Hamilton sought to get new technicians attracted to the industry but understood it was a "big circle" — shops needed better management, more profitibility and greater expertise to accomplish this. He also "was at the microphone" when industry issues were being discussed, according to Hendler.
"Gene always pushed me to go to the mic and speak my mind," Dorn wrote in an email. "He showed me that our (the repairer) opinion matters just as much if not more than any other entity. He shared things with us all because he cared and wanted us to be successful."
"Gene was such a great guy that absolutely loved this industry, there was not a thing he wouldn't have done for it," Sulkala wrote in an email. "What a professional with class.   I hope he has been able to remember all the love that we and his family had for him.  He will be remembered, but will be missed.  Rest in Peace my friend."
Sulkala said Hamilton "was one of those very quiet people," and "you could tell by his eyes" what he was thinking. When Hamilton took the mic, "you knew that he was pissed," he said.
Dorn recalled Hamilton "despised" anything that contributed to negative perceptions of the collision repair industry.
"He wanted the respect level for the collision industry to go up," Dorn said. If an insurer or OEM blamed an issue on the shop, Hamilton "was quick to defend the repairer," Dorn said.
Dorn also recalled Hamilton owned a salvage yard but was a "huge" advocate for OEM parts over aftermarket imitations, even at a time when "it wasn't as critical" in terms of safety.
"Gene was about doing the right thing," Dorn said.
"He had a hell of a business mind," Sulkala said, but noted that instead of thinking of his own profits, for Hamilton, "it was always the customer."
"His whole concept was the customer," he said.
Coombs observed that Hamilton's shop was one of the first in Georgia to be Mercedes-certified — another example of the man being ahead of the industry.
"Gene always believed in certification," feeling that "the OEMs need to tell you how it should be done," Coombs said.
Sulkala called Hamilton a "perfectionist" and said he often has observed "I would rather buy a car that's been totaled that Gene Hamilton fixed" because "you knew it would be right."
Sulkala recalled Hamilton as a strong supporter of the Ronald McDonald House and was one of those responsible for the NABC's move into supporting it and other charities.
"He put his money and his time where his mouth was," Sulkala said, later with emotion calling Hamilton "just a good guy."
Coombs said he wasn't sure what sparked his father-in-law's interest in the Ronald McDonald House (though he noted Hamilton used to regularly load up his daughters and drive to a Jerry Lewis telethon watch party).
"We do an annual golf tournament still to this day," Coombs said. He said the charity told him that over nearly two decades, the tournaments had raised "north of a million dollars."
"He always wanted to give back," Coombs said.
Hendler said his own work for the industry had seen him traveling frequently for 40 years. He typically stays in hotels, breaking this rule only for about five people.
"I stayed with Gene. Because he was that kind of a guy," Hendler said.
The duo would stay up late talking about industry issues, wake up in the morning, and "continue the conversation," Hendler said.
"He was concerned, and he cared," he said.
On the lighter side, Dorn recalled Hamilton's "strong-willed" nature.
"He did things his own way, and God bless him," Dorn said.
Hamilton would light up cigarettes in SCRS meetings, and "nobody would say anything," Dorn said. He said he pointed out to Hamilton that the facility was non-smoking, and the latter would say, "'Oh, OK,' and he lit up another one."
Hamilton also would light cigarettes within his own shop — which sported no smoking placards. "I've got my $10,000," Hamilton said, referring to the Georgia smoking fine.
"They don't make them like Gene anymore," Dorn said.
Hamilton is survived by his mother, Norma; daughters, Michelle Coombs and Jeanette Hamilton; two grandsons; and two great-grandchildren.
"He was a great man and a great father-in-law," said Coombs, who said Hamilton's priority in time not spent at the office or in industry events was his family.
Share This: