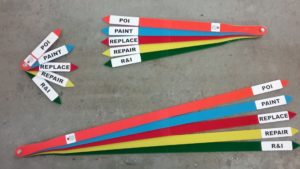 A new tool invented by a shop owner and an OEM's course at NACE suggest I-CAR's not the only one examining ways to remove language barriers in the collision repair industry.
Toyota: Assessing demand
Toyota caught our eye in July, when it hosted a Spanish version of "Toyota OE Resources – Get Connected" at the NACE OE Coliseum.
"We had the request … we figured we'd try it," said Mike Kramarz, supervisor of of the Toyota Collision Repair and Refinishing Training Program. The OEM caught a break in that Collision Training Administrator Agustin Diaz speaks Spanish and could deliver the class.
Toyota Collision Repair and Refinishing Training also consulted their colleagues in Toyota's Mexican operations and attended one of those classes.
"It is something that we're looking at," Kramarz said. He said it wasn't a major initiative at this point, and the OEM is trying to see "if the demand is really there." There are no plans to start putting out modules or Spanish OEM repair procedures, he said.
However, Toyota "definitely" plans to experiment with the subject, and Spanish-speaking techs might see more offerings during the second quarter of 2018, according to Kramarz. Toyota might also put a Spanish class or two on the calendar for its Plano, Texas, training center, he said.
Those with interest in such bilingual resources should contact Toyota Collision Repair & Refinishing Training here.
Crash Point: Color is universal
Justin Forkuo, owner of 290 Auto Body, tackled the problem in the course of developing the Crash Point Systems estimating and repair planning system, which already has won praise and will be exhibited next week at SEMA.
Crash Point is deceptively simple; it actually took Forkuo two years of research and refinement to perfect it.
The system involves swatches of five color-coded flexible polyurethane pointers which indicate what needs to be done on a particular part. Available in three different sizes, the pointers are held in a technician or adjuster's hand, work in any weather, and prevent having to draw or stick labels or magnets on a customer's vehicle. Just point at the relevant part, snap a digital photo — Forkuo said the 30-inch length helps novice photographers get better image quality — and text or email it to whomever needs it. There's no confusion or forgetting what the photo was trying to convey.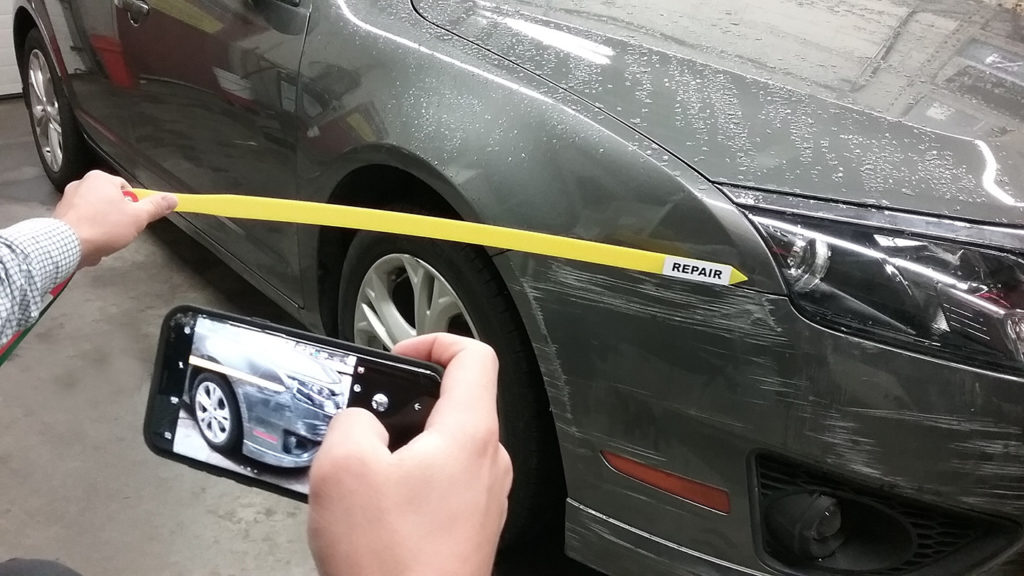 "It's almost a natural tool we use in our shop when taking estimate photos." early adopter Gerald McNee, owner of Ultimate Collision Repair, said in a statement. "The assorted colors make it easier to indicate exactly what needs to be done in the photos instead of second guessing it later when writing the estimate."
Crash Point only uses five terms: "repair," "replace," "R&I," "paint," and "POI" (point of interest). Forkuo said he intentionally left off the term "unrelated," arguing that that assessment was inappropriate until the shop truly knew what was wrong with the car, and he didn't want anyone deeming an area "unrelated" until the customer or insurer was consulted.
Technician common sense and training allows the five words to suffice. For example, Forkuo said the word "paint" can be used to suggest the act of blending up and over the sail panel, or even that that a seemingly black part is really black metallic. If a part is labeled "replace," his technicians know they need to R&I the relevant parts to achieve that operation.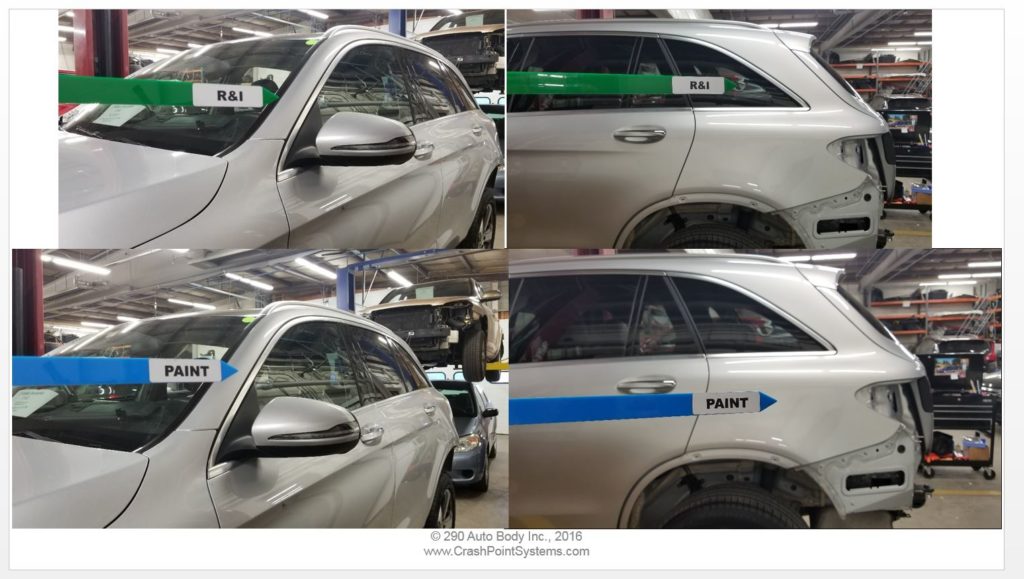 Using just five terms and color-coding also allows Crash Point to convey messages to techs of all languages.
"How do you say 'repair' in Spanish?" Forkuo asked. The answer: "yellow."
"The color code makes it universal," he said.
Forkuo said he in the past had to turn away a lot of good technicians because of the language barrier. Or he'd hire them only to have to spend time asking, for example, why they painted or didn't paint something.
"Instead, hand them a picture," he said.
Forkuo found that even with a picture of the tool he wished to be used, the non-English-speaking techs still couldn't grasp the precise message he wanted conveyed. He could explain himself in person to the technician, and "they get it," but "I don't want to tell them anymore."
He hit upon the color code, which Crash Point explains to customers in a bilingual wall chart, and it was a success.
"Eventually, they don't even need the chart anymore," Forkuo said.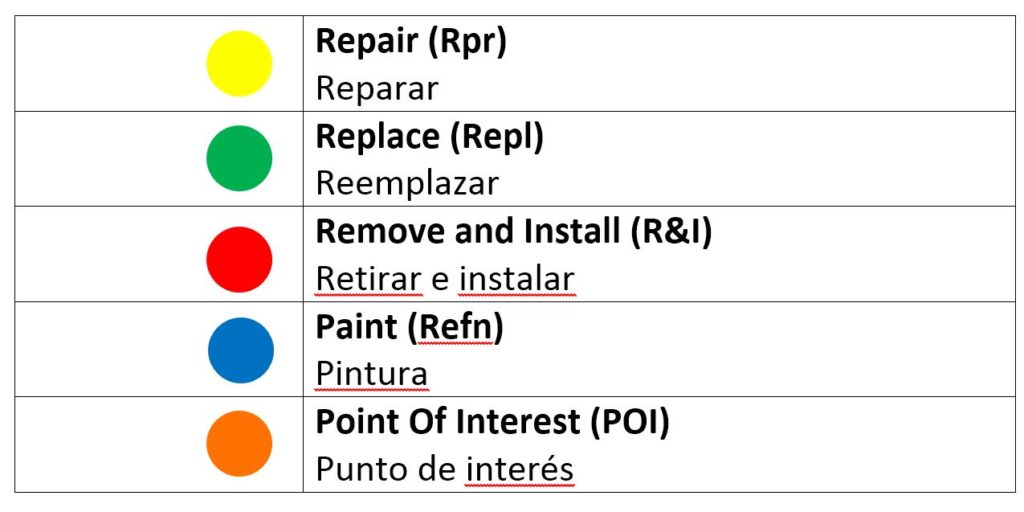 The company is open to other languages besides Spanish, and customers should contact Crash Point with their specific language needs, according to Forkuo.
At a minimum, it seems like delivering another language would be as simple as translating the color-code key chart, though Forkuo said an idiom like "point of interest" can be a little trickier to convey in another language. To address that factor, Crash Point also translates the more detailed description of each of its five terms contained in the English manual.
"You're buying the process," not just the tool, Forkuo said of Crash Point.
More information:
"Crash Point Systems is a new tool that makes auto estimating easier than before."
Crash Point via SEMA, Sept. 25, 2017
Toyota Collision Repair & Refinish Training website
Images:
The Crash Point system involves swatches of five color-coded flexible polyurethane pointers which indicate what needs to be done on a particular part. (Provided by Crash Point via SEMA)
The Crash Point system involves swatches of five color-coded flexible polyurethane pointers which indicate what needs to be done on a particular part. Common sense allows a word like "paint" to convey blending, as in the case of the sail panel above, without having to expand the swatch to an unwieldly number of terms and pointers. (Provided by Crash Point)
The Crash Point system involves swatches of five color-coded flexible polyurethane pointers which indicate what needs to be done on a particular part. Its color coding lends itself well to comprehension by non-English-speaking technicians with access to a key like a wall chart. (Provided by Crash Point)
Share This: