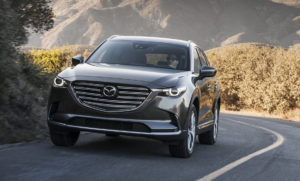 PPG has followed its guidance on Mazda's dazzling but more complicated Soul Red Crystal paint with two videos on another "takumi" color, Machine Gray Metallic.
The films, posted in late September to the PPG Refinish YouTube page and accompanied by technical bulletins on the PPG Refinish website, explain how to handle both minor touch-ups and full-panel refinishing with the color, coded 46G.
Machine Gray first appeared here in the U.S. about a year ago with the 2016 CX-9. It is available on other models too as an $300 option.
"Machine Gray was developed to express the beauty of a machine's strength and precision," Mazda wrote in a 2016 news release. "With strong contrast between light and shadow and a sleek, high-density finish, it gives the impression that the vehicle's body has been sculpted from a solid steel ingot."
A narrator explains that the procedure for "small and medium spot repairs" is different than the typical PPG waterborne basecoat rules, "especially in how the surface is prepped and how the basecoat is applied."
The video also provides advice for gun settings, viscosity and reduction. Use a 90-degree X-pattern in both minor and full-panel refinishes, the narrator states.
"It's the proper way to align the leafing aluminum correctly," he says in one film, referring to a metallic element in the three-layer factory paint.

"The reflective layer contains extremely thin, high-brightness aluminum flakes and must be applied very precisely to ensure even coating," Mazda wrote of the factory process. "During the drying process the thickness of this layer shrinks to approximately 2.5 microns, about one quarter the thickness of most reflective layers. This causes the aluminum flakes to lie flat with regular spacing between each flake, just as if the layer had been hand-painted by a skilled craftsman. This high-density finish gives the entire surface a sheen when illuminated, for a realistic metallic look. Jet-black pigment is used in both the reflective and color layers and is visible through the spaces between the aluminum flakes giving areas not illuminated a black hue and heightening the contrast between light and shadow."
Both videos also warn against using a final control coat, "which would create coarseness or too much sparkle," the narrator states in the partial-panel video.
The full-panel process is similar to how one conducts minor spot work with Machine Grey, but it involves three coats instead of two, the narrator states. He advises applying two sandable clearcoat layers prior to the basecoat.
"A smooth clearcoat layer for the basecoat is essential in order to achieve the proper orientation of the leafing aluminum," the narrator states.
---
Learn about auto paint, estimating exotic colors at Repairer Driven Education
Want to learn more about auto paint and refinishing? Hear from Z.P. Czornij of BASF during "The creation of car colors of the next 3 to 5 model years" and John Niechwiadowicz of QLC (for BASF) during "Thorough Estimate Techniques for Special Finishes." The sessions are part of the Society of Collision Repair Specialists' Repairer Driven Education Series Nov. 1-4 during SEMA in Las Vegas. Register here for the individual classes or the series pass package deal.

---
"There's no way to get around this: Our takumi colors (Soul Red Metallic, Soul Red Crystal and Machine Gray Metallic) are more complicated than what you'd find on any other car at their price points," Mazda product communication specialist Jacob Brown wrote in an email earlier this year. "Our designers want cars to be seen as art and look great in all light. Because of this, they challenged industry norms to make a scalable selection of premium paint colors that highlighted the cars' details in a way no other automaker could do this side of a custom Mercedes Designo color (which usually cost a few thousand dollars extra) or some of the colors offered on the Nissan GT-R."
Learn more from Mazda and PPG about refinishing the Soul Red Crystal (Code 46V) color, available as a $595 option, with our coverage here.
More information:
"MAZDA MX-5 RF TO FEATURE MACHINE GRAY PREMIUM COLOR DESIGNED TO COMPLEMENT KODO DESIGN"
Mazda, March 22, 2016
"REPAIRING 46G MAZDA MACHINE GRAY: FOR MINOR AND FULL PANEL REPAIRS" (includes technical bulletins)
PPG Refinish, 2017
"PPG Mazda Paint Code 46G Machine Gray Minor Repair Process (Part 1)"
PPG Refinish YouTube channel, Sept. 22, 2017
"PPG Mazda 46G Machine Gray Full Panel Repair Process (Part 2)"
PPG Refinish YouTube channel, Sept. 22, 2017
Images:
Mazda's Machine Gray color debuted on the 2016 CX-9. (Provided by Mazda)
The factory-level composition of Mazda's Machine Gray color is shown. (Provided by Mazda)
Share This: