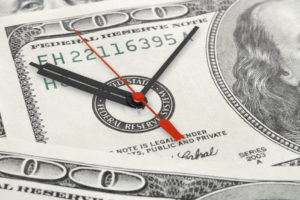 The latest "Who Pays for What?" survey found some operations which logic and best practices dictate should be done on every relevant repair aren't receiving universal payment from the nation's Top 8 insurers.
This means shops are either eating the costs, or worse, failing to perform such vital operations as checking vehicle measurements before returning the car to a customer.
Get a copy of the "Who Pays for What?" frame and mechanical results released earlier this month by Collision Advice and CRASH Network here. The latest survey, which asks about insurer receptiveness to shop supply and aluminum repair charges, is open to the industry through Oct. 31. Owners, managers or estimators are urged to complete it here, and participants will receive a free copy of the subsequent "Who Pays for What?" quarterly report. All responses are kept confidential; only aggregate statistics appear in the document.
Post-repair measuring
Only 51 percent of the more than 400 respondents reported being paid "always" or "most of the time" when they request an insurer pay them for post-repair measurements.
This is the only way to verify that the shop's structural repair returned the car's skeleton to OEM tolerances after crash energy — by automaker design — travels to and affects areas of the the body-in-white away from the point of impact. (To say nothing of checking the tolerances of the part most affected by the crash.)
"Right now, pre- and post-repair scanning of vehicles is a hot topic," Collision Advice CEO Mike Anderson wrote in the report. "But I believe that as the vehicle manufacturers continue to use new substrates and combinations of substrates to allow the inertia forces to transfer throughout the vehicle to protect the occupants, they will increasingly state that the complete vehicle will have to be post-measured following repairs to verify that everything is structurally sound."
Or OEMs — whose repair procedures include measurements — assume you're intelligent and responsible enough to do something as basic as checking your work. Not measuring a car after a repair seems as shortsighted as a carpenter who opts to eyeball his completed work instead of using a level or a surgeon who operates on you and sends you home without any follow-up visit or testing.
More than 50 percent of shops reported never even asking, which raises the question of if such work even was done.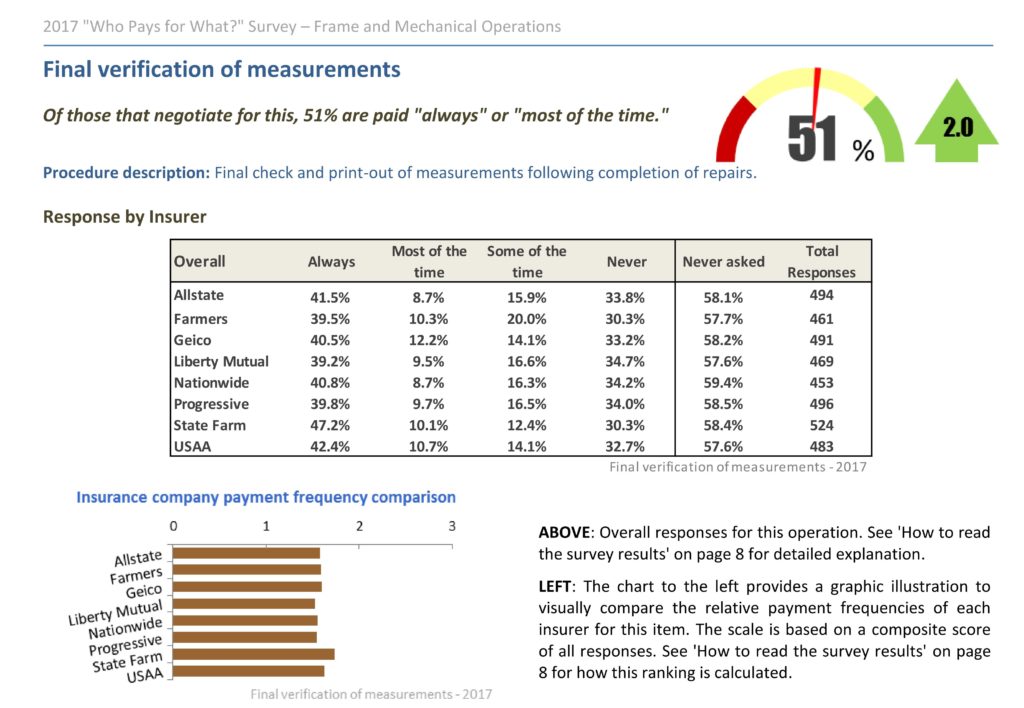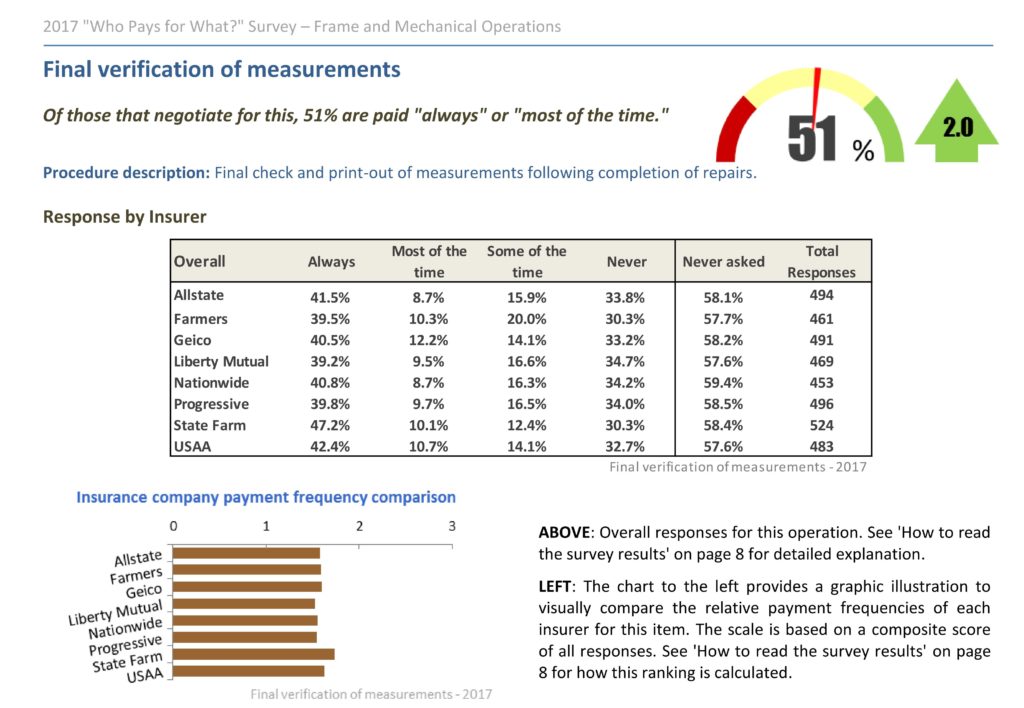 Test welds
Insurers aren't great about honoring shops' request for test-weld reimbursement, according to the "Who Pays?" study. Like measuring, this step (involving destructively testing a practice weld) simply has to be done to ensure the welder — even an automated one — has been set up correctly.
Only 22 percent of shops billing for the work — – reported being reimbursed "most of the time" or "always." This percentage did improve by 9.5 percentage points from 2016, so that's progress.
Granted, around 72 percent of the more than 500 respondents didn't even ask to be paid for that work, assuming they even did it. So it's perhaps a little more understandable that a local adjuster might balk at the charge — though all of the Top 8 carriers have indeed paid for it, based on the results. On the whole, State Farm and USAA proved the most receptive.
"It's encouraging to me to see this go up," Anderson wrote. "With all the new materials (and combination of materials) in new vehicles, this step is becoming more and more important. A proper weld involves so many factors (the correct type of welder, at the correct settings, with the correct wire, and the correct gas mixture) that it is nearly impossible to tell if the settings are correct without first performing destructive test welds. In fact, many OEMs require it in their repair procedures. I have seen some repaired cars with welds that could be popped loose simply by prying on them with a screwdriver. That is a scary situation that can be avoided by verifying the welder settings by completing a destructive test weld."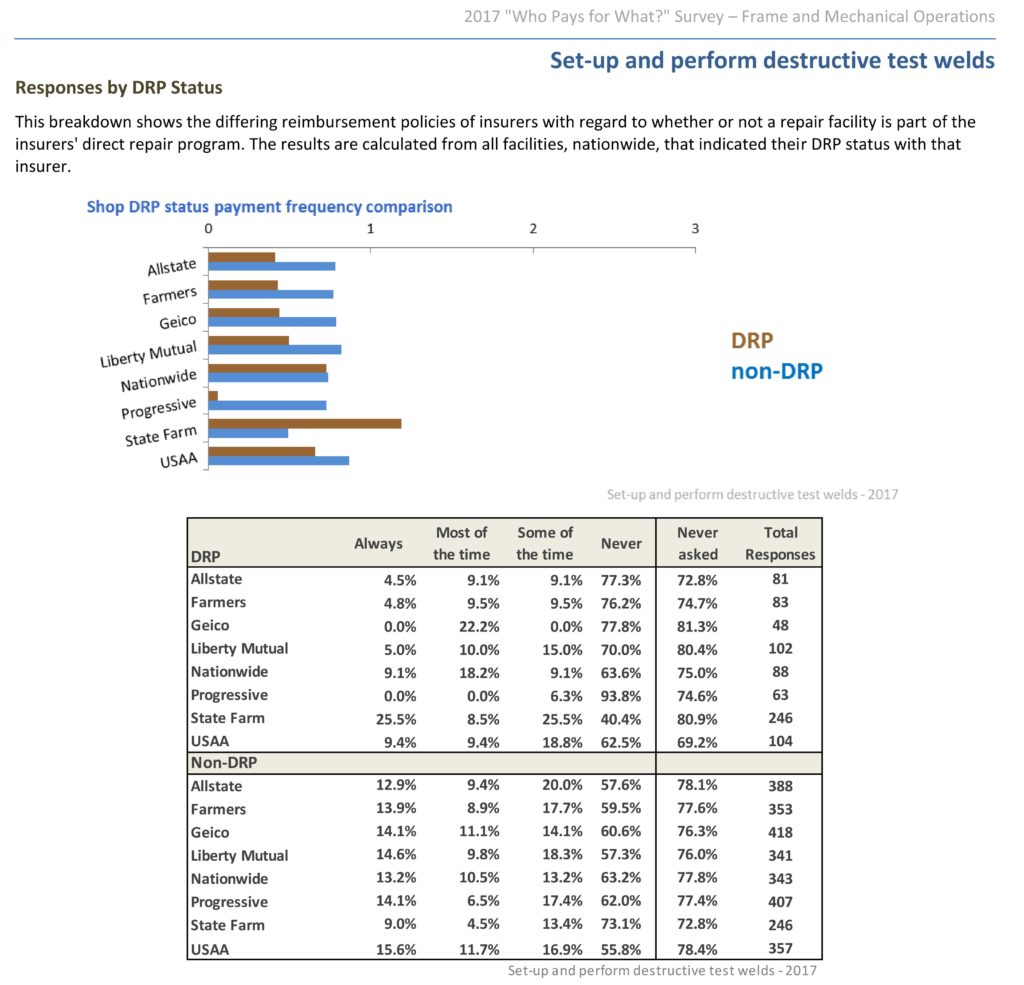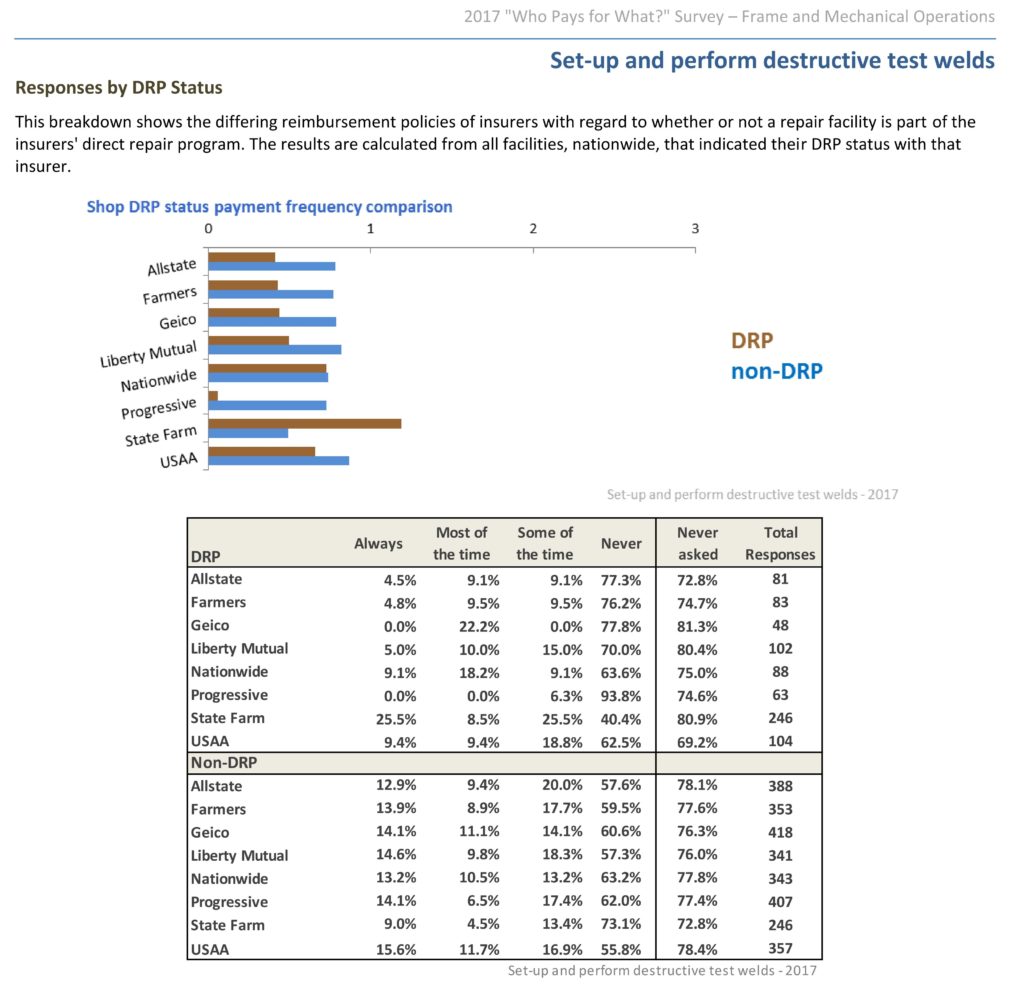 Interestingly, when you break the results down by DRP status, as the "Who Pays?" studies do, State Farm's DRP shops post a remarkable 25.5 percent getting reimbursed "always" whenever they ask. However, all of its rivals are far better about paying non-DRP shops who've invoiced the work.
The results from the July survey might be tied to the insurer's April decision to make all of its Select Service shops pass I-CAR's three welding certification courses. I-CAR itself advocates test welds as part of those tests, K&M Collision operations manager and SCRS board member Michael Bradshaw observed in an SCRS educational welding video earlier this year.
Pinchwelds
Another operation underrepresented, according to Anderson, is removing undercoating and seam sealer from pinchwelds before clamping and pulling the vehicle and then repairing the clamped areas.
Only about 61 percent of the more than 500 respondents reported insurers agreeing to reimburse them "always" or "most of the time" when they asked — a result that fell 1.5 percentage points from last year. Around 23 percent of the more than 500 responding shops didn't even ask, according to the study.
"In my opinion, that 61 percent who say they are paid always or most of the time for this should be 100 percent," Anderson wrote. "I have not found any vehicle manufacturer or any frame equipment company that says it's okay to secure a fixture clamp to pinchwelds without first removing all undercoating and seam sealer. If this isn't done, it increases the likelihood that the vehicle can slip when you are pulling it, causing further damage or adversely impacting the accuracy of the measurements. So those coatings need to be removed in order to perform a proper and safe repair. (Some automakers do not approve mounting or anchoring in the pinchweld area at all, so always follow
manufacturers' recommendations.)"
---
Become a better estimator with Repairer Driven Education classes
Learn more about estimating during the SEMA Show from Mike Anderson, Collision Advice, with "100% Disassembly Best Practices – with Parts Mirror Matching"; John Shoemaker, BASF, with "The Basics of Blueprinting"; Matthew McDonnell, Big Sky Collision Centers, Will Latuff, Latuff Brothers Auto Body, with "Building a Bigger Estimating Toolbox"; and John Niechwiadowicz, QLC on behalf of BASF, with "Thorough Estimate Techniques for Special Finishes." The sessions are part of the Society of Collision Repair Specialists' Repairer Driven Education Series Oct. 30-Nov. 3. Register here for the individual classes or the series pass package deal.

---
More information:
2017 "Who Pays for What?" frame and mechanical results
Take the 2017 aluminum/shop supplies "Who Pays for What?" survey
Images:
Did you perform work needed to restore a vehicle to pre-accident condition? Consider charging for your time. (TPopova/iStock)
Only 51 percent of the more than 400 respondents reported being paid "always" or "most of the time" when they request an insurer pay them for post-repair measurements, a "Who Pays for What?" study conducted in July 2017 found. (Provided by Collision Advice and CRASH Network)
Insurers aren't great about honoring shops' request for test-weld reimbursement, according to the July 2017 "Who Pays?" survey results. Like measuring, this step (involving destructively testing a practice weld) simply has to be done to ensure the welder — even an automated one — has been set up correctly. (Provided by Collision Advice and CRASH Network)
Share This: