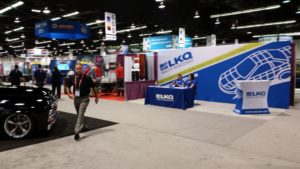 CCC data found U.S. auto collision and liability claims "were actually down" 0.4 percent for all carriers in the quarter ending Sept. 30, LKQ CEO Nick Zarcone told investors in an Oct. 26 earnings call.
But the claims-reliant LKQ still posted 2.5 percent organic parts and services growth in North American — and that number rises to 4.0 if adjusted to reflect the one fewer selling day in 3Q 2017, Zarcone said. (See Seeking Alpha transcript here.) It's yet another quarter of the auto recycler and aftermarket part retailer beating the "market."
"So our per-day growth of 4 percent reflects a significant outperformance," Zarcone said. "This growth gives us confidence that we are continuing on the right track by offering our customers products that represent a significant value proposition in the midst of ever-increasing repair cost."
Zarcone noted that the "solid revenue growth is also impressive" because federal data suggests that July miles driven only rose 0.8 percent.
With negative repairable claims data and "soft growth" in mileage, "our North American segment really came through," Zarcone said.
Particularly hot product segments included salvage, the "core aftermarket product" Zarcone described as "Keystone product in a box" and glass. All grew "nicely above the 4 percent," Zarcone
Less lucrative and dragging down the overall growth to that 4 percent were products like paint, cooling equipment and wheels, Zarcone said.
On the whole, the proportion of alternative parts was likely growing — but "slowly."
"APU is probably nudging up a little bit," Zarcone told an analyst.
As LKQ has observed in its formal earnings reports, the company's gains are largely driven by the insurance industry.
"With respect to collision related products, automobile insurers exert significant influence over collision repair shops as to how an insured vehicle is repaired and the cost level of the products used in the repair process," LKQ wrote in its most recent 10-Q. "Accordingly, we consider automobile insurers to be key demand drivers of our vehicle replacement products in North America. While they are not our direct customers, we do provide insurance carriers services in an effort to promote the increased usage of alternative replacement products in the repair process. Such services include the review of vehicle repair order estimates, direct quotation services to insurance company adjusters and an aftermarket parts quality and service assurance program. We neither charge a fee the insurance carriers for these services nor adjust our pricing to our customers when we perform these services for insurance carriers."
The company's overall North American gross margin was 43.6 percent, up 0.2 percentage points from the margin in the third quarter of 2016.
Companywide, organic parts and services growth rose 3.2 percent in the third quarter, 4.7 percent if you adjust for the extra sales day.
"Very few companies in our sector are generating organic growth at this level," Zarcone said.
More information:
LKQ third-quarter investor presentation
LKQ, Oct. 26, 2017
LKQ, Oct. 27, 2017
LKQ third-quarter earnings call
LKQ, Oct. 26, 2017
LKQ third-quarter earnings call transcript
Seeking Alpha, Oct. 26, 2017
Featured image: The LKQ booth is shown at NACE 2016. (John Huetter/Repairer Driven News)
Share This: