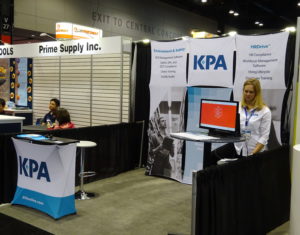 A single technician certified once in his or her lifetime is enough for a shop to buy large quantities of refrigerant after Jan. 1 under a new EPA rule. However, collision repairers might want — or need — to supplement beyond this bare minimum, a representative of environmental consulting firm KPA said.
Jennifer Blake, Northwest district manager for environmental health and safety operations, said Section 609 certification considerations exist beyond the EPA's purchasing requirement. While the existence of a single certified technician is enough for a shop to buy more than 2 pounds of refrigerant, any tech performing "any refrigerant work" also requires certification, Blake said.
"If they disconnect it just to work on it, they need this certification," she said.
Blake also said that while a technician who received their 609 credentials years ago might be enough to meet the letter of the law regarding refrigerant purchases, "it's better to be more up-to-date."
Assuming "'I took it for R-12, I'm good'" is a misconception, argued Blake, whose company is among those approved by the EPA to sell certification.
R-12 (also known as CFC-12) began to be phased out in 1992, being replaced by the more environmentally friendly R-134a completely in 1995 — and the latter substance will be dropped for the even greener R-1234yf by model year 2021. Blake said each refrigerant carries its own hazards and chemicals.
"It's a best practice to keep all your training up-to-date," she said.
It's possible that the EPA might not be as aggressive about checking for uncertified employees, Blake said. "Under the new administration, there isn't a lot of enforcement," she said.
However, distributors might still uphold the law and refuse to sell refrigerant to shops without a certified technician, according to Blake.
A shop might also get tripped up on another EPA regulation — a demand that all shop owners certify to the EPA once that they've bought approved A/C equipment and are using it correctly.
"That's where we're seeing the enforcement," Blake said. It's possible that the EPA might first catch a shop for an uncertified piece of A/C gear and then start checking up on employee certifications, scrutinizing multiple repair orders, according to Blake.
Like tech certification, once the owner has fulfilled his or her obligations on a single piece of equipment, the shop never has to recertify it or certify any other A/C devices, according to the agency. But Blake said shops will neglect to certify any gear, despite the "big huge red envelope" encouraging them to do so on new equipment. In fact, KPA will find the envelope "just hangs there, on the machine. That's very common," Blake said.
KPA recommends shops send their paperwork back to the EPA in a certified letter; the agency doesn't send acknowledgement that it received the documentation otherwise, according to Blake. And while a single registration of a piece of equipment years ago is enough under the law, "we've had folks just reregister" new gear and have it on file with the feds as a precautionary measure.
"We don't mind flooding them (the EPA) with paperwork," she said.
Finally, Blake also cautioned that disposal of R-134a canisters should be managed according to local and state regulations too. (Shops also need to keep three years of records of anyone receiving their recovered refrigerant, according to the EPA.)
Even if the tanks are empty, "these cannot go in the garbage," Blake said.
"A lot of people don't think about it," Blake said, and she suggested that shops consider participating in distributor exchange programs. The programs work similar to what you've likely done with your grill propane tank at home: Return an empty canister to someone equipped to handle it, and receive a fresh, full tank.
More information:
Section 609 Technician Certification Environmental Protection Agency webpage
EPA refrigerant sales overview
EPA mobile air conditioning requirements overview
Featured image: The KPA booth is seen at NACE 2017. (John Huetter/Repairer Driven News)
Share This: