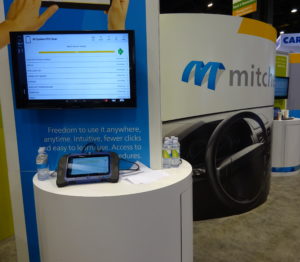 Besides its look at the impact of technology on repair prices, Mitchell's fourth-quarter Industry Trends Reports contained a few other highlights worth noting by shops. Here's some items that caught our eye:
Auto damage VP stresses scans, calibration, repair procedures
If at this point, there's still carriers or shops who doubt the importance of diagnostics, Mitchell's auto physical damage Vice President Debbie Day personally debunks the dash light myth in a column.
"Just recently I had my car in for routine maintenance. I thought it was running fine: it looked great, ran great and no dashboard lights indicated there was any cause for concern," she wrote. "Imagine my surprise when we plugged my car into Mitchell's Diagnostics system and more than 30 diagnostic trouble codes fired. In my case, it was a low-voltage condition that activated the trouble codes. But consider this—a mere visual inspection of a vehicle is no longer enough. Whether post-accident or routine repair, when working on vehicles with advanced driver assistance systems and other electronic safety systems, the use of pre- and post-repair vehicle scans is an important part of ensuring a vehicle is safe to put back on the road."
There's some good stuff about calibration as well, including a statistic that an "average late model vehicle has 60 to 100 computer control modules and sensors, with that number growing to over 200 as cars become increasingly more complex. Many of these sensors directly link to safety systems."
Day presents another fascinating and sobering statistic about the difficulty of keeping up with OEM repair procedures. It's fodder for those who argue that shops will have to cease to be generalists and instead specialize in particular models.
"Current estimates indicate that a collision technician needs to reference more than 500,000 pages of repair information to correctly execute repairs today, up from just 5,000 pages a decade previous," Day wrote. "It would be a tall order for even the most experienced repair technician to keep up with all of that information—and each new model year brings more."
She calls for a cloud-based means of accessing "the most up-to-date repair procedures" and suggests that reference could "become an artifact within the system that then becomes a part of the vehicle's repair record, encouraging transparency and accountability across the ecosystem. …
"As of December 2017, in-context repair procedures will be reality within Mitchell Cloud Estimating."
Mitchell repair sales and service Vice President Jack Rozint provided more context into the "in-context" procedures in an email Wednesday.
"Our new cloud estimating product has a feature that works for all OEMs wherein as you write the estimate it scrubs through the TechAdvisor database and returns all relevant articles that relate to the repair at hand," he wrote. "There is no need to search through TechAdvisor, and unlike some other products that show the same repair procedure 5 times on 5 different lines on one repair – you get just what relates to the parts/systems being repaired, and you only get each procedure once.   The user can then view, print, and/or attach any selection of the repair procedures, or the entire bundle, and can attach them as an artifact to the repair order/claim so that others working on the file can have instant access to the relevant repair procedures."
It's not links to the actual OEM repair procedures, but Rozint said Mitchell was working on keeping its aggregation current.
"While it would be ideal to link directly to the OE service information artifact on the OE's site for the repair data – most OE's do not currently enable this type of integration today," Rozint wrote. "While we continue to work toward live links, we continue to work with the OEM's on improved methodologies to update the artifacts on a regular cadence.   For example – with some OEM's we regularly download a complete dump of their service information onto our servers and we have that exact copy of the OE information available to serve up as estimates and repair orders are being created.
He also provided a look at the company's more extensive integration with Toyota, a feature unveiled in 2015 and touted by the OEM at last month's SEMA.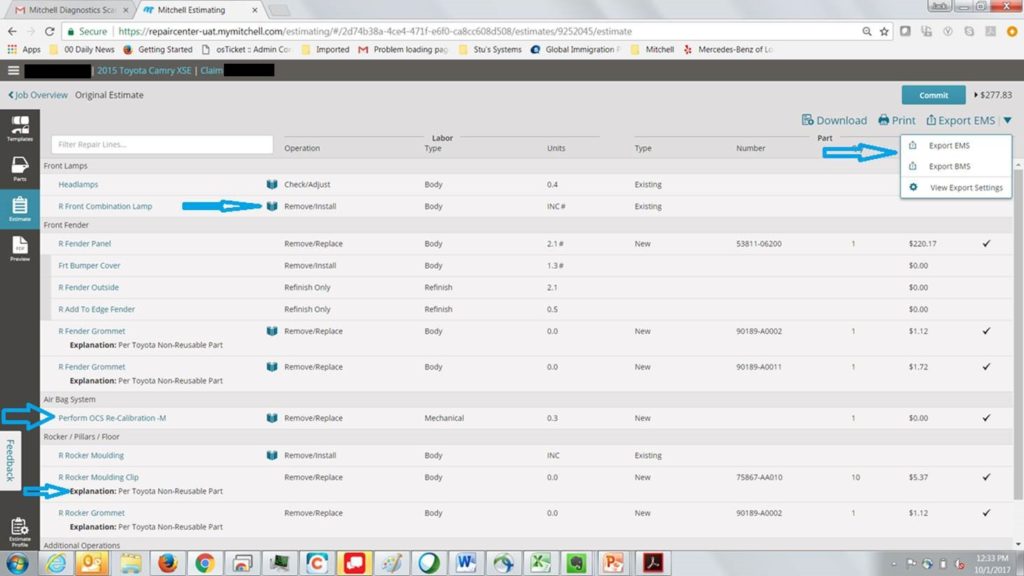 Note the following – using the blue arrows from top to bottom:
1. Ability to export the estimate as either EMS or BMS.   Can also export the Repair Procedures as single artifacts or the group of repair procedures selected can be attached to the file in our Connect application as an artifact that stays with the repair/claim, allowing downstream users and technicians to view repair procedures tagged by other users.
2. The link to the repair procedure artifact is directly available in the estimate or repair order.   Clicking the link will access the OEM repair procedure content as published by the OE.
3. In this example, the R&R of the fender necessitates an airbag system recalibration – both the repair procedure and the labor time are included systematically.
4. The reference is shown in line as to why the clips were replaced – in this case because the OE has indicated the rocker clips are non-reusable. (Minor formatting edits.)
Change up the KPIs?
From Mitchell auto physical damage performance consulting director Ryan Mandell: "Challenge yourself and your team to develop new metrics that provide richer insights into your unique business. The collision repair process has changed dramatically over the past 30 years, yet our industry still utilizes a static set of KPI's that were developed around the time as the first unibody structure! When your company implements recommended changes, ongoing monitoring procedures should also be employed as well, so the changes can continually be optimized to their full potential."
Labor rates lag behind inflation in several states
Ohio posted the biggest gain in labor rates so far this year among the 11 states Mitchell tracks, growing 4 percent from $46 to $47.90 in estimates.
Despite the apocalyptic warnings of carriers following new California Department of Insurance regulations targeting flawed labor rate surveys, shops haven't run wild with rate increases based upon Mitchell's data. The average California labor rate rose 2 percent from 2016 to $56.75 as of the end of the third quarter.
Rhode Island and Hawaii have also seen 2 percent rate increases, while the other states either grew 1 percent or effectively held steady.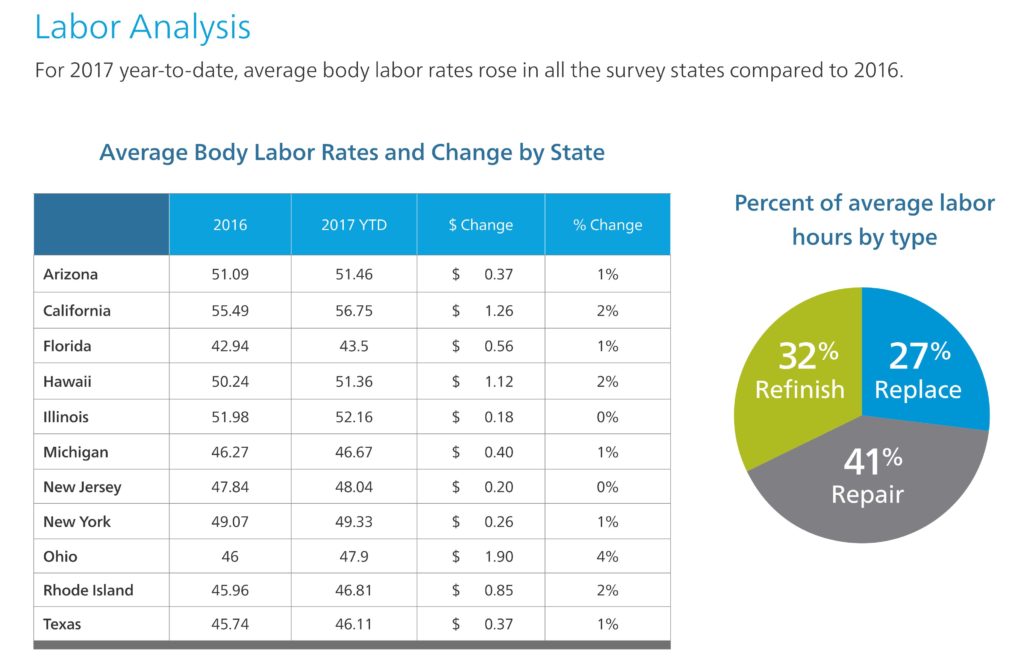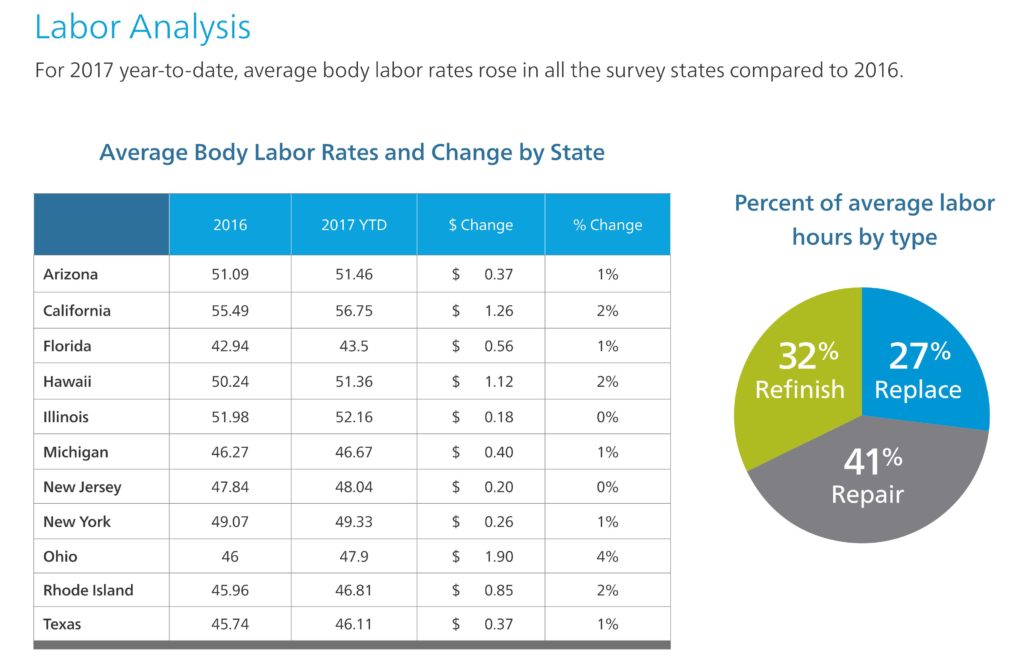 Non-seasonally adjusted inflation was 2.2 percent from September 2016 to September 2017. 2016's inflation rate was 1.3 percent. Auto insurance rose 8.2 percent from September 2016 to 2017, and 6.2 percent overall in 2016, according to the Bureau of Labor Statistics.
As we pointed out in a summer analysis of broader price trends, shops have if anything been cutting insurers a deal on labor rates, and the Mitchell data still seems to support that finding.
More information:
Mitchell fourth-quarter Industry Trends Report
Mitchell, Dec. 12, 2017
Images:
Mitchell's scan tool is shown in its booth at NACE 2017. (John Huetter/Repairer Driven News)
Mitchell's integration with Toyota allows estimate line items to be automatically generated based upon OEM repair procedures, as shown in this redacted screenshot. (Provided by Mitchell)
Mitchell year-to-date labor rate data through the third quarter of 2017 shows states whose rates are lagging behind inflation. (Provided by Mitchell)
Share This: