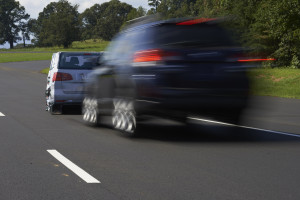 While some automakers are already half or nearly all of the way towards making autobraking with forward collision warning standard, others continue to treat it predominantly as an option.
Toyota, Subaru, Volkswagen and Honda lead among the more mainstream OEMs in terms of the proportion of vehicles autobraking and collision alerts standard, according to a summary of results released Thursday. Among luxury OEMs, Tesla, Mercedes, Audi, Volvo and BMW posted the largest proportions of their fleets with those features standard.
Technically, given its volume, GM's 20 percent of vehicles with autobraking makes it No. 2 in terms of vehicles on the road, with 551,777 bearing the technology standard. Toyota is still No. 1 with 1.4 million, and Honda becomes No. 3 with 492,330 vehicles.
"The growing number of vehicles offering automated emergency braking is good news for America's motorists and passengers," Treasury Secretary Elaine Chao said in a statement. "With each model year, manufacturers will increasingly utilize technology to allow vehicles to 'see' the world around them and navigate it more safely."
Vehicles with AEB standard
Tesla
99.8%
Mercedes-Benz
96%
Audi
73%
Volvo
68%
BMW
58%
Toyota
56%
Subaru
47%
Volkswagen
36%
Maserati/Alfa Romeo
30%
Honda
30%
Mazda
24%
General Motors
20%
Nissan
14%
Hyundai
9%
Fiat Chrysler
6%
Kia
5%
Mitsubishi
3%
Ford
2%
Jaguar/Land Rover
0%
Porsche
0%
A 2016 Insurance Institute for Highway Safety study estimated that auto-braking paired with crash warnings can cut 39 percent of all rear-end crashes, which works out to about 13 percent of all the crashes in America.
Twenty automakers making up virtually all U.S. vehicle sales have voluntarily committed to delivering both technologies standard as of Sept. 1, 2022, according to the National Highway Traffic Safety Administration, which along with IIHS announced the OEMs' annual progress reports on Thursday.
IIHS estimated Thursday that the 2022 commitment will mean 28,000 fewer crashes by 2025.
While the technology is likely to eliminate a noticeable chunk of collision repairers' business, CCC has observed that a slow penetration of those features in the overall fleet might be delaying that pain. In its 2017 Crash Course, the information provider cited IIHS estimates that front crash prevention wouldn't reach 50 percent of the American fleet until 2027, rising to 80 percent by 2034.
About a third of all 2015-16 cars, trucks, and SUVs recorded in CCC data had crash-prevention systems aboard (standard or optional), CCC observed in January 2016. Consumer Reports affiliate Consumers Union reported Thursday that 19 percent of the fleet had the technology standard for the production year ending Aug. 31, 2017.
"Despite a somewhat slower start, the rate at which systems such as lane-departure warning, adaptive cruise control,
automatic emergency braking, autonomous parking, and adaptive headlights are making their way into the mainstream vehicle population is now ramping up," CCC wrote in its 2017 Crash Course.
The uneven rates of adoption between OEMs seen Thursday might also put off the loss in business for shops specializing in or serving markets favoring certain makes.
For example, based upon Thursday's data, only 2 percent of Ford and 6 percent of FCA vehicles built between Sept. 1, 2016, and Aug. 31, 2017, offered autobraking and collision warnings standard. If those customers aren't springing for the options package, that's arguably more crashes for Ford- and FCA-certified shops to repair.
"This progress is great news for luxury car buyers and many others, but many automakers still need to do more, as Consumer Reports analysis indicates that only 19 percent of 2017 models included these lifesaving technologies as standard features," Consumer Reports affiliate Consumers Union cars and product policy and analysis director David Friedman said in a statement. "Automakers, safety groups, and the government should also work together to make highway operation and pedestrian detection standard features on all AEB systems."
Finally, the results could give shops a sense of how quickly they might want to consider handling certain calibrations in-house. If one's vehicle mix is light on standard ADAS features, it might make sense to delay the investment in training and equipment and just sublet the few outliers with ADAS to a dealership. Of course, just because the OEM doesn't offer the technology standard doesn't mean one's customers aren't snapping it up as an option — something to keep in mind between now and 2022. Nor does the NHTSA-IIHS data take into account any cars retrofitted with milder forms of ADAS (i.e., alerts but no AI takeover of the vehicle to avoid the damage) — something SEMA and Ducker Worldwide think could be a factor going forward.
More information:
OEM progress reports and other documents related to 2022 autobraking commitment
National Highway Traffic Safety Administration and Insurance Institute for Highway Safety, Dec. 21, 2017
Featured image: The Insurance Institute for Highway Safety rates autobraking/braking assist systems based on their ability to cut crashes at 12 mph and 25 mph in tests, giving top marks to systems which can cut all but 2-3 mph out of the car's speed. (Provided by Insurance Institute of Highway Safety)
Share This: