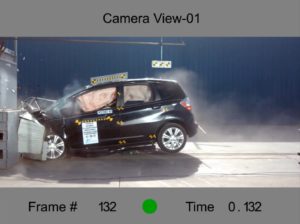 The Tracy Law Firm and Karco Engineering have released footage of attorney Todd Tracy's final crash test simulating various repairs on a 2010 Honda Fit.
The final test conducted Tuesday was somewhat anticlimactic — it was a control 2010 Honda Fit which had never been in a wreck or received auto body repairs, and it appears to perform as intended.
But the control results are the key to interpreting the results of the two experimental Fits tested last week.
Tracy on Dec. 18 crash-tested a 2009 Honda Fit which had been repaired just like the one owned by his clients, Matthew and Marcia Seebachan, and he ran a 2013 Honda Fit with multiple aftermarket parts through the same test Dec. 19.
The 2009-13 Fits are part of the same design generation and are structurally identical, according to Tracy, and the Insurance Institute for Highway considers them the same for its crash-testing purposes.
As mentioned above, the footage from the Tuesday crash seems to match the IIHS' video of its moderate-offset crash test of a 2009 Honda Fit. The 40 mph test crashes the car into a honeycomb aluminum barrier covering the driver's side 40 percent of the front of the car.
The 2009 Fit received a "good" rating on the test from the IIHS and was a Top Safety Pick.
Now, compare the footage to the test vehicles. The first video below shows a 2009 Honda Fit repaired like the Seebachans'. Texas repairer Burl's Collision took an undamaged 2009 Fit and attached the roof panel with 3M 8115 panel bonding adhesive — instead of the dozens of welds required by Honda. It also installed an aftermarket windshield and simulated other alleged John Eagle Collision Center repairs to the Seebachans' Fit which deviated from those approved by the OEM.
The Seebachans settled with John Eagle Collision for an undisclosed amount after a jury found the shop's repairs to their 2010 Fit 75 percent responsible for their horrific 2013 crash — and for $31.5 million of a $42 million verdict. An expert for the plaintiffs had argued the collision was similar to a IIHS moderate-overlap crash test.
The 2013 Fit crashed Tuesday carried Certified Automotive Parts Association-certified fenders and a CAPA-certified hood; a NSF-certified bumper reinforcement beam; an uncertified aftermarket radiator support, windshield and drivers-side front wheel; and two uncertified aftermarket hood hinges.
And here's some other videos related to the tests you might find of interest.
More information:
Insurance Institute for Highway Safety 2009 Honda Fit crash testing
"Putting Car Insurance Bullies To The Safety Test"
Tracy Law Firm YouTube channel, Dec. 7, 2017
"The Crash Tests The Auto Insurance Companies Never Want Done"
Tracy Law Firm YouTube channel, Dec. 14, 2017
Featured image: The Tracy Law Firm and Karco Engineering have released footage of attorney Todd Tracy's final crash test simulating various repairs on a 2010 Honda Fit. The crash conducted Dec. 26, 2017, was of an undamaged, unrepaired control 2010 Honda Fit. (Screenshot from Karco video provided by Tracy Law Firm)
Share This: