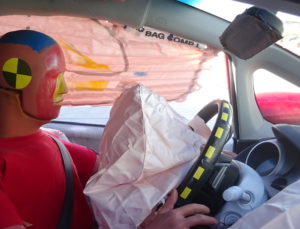 The "driver" in a Honda Fit repaired outside of OEM parameters was subjected to higher G-forces and increased Head Injury Criterion scores than a control Fit, crash-test results from the dummies show.
The data from attorney Todd Tracy's testing at Karco Engineering is further ammunition for collision repairers who seek to follow OEM repair procedures — which the automakers have actually proven to preserve crashworthiness — but meet with resistance by insurers trying to save money.
The "driver" — actually an expensive dummy — in the control 2010 Fit posted a Head Injury Criterion (HIC) score of 282.6 during a 40 mph moderate-overlap crash test. That came in lower than scores of 332.4 on a 2013 Fit repaired with multiple aftermarket parts and 427.4 on a 2009 Fit sporting an aftermarket windshield and non-OEM repairs similar to that on a notorious Fit owned by Tracy's clients. (The 2009-13 Fits are part of the same design generation and are for crash-testing purposes identical.)
The Insurance Institute for Highway Safety's results from 40 mph moderate-overlap crash testing of a 2009 Fit saw a HIC of 264, earning the car a "good" rating for head/neck injuries. Honda's own moderate-overlap crash test produced a 335 HIC, according to the IIHS.
The IIHS and Honda's scores seem to support Tracy's theory and a jury's $31.5 million conclusion that John Eagle Collision Center shouldn't have called an audible and panel-bonded a Fit roof rather than welding it as demanded by Honda.
"Bonding is better than welding," shop manager Boyce Willis declared in a infamous deposition.
The IIHS's "Good" rating is still obtainable with HIC scores up to 560, according to 2014 guidelines. The organization wrote that a HIC of 700 is the maximum allowed by the National Highway Traffic Safety Administration and is the point at which the IIHS would rate a vehicle "marginal." With a HIC of 700, the driver has a 5 percent risk of an injury rated as "severe."
However, we'd suspect the bodily injury folks at an insurer wouldn't be happy if the collision claims guys increased the probability of injuries in general by pushing incorrect repairs. And we doubt a shop's customers — or their vehicles' next owners — would think kindly of the argument that you should be able to perform incorrect repairs because there's some "wiggle room" before you really start risking their head safety.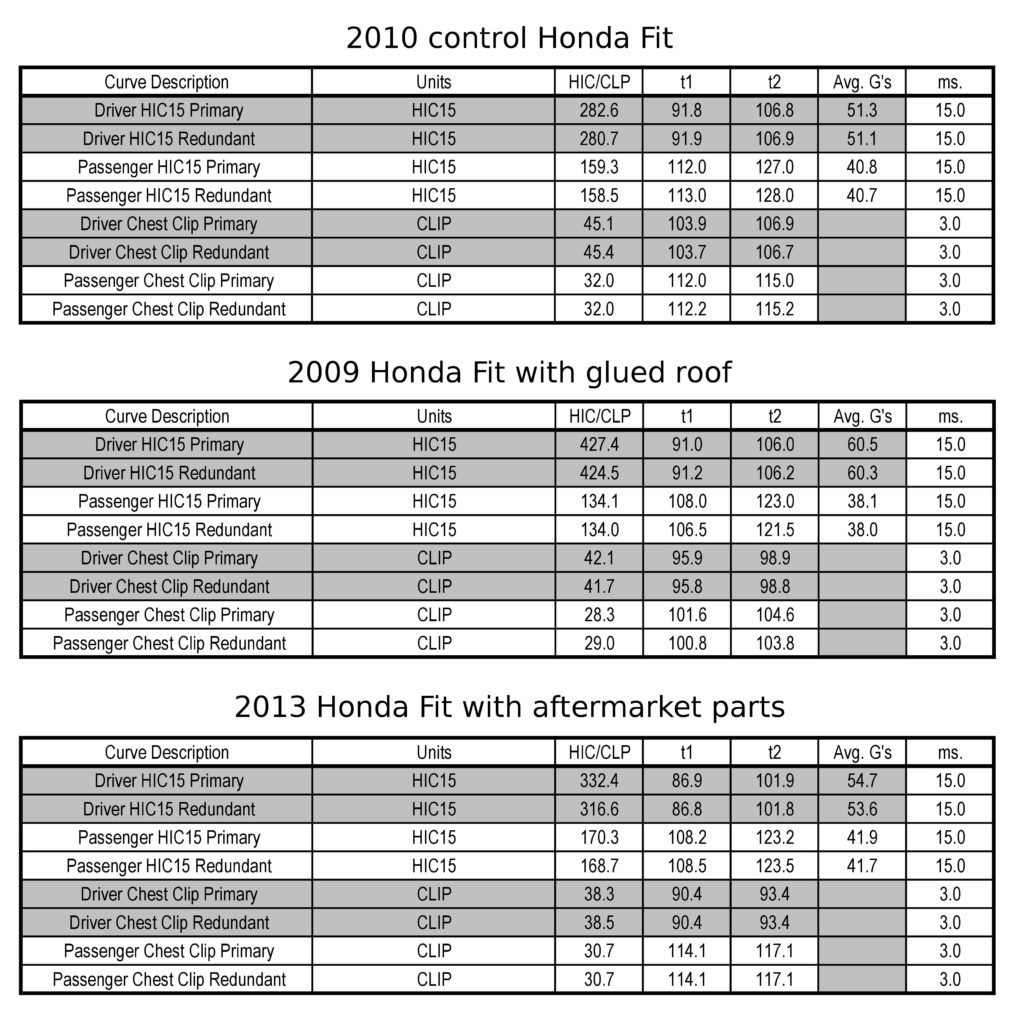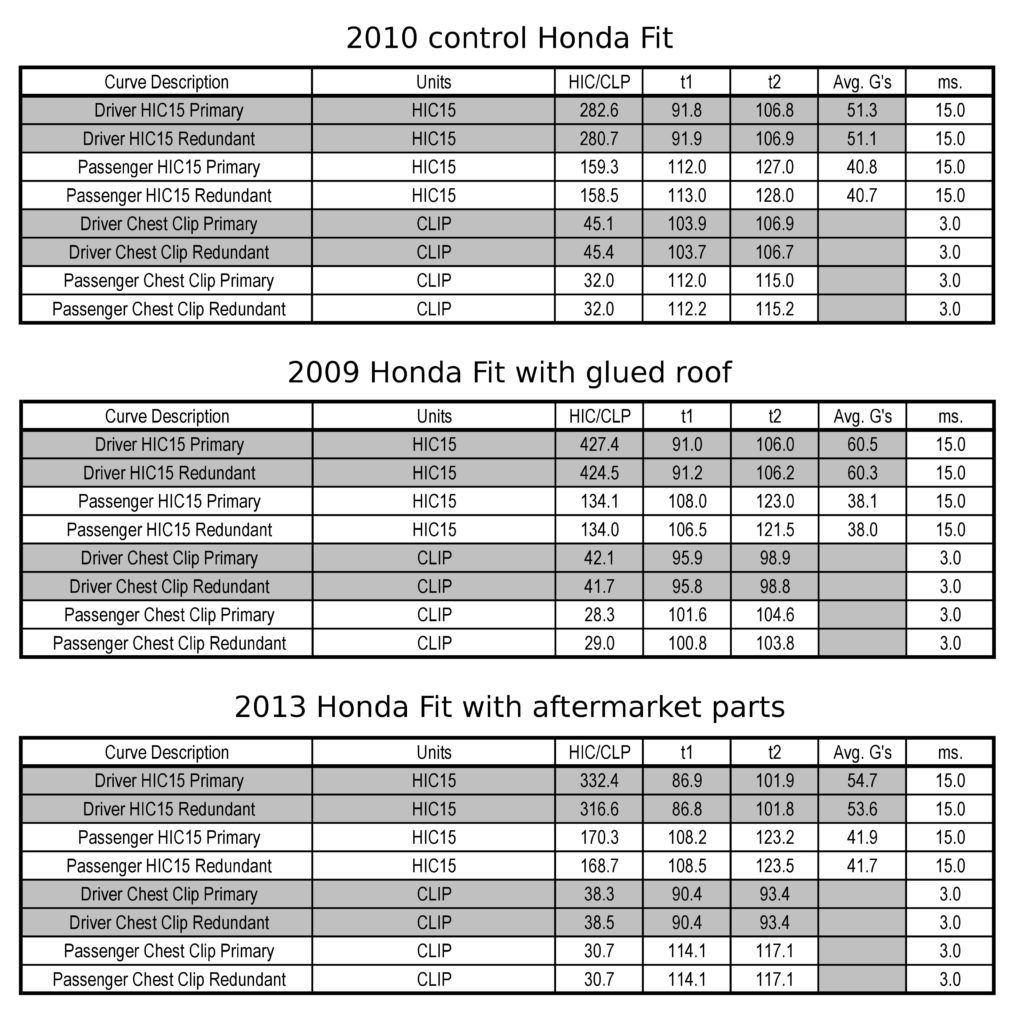 The driver's head on the control Fit tested Tuesday also was subjected to lower G-forces on average during the worst 15 milliseconds of the collision measured by the test. That dummy received 51.3 Gs compared to 54.7 on the aftermarket Fit and 60.5 on the glued-roof Fit tested the prior week.
We don't know if these specs and the obvious side-airbag timing delay found in the aftermarket and glued-roof Fits exceed Honda's own tolerances when it evaluates repair procedures. A message seeking comment from Honda's collision repair department has not yet been returned. But this evidence, produced by one of the impartial facilities used by NHTSA, should still help repairers make their case to adjusters and customers.
Note: HIC is just one variable out of many measured during the test. Further data including an overall assessment — Tracy has indicated the aftermarket-parts car fared the worst — should be coming soon. Continue to check Repairer Driven News or catch one of Tracy's January presentations for more details.
More information:
"Moderate Overlap Frontal Crashworthiness Evaluation: Guidelines for Rating Injury Measures"
Insurance Institute for Highway Safety, September 2014
Insurance Institute for Highway Safety 2009 Honda Fit crash testing
Images:
The "driver" in a control Honda 2010 Fit posted a Head Injury Criterion (HIC) score of 282.6 during a 40 mph moderate-overlap crash test. That came in lower than the 427.4 HIC on a 2009 Fit's "driver," pictured, whose car received non-OEM-approved repairs. (John Huetter/Repairer Driven News)
The "drivers" in two Honda Fits repaired outside of OEM parameters were subjected to higher G-forces and increased Head Injury Criterion scores than a control Fit, crash-test results from the dummies show. (Karco data provided by Tracy Law Firm)
Share This: