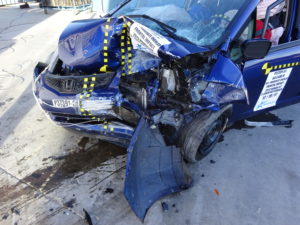 Tracy Law Firm attorney Todd Tracy on Wednesday declared his experiment crash-testing cars with improper repairs and aftermarket parts a success.
"Now, for the first time, we have a scientific and engineering  basis to refute any insurance company who insists on bullying a repair shop into using non OEM approved repairs or aftermarket parts," Tracy said in a statement.
Tracy indicated that the two experimental Honda Fits he crash tested last month saw issues with "seatbelt loads, airbag timing sequences, injury thresholds, and structural failures" in comparison to the control 2010 Fit.
"Insurance companies need to get out of the repair business and let the repair shops repair vehicles so that people aren't riding around in ticking timebombs," Tracy said in a statement.
Tracy paid tens of thousands of dollars to have the NHTSA-authorized testing facility Karco Engineering conduct 40 mph moderate-overlap crash tests of three Honda Fits last month.
One was an unrepaired, undamaged control black 2010 Fit. The other two Fits were modified by Burl's Collision Center to introduce variables. A red 2009 Honda Fit received a glued roof and other non-OEM repairs, similar to those performed by John Eagle Collision Center on a Fit owned by Tracy's clients, Matthew and Marcia Seebachan. A blue 2013 Fit had numerous aftermarket parts attached using OEM repair procedures.
"The tests were not conducted to replicate damage done in the recent Seebachan v John Eagle Collision Center trial," the law firm clarified in an email. "Rather, the tests were conducted to evaluate if repairs can affect the crashworthiness and safety capabilities of a vehicle."
The distinction is important. While Burl's Collision did replicate the unapproved OEM repairs seen in the Seebachan case, Tracy said he never expected the crash-tested Fit to be as severely damaged as the one owned by his clients, who T-boned a 2010 Toyota Tundra which had hydroplaned into their lane in a 75 mph zone.
"We never expected the roof to separate like in the Seebachan accident because we could never replicate the override crush," Tracy wrote in a December email after that test. "What we expected would happen did happen with a glued on roof—the roof did not absorb energy properly and the frame rail below the driver crushed excessively which in turn destroyed the footwell space for the driver. "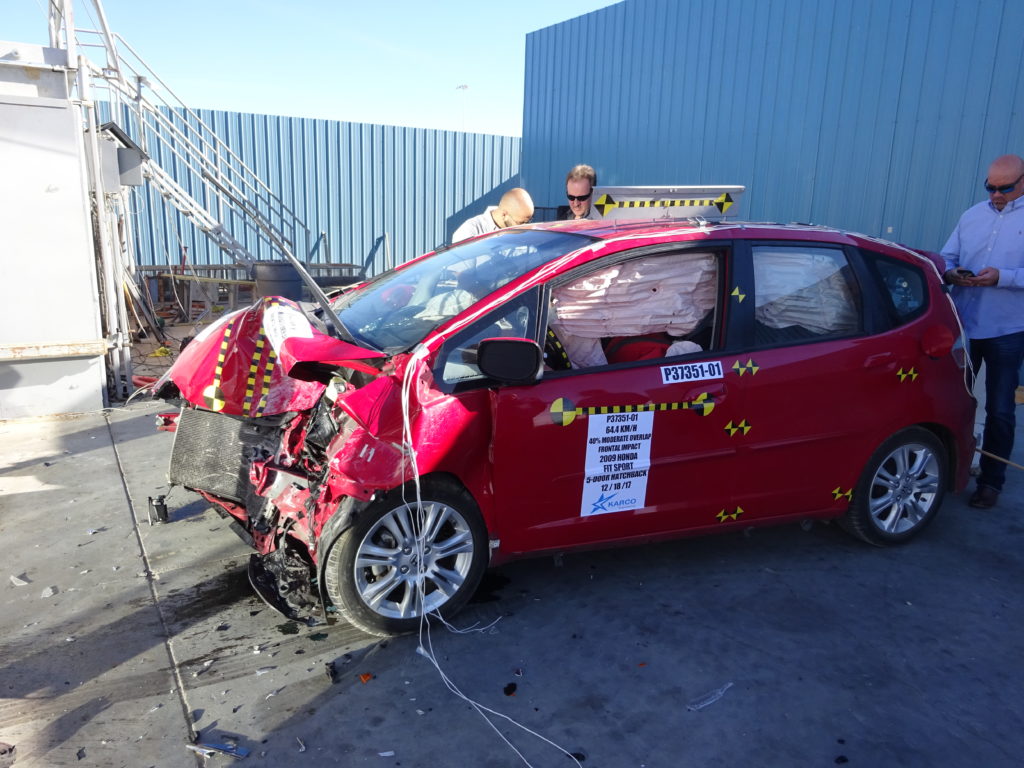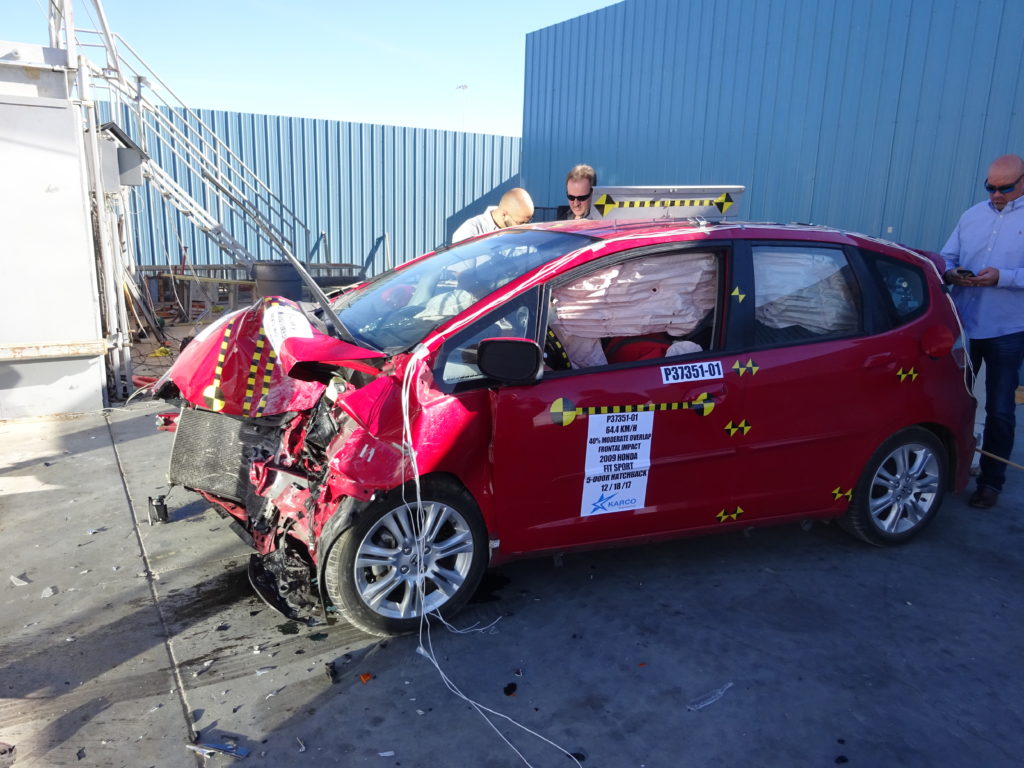 "After evaluating the vehicles, the results are quite telling," the law firm wrote Wednesday. It continued (minor formatting edit):
Firstly, one must remember that a vehicle and its safety systems are designed, engineered, tested and manufactured in such a way that a vehicle and its safety systems are specifically tuned together.
Second, safety systems must work together in harmony like links in a chain.
Third, even the slightest change in material or assembly can have a drastic (effect) on the vehicle performance.
Fourth, because vehicles and their safety systems are tuned together, when non approved OEM repairs or inadequate aftermarket parts are used, one of more of the five  principles of vehicle crashworthiness can be violated;
a. Provide proper restraint throughout the entire accident event
b. Prevent ejection
c. Maintain survival space
d. Distribute and channel energy away from the survival space
e. Prevent post collision fuel fed fires
The tests scientifically prove that a non OEM approved repair and the use of aftermarket parts affect restraint system performance, airbag performance, injury production, occupant kinematics, transfer and distribution of energy.
Some of these conclusions were immediately apparent.
The airbag timing issue was obvious from millisecond-by-millisecond crash-test videos from Karco, and the aftermarket wheel used on the blue Fit clearly suffers more damage than the OEM versions used on the other two cars.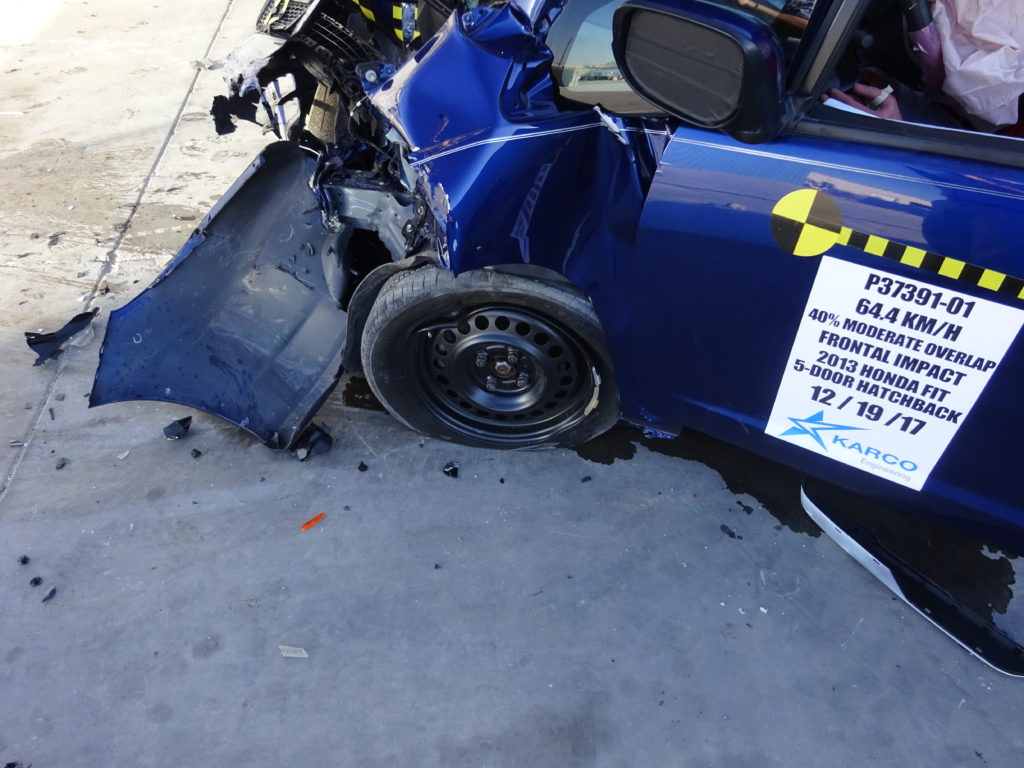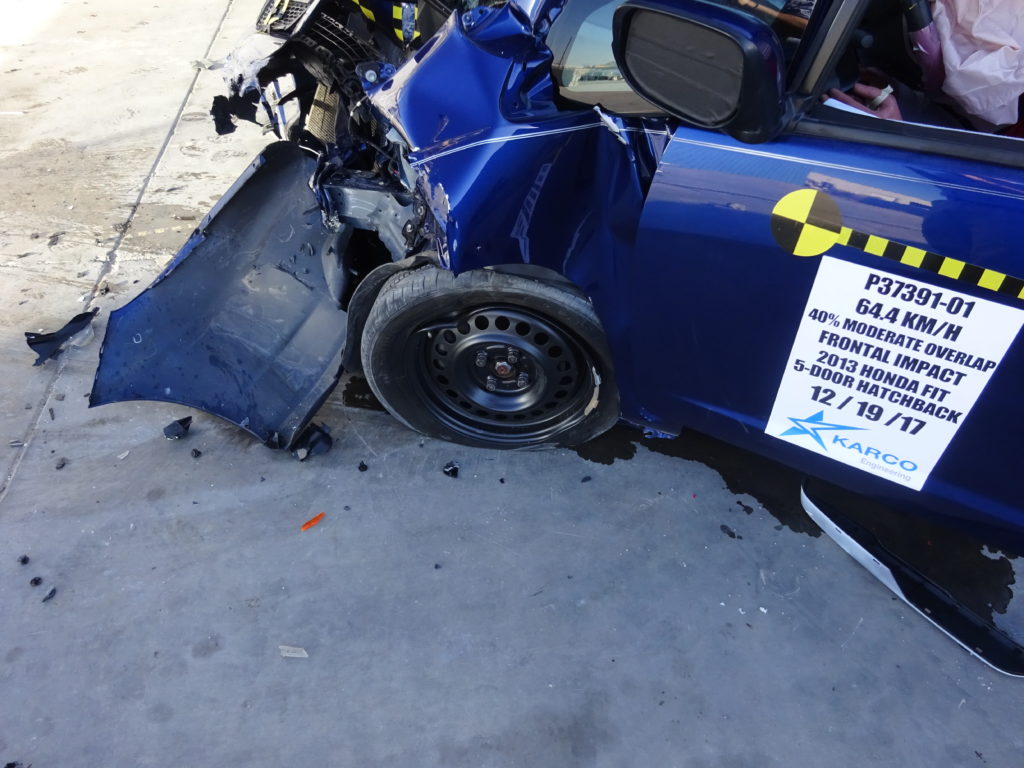 The glued-roof Fit also produced driver Head Injury Criterion scores exceeding those encountered by IIHS and Honda during their identical moderate-overlap tests.
Tracy has said the aftermarket-parts 2013 Fit actually performed the worst overall. He plans to release more detailed reports on the cars in the future.
The aftermarket-parts Fit carried Certified Automotive Parts Association-certified fenders and a CAPA-certified hood; a NSF-certified bumper reinforcement beam; an uncertified aftermarket radiator support, windshield and drivers-side front wheel; and two uncertified aftermarket hood hinges. Notably, some of the parts didn't fit correctly; Burl's Collision in discussion with Tracy made the decision not to try and force them to do so while preparing the cars.
Tracy plans to further study the CAPA parts "to see if these parts provide the identical performance capabilities as the OEM parts," according to his law firm.
"It astonishes me that the insurance industry has been duping repair  facilities for decades that aftermarket parts are identical in safety as the OEM," Tracy said in a statement. "Why didn't they back up their claims with science and engineering?"
Prior testing
What testing has been conducted seems to support Tracy's point that aftermarket parts can be glaringly unequivalent to the OEM originals despite insurer assertions.
The Insurance Institute for Highway Safety in 2010 did test a control and CAPA-certified bumper beam on a 2008 Dodge Ram with a 40 mph moderate-overlap crash test, concluding the CAPA-certified beam delivered equivalent crashworthiness to the OEM version. CAPA tests bumpers with a low speed dynamic crash test or a quasi-static pole test.
However, the other aftermarket beams tested didn't pass muster, the IIHS warned.
"How structural parts are designed and produced can affect crashworthiness because these parts make up the front-end crush zone and safety cage," the IIHS wrote then. "The crush zone absorbs crash energy, and the safety cage helps protect occupants by limiting intrusion. …
"In turn, the collision market is a hodgepodge of domestic and overseas suppliers who build structural parts to their own internal guidelines, so there's no guarantee the parts are equivalent to original equipment in terms of quality and safety."
In 2000, the IIHS conducted a 40 mph moderate-offset test of a CAPA-certified aftermarket hood, ruling that hood equivalent. However, CAPA's own testing has found some obvious flaws in uncertified hoods, and Australian aftermarket hood research also raises red flags.
As far as other components, IIHS last tested the aftermarket parts it merely considers "cosmetic" in 1987, using a 30 mph full-frontal collision test it doesn't even conduct anymore. NHTSA's full-frontal crash test is 35 mph.
Burl Richards, owner of Burl's Collision, said that a CAPA-certified bumper beam wasn't available for the Fit when he attempted to buy the parts for the experiment. (CAPA has only certified a single manufacturer's bumper beam for the 2009-13 Honda Fit design generation Tracy tested.)
The Tracy Law Firm is also 3-D scanning the three vehicles and plans to share those results as well. The three-dimensional images will be able to be rotated in space.
"The vehicles will also be maintained so that any naysayer can see for themselves that science and engineering has proven that what lies beneath the paint and the trim makes a huge difference in terms of safety performance," Tracy said.
Share This: